by Jack Lee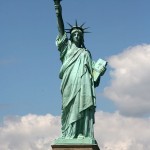 Being involved with the State of Jefferson movement has been both a privilege and an eye opener. This is democracy at its best. But first, let me make it clear who the supporters for Statehood are. They are not radicals, revoutionaries, they're for the most part not wealthy, they also are not self-serving opportunist and they sure aren't socialist! These are patriots of the highest order. They're a collection mostly working class people who understand and believe in the principles that founded this country.
This does not mean they want a return to the all the values of the 18th century, and I've heard a number of liberals on the far left try to convince people that is their mission. Nothing could be further from the truth. The values embraced by the Statehood movement are lower taxation, responsible representation and more freedom. How bad could that be?
You have the right to ask, alright, then what do these things really mean? They are all pretty broad subjects. Yes, they are and I'll try to explain to the best of my ability…
Limited government means a government that has reasonable restrictions on those that are in power. The broad limits are found in the US Constitution and the Bill of Rights. The limits, as the people of the new State see fit, will be enforced by laws or other practices, including free, regularly scheduled elections.
With the ratification of the United States Constitution, the Founding Fathers created a system of checks and balances to protect the states and their citizens from an overreaching government and that's what these modern day patriots want too. It is hoped that in a new State the citizens would be in favor of a part-time legislature, but, that is one of the a thousand things yet to be determined by the will of the people. And it's right that it be this way, that is to work things out in the order they need to be…by the people!
The United States was begun with one resolution that only had three points. For those who appreciate history here's a summary of that story, "The resolution authored by Richard H. Lee was presented on June 7th, 1776 and finally approved on July 2, 1776. The text of the document formally announcing this action, was the United States Declaration of Independence written by Lee's young friend, Thomas Jefferson, and it was approved on July 4.
Lower taxation – it was an issue in 1776 and it is today. For the new State it means having a tax rate that is substantially less than what we have in the State of California right now. That shouldn't be too hard to accomplish when you consider that CA holds the record for highest taxation. The exact tax rate and the form it will take is something for the people to decide upon Statehood.
Responsible representation – means those who are elected to represent the people actually understand and respect the US Constitution, and pledge to abide by it. They will take an oath to be good stewards of our tax money and our freedom. And upon any evidence of abuse of their high office, they will be swiftly removed by the people. So it ultimately falls upon the [people] to insure responsible representation and that too is exactly as it should be. This is a concept that has been lost on too many Californians who have acclimated to the seductions and demands of big government. (We must separate ourselves from them or suffer their fate.)
More freedom is said in context with the, restrictive and sometimes oppressive, plethora of laws and regulations we've come to expect in the State of California with their 379 State Agencies dedicated to telling us how to live our lives. Freedom is our most precious and our most fragile right.
Freedom inspires the inventor as well as the artist. It fosters entrepreneurs, is the ally of farmers and small businesses and it encourages people to grow in their endeavors. However, with our checks and balances freedom has it's limits, epsecially when it comes to encroaching on the rights of others. An example of that encroachment would be, damaging our natural resources, the air, the land and the water. We recognize those as critical to our survival and we should strive to protect and preserve for ourselves and our future generations.
Lastly, freedom does not guarantee success, it only guarantees that individual will have a right to pursue success. This is why we call it the Statue of Liberty and not the Statue of Equality. If you want to take from the labors of other, using government to shift the wealth, then this is not the state for you.
It's difficult for me to comprehend there would be people opposed to the idealism behind the State of Jefferson movement, but there are and they have voted in
the extremists that have bankrupted the State of California. This reality won't make our job for a free state any easier, but it won't make it impossible either. The only thing you should concern yourself with right now, is this the right thing to do? If the answer is yes, then the odds shouldn't matter and neither should the complexities of forming a new State. We'll get there and it will be tough going, but it will be worth it.
"I would rather be beaten and be a man than to be elected and be a little puppy dog. I have always supported measures and principles and not men. I have acted fearless[ly] and independent and I never will regret my course. I would rather be politically buried than to be hypocritically immortalized." Davey Crockett