by Jack Lee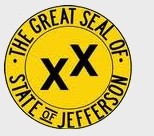 This morning's ER opened with… "CHICO — More than 300 proponents of a new U.S. state gathered Friday at Manzanita Place to discuss what they could do to form the State of Jefferson.
The idea of a new state gained traction in Butte County after a meeting in October drew about 200 people to hear about the proposed state. Some of the problems the group has with California's government include taxes for projects in Southern California, what they call a lack of representation, and "an exodus" of young people from the state.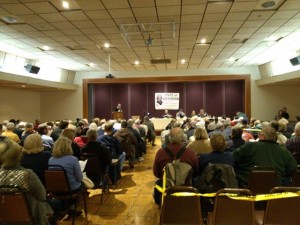 "This is not about secession," said Jack Lee, the master of ceremonies and a speaker at the meeting."
The actual count was 428 and they were an enthusiastic crowd, that totally embraced the idea of splitting CA into two states.
The idea of bringing government closer to the people it represents is always a winner. The idea of more accountability is a winner too. And the thought of less government, more freedom and lower taxes makes the idea of the State of Jefferson a cause worth fighting for.
Without scaling back the currents high costs as established by the State of California, the State of Jefferson is still economically viable, but that thought defeats the whole reason for having a new state. This is about less government and cutting loose from all the agencies, committees and commissions that have brought Californians into a tax mess.
It makes no sense that California as it stands is the 12th largest economy in the world and yet we find it necessary to tax our citizens more than any other state!   We should be awash in cash from this powerful revenue base without dipping heavily into the pockets of every day citizens,.  But, the giant bureaucracy that is modern California goes through tax money faster than Grant took Richmond.  
Since 1990 CA has seen an unprecedented exodus of businesses and with them go the jobs they once created.   We've lost over 3.4 million wage earners and replaced them with too many tax takers.  California currently has almost 25% of the nations welfare dependents and that's just not sustainable and it's getting worse every day.   Sacramento is doing something terribly wrong and the conservative north state simply does not have the votes to alter this course.
The State of Jefferson wants to reverse the jobs exodus and be a sensible, yet business friendly state.   Jefferson would offer low over head, limited government, an abundant labor force, lower taxes than the current State of California, and the best part…more freedom.   At the same time we want to protect our natural resources for future generations, water being key among those resources.
Protecting the environment, preserving our natural wonders and being business friendly doesn't have to be mutually exclusive either!  It can be done when government is in sync with the people it represents and there is immediate accountability for everything gov. does.
Last year CA found it necessary to add 800 new laws and 700 of them were signed into law this month! Not one of those laws lessened our tax burdens, created jobs or more freedom, but they sure added to costly bureaucratic debacle that is forcing Californians to leave for other states.
The State of Jefferson project could take up to five years or longer and it won't be easy. Then again what is life that is worthwhile is easy? We're under no illusions here, we know the odds, but this is the right thing to do for our future and our childrens.
We have the backing of federal law and the Constitution that details the prescription to create a new State, but a massive voter outreach and education must be done first. The results of that outreach so far has been beyond expectations. The numbers attending town hall meetings, council meetings, board of supervisor meetings and library meetings keep increasing. People from all political sides want this to happen BECAUSE IT MAKES SENSE!  It's been almost miraculous to see democrats, republicans, greens, libertarians, etc., young and old, rich and poor, uniting behind Statehood.  This will bring a new beginning and opportunity for all of us.
If both sides (north and south) can agree that two smaller states would be more viable, more governable, with better accountability and more ability to focus on our divergent needs, then statehood can and will be achieved!
We need a 51% vote of the State legislature which would then oblige Congress to give us their 51% and it's done. The State of Jefferson has become a reality. We won't need approval from the President or the Governor, we will only need a simple majority of our elected representatives. They will too give it to us too…if they see their political future dependent on voting the way "we the people" want them to vote. They work for us and whenever they think they don't – then they need new careers.
THE TIME HAS COME FOR 51!