by Jack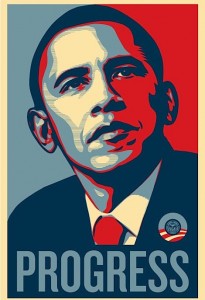 For the last 6 years political pundits have been exasperated trying to define exactly what is President Obama's foreign policy?  Some of his critics say his foreign policy is based more on how he thinks the world should operate than on reality.  "It was a world in which "the tide of war is receding" and the United States could, without much risk, radically reduce the size of its armed forces. Other leaders, in this vision, would behave rationally and in the interest of their people and the world. Invasions, brute force, great-power games and shifting alliances — these were things of the past.
Secretary of State John F. Kerry displayed this mindset on ABC's "This Week" Sunday when he said, of Russia's invasion of neighboring Ukraine, "It's a 19th century act in the 21st century." 
Obama has been accused of being gullible, indecisive or too slow to act, thus handing our adversaries an advantage.  Ukraine notwithstanding, another example of this would be Syria.  Remember how Obama drew a red line and then Bashar Assad crossed it and the WH did… nothing?
He was certainly taken by surprise and out easily maneuvered by Russia's Putin when the Black Sea Port of Odessa was annexed away from the Ukraine.  Despite assurances to the contrary, Russia continues to take territory away from the Ukraine by military force.  Gee, apparently Putin didn't get the memo that says this a 19th century act in the 21st century?  Or maybe he doesn't care because he knows Obama won't do anything about it.
"In a far-reaching blueprint released Friday that outlines the administration's worldview, the White House insisted the United States is leading the global effort to confront challenges in a deliberate manner described as "strategic patience."
The National Security Strategy, required by U.S. law, is intended to set the direction for the administration and communicate American intent to lawmakers, the public, and the world. It is Obama's second such strategy, and likely last, before he leaves office in early 2017.  The President's policy is all about "strategic patience" and it has been all along and you've been wrongly calling it lack of leadership, indecision or foreign policy through trial and error.
The crux of the problem is, Obama doesn't seem to trust his closest advisors as reflected by the departure of four Secretaries of Defense.   He tends to falls back on how he thinks the world ought to be rather than how it is.  So, his policy decisions are made around disengagement rather that anything remotely involving a confrontation.  
He opened his presidency with an apology tour and it appears he will close it with an appeasement tour.  
Whatever you want to call our current foreign policy, one thing remains obvious, we haven't had any measurable success – anywhere.   Obama has not deterred Iran from it's nuclear weapons program.  He hasn't dissuaded Putin from invading the Ukraine.  He's had not had any luck suppressing the Boko Haram in Niger, despite Michelle's tweets and Obama's police advisors.  Boko Haram terrorists continues to wreak havoc at will.   We've not contained ISIS; in fact ISIS has gained territory since Obama's bombing campaign started.  The half of Africa that is controlled by Muslims is drifting towards radicalism, unchecked by anything Obama has said or done.  Several proxy wars are being fought in Iraq and Yemen, the latter's government has just collapsed to Shiite forces tied to Iran.   North Korea feels confident enough to hack into US companies and threaten them with acts of terrorism.  Closer to home, we can't even get Mexico's cooperation to help stem the tide of illegal border crossings by their citizens.  Its no wonder they don't take us seriously on border security, because Obama keeps dangling a big entitlement carrot for the illegals.
To cap off these threats to American sovereignty and border security, Obama shows his naivety by downsizing our military.   Obama thinks the days of large scale global conflicts are behind us, so we don't need a strong military deterrence.   According to Obama's past practice we can deal effectively with any security problems via dialog, peer pressure and when necessary we can pull out the big guns….a sternly worded resolution.   In the worst cases, there could be limited trade sanctions.    He's basically counting on NATO to fill the void created by our withdrawal from global leadership.   This is how we
stop nuclear proliferation in rogue states, this is how we constrain Russia's Vladimir Putin or  North Korea's Kim Jong.
Obama's foreign policy success  seems to be measured by our willingness to work with out opposition through tactful dialog and compromise than ultimatums backed up by military force.
Obama believes his contrition for alleged wrongs will endear America to the world, showing us in a more favorable light as a loveable and humble nation and this will result of better cooperation.
Nothing exceptional to see here, we are just like everyone else, we're just a big friendly fuzz ball of a nation.   We've fundamentally changed -  And that my friends was Obama's stated goal from the first day he ran for office.  Mission accomplished.