by Jack
YEMEN: Egypt and Saudi Arabia are not about to see Yemen fall into the hands of Shia rebel (Houthi). It's unacceptable said Saudi Arabia yesterday that they were ready to send 100,000 soldiers against the Houthi which are closely tied to Iran. Egypt is ready to commit forces too because they don't want Iran involved in Yemen!
Yemen sits on the border with the Saudis, but they don't have any oil. This place is a desert and as a result it has a weak, impoverished economy, but it's surrounded by oil rich nations. But, this isn't about economics, it comes down to a religious war that has been in the making for about 700 years. Yemen is in a good logistical location for the Shias. This conflict threatens to have Shia Muslims pitted against Sunni Muslims in an all out battle. To add more chaos to this epic collision of two huge forces, we see some serious in-fighting within each sect because of radical fundamentalists.
Before we leave Yemen, here's a good one: We were so quick to get out of there we left behind secret documents that identified the people in country that had been giving us information. Yeah, we did. A whole filing cabinet filled with names of informants…how can we be so stupid?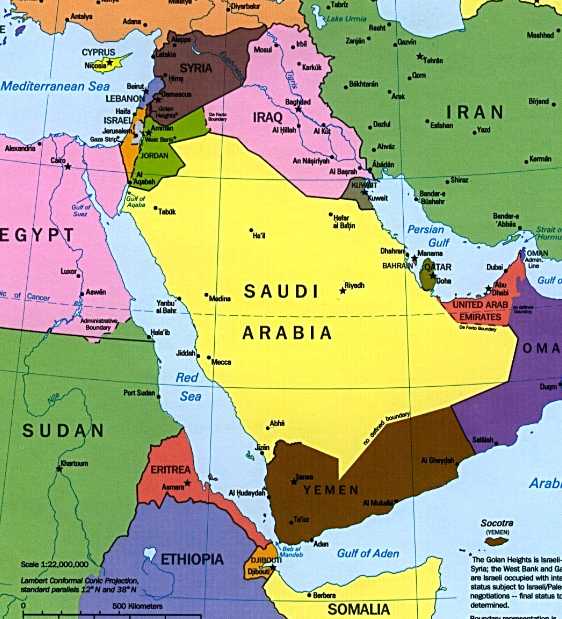 ENTER THE RADICALS: On both sides, Sunni and Shia, there are the radicals who oppose the moderate forces of Islam and want to see a showdown. Most notable among them is our old nemesis Al Qaeda and their young off-spring ISIS. They come under the broad Sunni banner, but they revile moderate Sunnis. They're extreme fundamentalists that have been inspired by the Muslim "Wahhabi" schools, many of which are in Saudi Arabia. The Wahhabi preach the fundamentalist line of original 6th century doctrine.
Unfortunately for us, the Wahhabi sect is not uncommon in the Middle East and this has stalled more than one reform attempt that would make Islam more compatible with 21st century values, if not Western values.
So, ISSI has borrowed liberally from the Wahhabi teachings and used them justify barbaric terrorism. They take this fundamentalism further than anyone else to date and see themselves as the Uber-defenders of original Islamic teachings… as Allah willed it. Anyone else is an enemy, even moderate Muslims! This is why the royal family in Saudi Arabia feels threatened and so does the Egyptian government. They're both moderate compared to ISIS (or Al Qaeda) and they want no part of them now. Their terrorism is totally out of control and threatens the whole Middle East.
ISSI would like to see their new Caliphate (Islamic) State boundaries somewhat close to that of the old Ottoman Empire, that's a huge area. They would be taking large tracts of land from a host of countries and this scares the heck out folks who don't want to be sucked into a massive radical ISIL/ISIS conglomerate!
PAKISTAN, EGYPT AND SAUDI ARABIA PARTNER UP: Another major player has just entered this fray within the last 24 hours, and here comes Pakistan. Again, they are mostly Sunni Muslims, like Saudi Arabia and Egypt, so that's one connection. Pakistan also has a radical problem that threatens their government, another connection and they are just as opposed to Iran's influence as any other Sunni controlled nation.
ISIL: Next, we have fractured alliances that take radicalism/terrorism to a whole new level and this is where it gets extremely confusing. I won't even bother to go there in any detail. For our purposes now lets just say these radicals are found mostly in Iraq and Syria where Iranian backed Shia have a major influence. ISIS of course is the most notable and most radical of these terrorist organizations and they would like to see Syria and Iraq be part of their new fundamentalist Caliphate State.
SYRIAN GOVERNMENT UNDER BASHAR al ASSAD: The Syrian government is currently being aided only by Iran and Russia, but we find ourselves helping Syria because we are bombing ISIS inside Syria and that takes some of the pressure off the Syrian government. As of today the Shia militia forces inside Iraq and directed mostly by Iran, have broken off from the fight in Tikrit. At the request of the Iraqi government we're replacing them and doing precision bombing against ISIS targets inside the besieged city. This will have the effect of us hitting Sunnis, which won't play out well within countries like Egypt and Saudi Arabia, even those these Sunni's are extremists and pose a threat to more moderate Sunni, they are still Sunni and we're still the infidels, so we've got that to consider….!!!!
Because of this, "damned if you do, damned if you don't," situation the US will probably not do well in the end. There's very little to be gained, except blocking Iran's influence that has been spreading.
Consider this too, the terrorist organization Hezbollah, in Lebanon and beyond, could not exist if it were not for Iran's generous support. Hezbollah has been fighting in Syria against Bashar al Assad and this is good (sort of) because Obama says we would like to Assad out because of all his civil rights violations. But, who takes his place?
And then there is Israel: Iran has been the key agitator when it comes to anything to do with Israel. They've been an impediment to Israeli peace attempts with the Palestinians. Yet, another reason to push back against Iran, which as of late has been helping Iraq and that helps us because we want Iraq to become stable, we're just not sure how to do it. Sec. of State John Kerry says he invasions Iraq split into 3 countries before its over. This is a real possibility too, the Kurds would get part, Sunnis and Shia the other parts. The only problem with this is the Sunni region has no natural resources and zero oil. So what happens to them?
Here's todays news: "CAIRO — Egypt said Thursday that it was prepared to send troops into Yemen as part of a Saudi-led campaign to drive back the Iranian-backed Houthi advance, signaling the growing likelihood of a protracted ground war on the tip of the Arabian Peninsula.
A day after Saudi Arabia and a coalition of nine other states began hammering the Houthis with airstrikes and blockading the Yemeni coast, President Abdel Fattah el-Sisi of Egypt said in a statement that the country's navy and air force had joined the campaign and that its army was ready to send ground troops "if necessary."
Breaking news: "US Secretary of State John Kerry branded Bashar al-Assad "a brutal dictator" Wednesday, a week after suggesting that it would be necessary to negotiate with the Syrian president to forge peace."
See, our foreign policy is all over the map. It's as confused as the whole Middle East…its a mess.
SUMMARY:
1. Shia militia leave fighting in Tikrit, ISIS holding city.
2. US airstrikes start in Tikrit.
3. Yemen falls to rebels.
4. Saudis and Egypt ready to kick rebels out of power in Yemen.
5. ISIS winning territory inside three nations, and spreading like wildfire.
6. Other terrorist organization aligning with ISIS.
7. Great show down in the making between Sunni and Shia.
8. Obama befuddled and sending mixed messages, has no clue who to support.