by Jack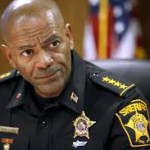 A Sheriff speaks on Baltimore's rioting and I'm paraphrasing what I heard last night: "Here's what has to happen, you have to eradicate the American ghetto. This means you have to shrink the size of the underclass. We have a permanent underclass becoming too comfortable with ghetto-life and we need to get them out of their comfort zone. We must go after modern liberalism. Modern liberalism is conduct without borders and it deflects personal accountability. It celebrates black under-achievement and it makes excuses for this abhorrent behavior that we're now seeing in many of these (black) neighborhoods. It blames others for the underclass continually making bad lifestyle choices. I would start by shaming the bad behaviors, not celebrating them or excusing them. Make it uncomfortable and you will see the underclass behaviors start to shrink." Sheriff David Clarke (see pic on left)
(Clark recently said that a bronze plaque memorializing Michael Brown in Ferguson, Mo. was a disgrace.)
It seems modern liberalism has a split personality, for example, its okay to smoke dope, but you shouldn't be allowed to drink a 32 oz. soda? The modern liberal wants the freedom to burn the flag or protest to the point of destructive behavior, but they don't want to bear of any of the responsibility for the cost of that freedom, they treat it like an entitlement.
Liberals are full of excuses, but short of solutions. Everything they've done for the last 50 years has been a setup for some sort of societal disaster and now we're reaping what they have sown, key among this harvest are the riots in American cities. Ironically, they take zero responsibility for any of this and instead resort to blaming others, like the cops in Ferguson, Baltimore or Cambridge for examples.
The cops were never the root cause of the rioting in Baltimore or anywhere else. They may have been a symptom of a great problem, but they were not [the] problem. However, liberals are placing the blame entirely on the police (everywhere) at this time and that is so unfair its ludicrous.
So, what was the natural reaction of the Baltimore police being stereotyped as a bunch of racist, jackbooted thugs and told to back off, respond only to calls for service? Baltimore's crime has instantly surged. Last weekend 29 people were wounded, 9 more were shot dead and not by cops, but by black on black crime. The monthly death toll in this one city…a record 35 dead. That is higher than among our soldiers fighting the Taliban in Afghanistan in the last 3 months. This is what happens when police are not allowed to do their jobs because of liberals who know nothing about law enforcement intervene. Liberals are the first to forget how thin this blue line really is. Liberals have contributed to far more deaths among poor blacks than any of the police officers they condemn.
You've got about 859,000 police officers in the USA, that means 859,000 unique personalities, common sense says that some of those people don't belong in law enforcement, they don't have what it takes and sooner or later they are bound to screw up. But, as statistics will prove, their numbers are extremely small, thanks in no small measure to the great lengths police agencies go to test and background applicants. However, modern liberalism isn't interested in statistics when it doesn't support their narrative.
Modern liberalism goes to great lengths to excuse pervasive criminal behavior in the ghetto, yet they are all over that miniscule percentage of criminal behavior found in law enforcement. Why? Modern liberalism is quick to indict the cop and assign blame, yet frequently rallies behind the criminal, crying "innocent till proven guilty!" or excusing the crime altogether because the defendant is just another "victim" of the system.
United we stand – divided we fall: As a result of this modern liberalism, our nation is now a dangerously fractured society. We are thoroughly divided against each other, black verses white, rich verses poor, and conservatives against liberals. It seem the destructive objectives of the communists during the cold war has finally taken hold, but through another form of politics called modern liberalism.
The emphasis from a "war on crime" or a "war on drugs" has shifted to a war on cops, a war on the wealthy, a war on business and a war on law abiding gun-owners. In the process, our Constitution has been regularly assaulted with unconstitutional legislation from the left. This is exemplified by the example set in the White House. President Obama claims to be a great Constitutional expert, yet he has been ruled against 13 times by the federal court that keeps telling him he's exceeding his authority. Some leadership, we might as well have elected the mayor of Baltimore to president.