by Jack Lee
"Unsuccessful rebellions indeed generally establish the encroachments on the rights of the people which have produced them."  – Thomas Jefferson
Jefferson is saying that even with an unsuccessful rebellion some good will come from it, because you're teaching government how to behave by what you tolerate.   This is the first law of democracy (squeaky wheel gets the grease theory)  and in extreme cases it authorizes the use of force against an oppressive government.  Jefferson was almost casual about the use of force to restrain an errant government.  In his letter to James Madison in 1787, know today as "A little rebellion."  Jefferson wrote, "I hold it that a little rebellion now and then is a good thing, and as necessary in the political world as storms in the physical."
As we review the conditions and authority for revolution it's important to note that the Constitutional right of citizens to resist an oppressive government is a [collective] right, not an individual right.  [Individuals] should never take it upon themselves to revolt to redress a grievance, no matter how severe they may think it.
The Declaration of Independence lays the out the preconditions for revolution:  "when a long train of abuses and usurpations, pursuing invariably the same Object evinces a design to reduce them under absolute Despotism, it is their right, it is their duty, to throw off such Government" (emphasis added).   Martin Luther King likewise held that it is the duty of the people to resist unjust laws.
Revolution ought to be the method of last resort:   Revolution is messy.  It is violent and destructive and that has led prudent minds to impose significant preconditions before such action ought to be considered.   Preconditions often change with the times, some stand the test of time.
Consider that the revolution of 1776 was due to England levying a tax on us to pay for their security forces.  This tax was a necessity for the King because it was a time when England was nearly broke, suffering from a costly war with France.  On our side, the colonists felt they were entitled to consider and approve the tax before it was imposed.   Hardly a black and white issue, eh?  But, that was the singular justification for the rebellion and all the other reasons fell in behind it.   Ironically, it was those [other] reasons that were the first to be enumerated in the Declaration of Independence, "We hold these truths to be self-evident, that all men are created equal, that they are endowed by their Creator with certain unalienable Rights, that among these are Life, Liberty and the pursuit of Happiness."   No taxes even mention here.
Further, we read. . ."That to secure these rights, Governments are instituted among Men, deriving their just powers from the consent of the governed, –That whenever any Form of Government becomes destructive of these ends, it is the Right of the People to alter or to abolish it, and to institute new Government, laying its foundation on such principles and organizing its powers in such form, as to them shall seem most likely to effect their Safety and Happiness."
The justification to institute a new government was now defined and by reading the letters and papers of Adams, Jefferson, Hamilton it becomes overtly clear.
Alexander Hamilton said American
[resistance] was a natural consequence to redressing violations of "the first principles of civil society" and invasions of "the rights of a whole people," referring to those inalienable rights.
Jefferson wrote, "The tree of liberty must be refreshed from time to time with the blood of patriots and tyrants."  Is there any doubt they were talking about using force?
So its not a question if force is authorized, the only question is, what shall be the preconditions that necessitates revolution and that depends on the collective core values of people at the time.   And we know that times change , people change and so our social values change.
In 1776 a small tax imposed by a King, without the consent of the people was cause enough to go to revolution.   Imagine if that were the litmus test today – we would be in a constant state of revolution!  California would have been burned to the ground, at least everything South of San Francisco.
To answer what preconditions must exist for insurrection to take place in the United States, in our time, we must first examine exactly what our collective core values are.   They define us as Americans.  They establish a bright line that government must not cross.   But, could the average American define our collective core
values today?
In the "Arab Spring" revolt in Egypt and other countries of the Middle East was caused first by economic reasons, but the discontent was underscored by Western ideas of inalienable rights that are scarce in this part of the world.   Of course their own cultural values as reflected in their Islamic religion served as a unifying force and gave the citizens the authorization to form resistance, as religion is so often given to do.
Over the years American core values have changed quite a bit.  Absolutes have been replaced by situational ethics,  there's far less emphasis on Biblical morals and more on humanism.  So, to some extent they have become more confusing, if not diluted.  They've curtained by whipsawed by competing socials and political ideologies.  This has been exacerbated by the a sudden surge in population/demographics coming from outside cultures.  The massive influx of 15 million illegal immigrants could be seen as muddying the waters of our collective core values.  However, what is far worse, is an apathetic majority that is largely ignorant of our founding principles.   When applying for citizenship, it is one thing to mouth the words of the preamble, it is another to understand and support them, the same could be said for American born citizens too.
Let's reflect for a moment on our founding principles as noted in the preamble you once memorized in grade school:  "We the People of the United States, in Order to form a more perfect Union, establish Justice, insure domestic Tranquility, provide for the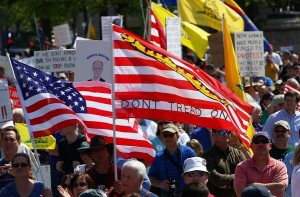 common defence, promote the general Welfare, and secure the Blessings of Liberty to ourselves and our Posterity, do ordain and establish this Constitution for the United States of America." 
Those first three words, "We the people" are so important that they ought to be a consideration for every core value we may hold.   When we lose sight of what those three words represent - we lose everything.   So, to answer the question,  when should the revolution begin, the answer is:  When government is no longer of, by and for "We the people."
Opinions please.