Preface – If you read Post Scripts, then regardless of your politics, there's one thing for certain…you are not afraid to discuss tough subjects. This is going to be one of those subjects, and perhaps it's the toughest I've ever been challenged to address. But, my intellectual honesty says, I have to do it. I believe the following is worthy of [searching] for the truth, but it's also subject to debate and I've included several counter-points at the close of this article for balance.
The consensus of opinion says that human evolution ended in prehistory. Science proves it did not and that we continue to evolve. In our past, especially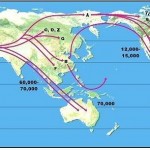 during the days when eugenics was touted, the discussion of human biological differences was counterproductive to scientific inquiry and even harmful.
For the above reason we don't talk much about our biological differences, even in academic settings where all subjects are supposed to fair game. The dark veil of political correctness has descended, but let's dare to peek under that curtain!
But, before we do I want to acknowledge one of my main sources, Nicholas Wade, a Cambridge grad and deputy editor Nature magazine and a former science writer for the New York Times. His most recent book is titled a Troublesome Inheritance and for the sake of brevity, I will try to keep this in my own words. However, I'm forced to quote quite a bit, so if you see the quotes assume its from the book unless states otherwise.
The decoding of the human genome in 2003 opened a whole new understanding of human evolution, and while it raised many interesting facts, it also came with some awkward questions and that's the part we will explore. Click here for the National Geographic study.
For most of us, it's beyond any [scientific] doubt that human evolution is a continuous process. Although recent evolution, as in the last few hundred years, is harder to measure. Unfortunately, the mere discussion of these findings is complicated by racial sensitivities and sometimes religious doctrine. I take no position here, but if you feel compelled to speak out in rebuttal or defense, please feel free! We're all about free speech at PS.
Paraphrasing…"Since the great migration that began near the tip of South Africa and spread to the continents, our human evolution has evolved, but mostly independently of each other. Each family adapted to its own regional environment and under these forces developed major races we know today as African, East Asians and European, as well as many smaller groups. Because of these divisions any scientific interest into recent human evolution they're by default forced into racial study…sorry.
Biologists scanning the human genome have detected evidence of many genes that have been favored by natural selection in the recent evolutionary past. About 14% of the human genome has been changed within the last 5000-30,000 years, that's just the blink of an eye in earth's 3 billion year history.
One of the most recent changes took place about 3,000 years ago when Tibetans developed a gene variant that lets them live at high altitude. Several other instances that have shaped human traits have come up within the last few hundred years. For example, a recent medical study showed age at menopause is increasing. These subtle human changes are of no particular value, except to show changes are still occurring.
Yale biologist Stephen Sterns concludes 14 recent studies of living human population has not only be recent and extensive, it's been regional."
By studying the 3 main races, evidence shows that a different set of genes has changed independently within each race and sub-races. This is exactly what one might expect to find when people are forced to adapt to the challenges of their regional geography. "This includes skin color, metabolism and some aspects of of our brain function, although the latter occurs in ways that is not yet fully understood."
Social scientists generally tell us that evolution, as far as our personality traits go, stopped over 10,000 years ago. "They assume there has been no change in innate human behavior during the historical period." Modern social scientists say race is about culture, not biology and in that sense they claim there is no such thing as race, its just an invention to explain skin color and they warn against believing it's biological. This is a long held view and its designed to support a heavily invested political view. It's not easy to change views when there has been so much investment. They prefer to believe human behavior is shaped [only] by culture. What genetic science has found is a bit more more, its a combination of culture and biology. This has undercut the social scientists narrower view and caused controversy.
But, the inescapable reality is, genetics really has played a major role in shaping various societies with unique cultures. This is not to say that exploring our racial differences will automatically lend itself to racism, however there is that fear. Wade does his best to make it clear… no racism is intended! He also points out that academic peer pressure has resulted in this subject being shelved for discussion at times. Wade thinks scholars ought to be encouraged, not discouraged to explore wherever the facts/truth takes them.
A number of researchers believe clues to our personality is in our genes.
Wade says, there is currently no reason to think that one race is superior to another, however those minor biological and cultural differences do account for certain unique traits or behaviors. I agree – no one race is in any way superior to another, but there are slight differences that make us who we are. (Hold that thought as you read further)
Next up, culture and biology, how it affects our society.
Tribalism is one of the earliest known civilizing methods that is thousands of years old and it has affected millions of humans, mostly in Africa and the Middle East. Despite its drawbacks it provided a great degree of social order and protection without law books, police or courts.
Tribalism rests on the idea of group protection. People will rely on their closest relatives for justice when wronged and conversely the alleged offender will turn to his relatives for protection. While hostilities may break out between opposing sides, there is ample reason to find a quick resolution, so the right of the individual is protected, but its by force. Tribalism means you have to stand up for your side or you may be seen as disloyal and dishonor or that you become unworthy of protecting when it's your turn.
Group loyalty is supreme and from childhood you are taught your group is always right and must be supported no matter what. You support the nearest group of relatives against the more distant group. "This results in monopoly of power, ruthless oppression of opponents and the accumulation of benefits. In tribalism bequeathing wealth and power to descendants is integral to our biological needs to protect their young. ..in short it is a recipe for despotism." And the most violent prospered.
Tribalism has no government, but it extracts taxes for the promise of security, but little else. This has led to economic stagnation wherever it is found. Tribalism has persisted in Africa and the Middle East. This has led to kleptocracy, whoever gains power uses it to his best advantage, to enrich his family and or tribe. This is particularly true in countries with abundant natural resources.
"Despite large amounts of western aid many African countries are little better off than they were under colonial rule. Corruption is rampant and many services for the poor are siphoned off for the elite."
A number of African countries have a lower per capita income now than they did over 30 years ago and some lower than in 1960. "Half of Africa's 800 million people live on less than one dollar a day" writes journalist and author, Martin Meredith, " Africa is the only region where school enrollment is falling and illiteracy is common. It is also the only region where life expectancy is falling."
We've seen too examples of where African leaders have failed to provide effective government. The big bosses have caused no end of suffering while lavishly living as the ruling elite. "Much of their wealth has been squandered away or stashed in foreign bank accounts. The World Bank estimates that about 40% of Africa's private wealth is held off shore. This culture of corruption has permeated every level of African society. This has also caused a brain drain, the flight of capable and educated people who are desperate to get out. Some 70,000 skilled people are reported fleeing the continent each year.
One third of African counties are now in hostile conflict. Sudan has been locked in a series of civil wars, same for the Congo. Nigeria is awash in oil and corruption and despite their wealth expressed in the GNP income inequality is rampant. Fierce pressures are in play across the continent and people will adapt to them, exactly what this means remains to be seen, but a reduction in tribalism is certainly one possibility.
"If running a western style government is simply a matter of culture, then is should be easy for African and Middle Eastern countries to import western institutions and business methods, just as East Asian countries have done."
Much of the regional problems were blamed on colonialism, but after their independence and several generations later, this excuse is losing traction. The ills of tribalism persist and this points to more than just a cultural problem, it may be due to genetics as well. "Tribal behaviors are ingrained and this may explain why it taken thousands of years to break free of its deadly grasp." Africans have had plenty of opportunity to lose tribal behavior and behavior, but it's been extremely difficult. Tribalism is built around kinship and that is incompatible in a modern state. This requires those caught up in tribalism to develop higher levels of trust for those outside the tribe. A second evolutionary trait requires a population's transition from a violent, short term, impulsive behavior endemic among hunter-gatherer societies to a more disciplined, future oriented behavior, as seen in East Asian society.
Could any of this account for the current racial tensions in the USA, in particular Ferguson, Mo.? I ask the question, I do not have the answer. However, tribalism has played any roll in culture and evolutionary traits, it is not beyond reason to think its possible. Many of the actions by African-American protestors of late seem highly illogical, but very logical in an abstract way if viewed in the backdrop of Wade's assertions on tribalism and hunter-gatherers.
When documenting the history of each major race, it's easy to see that each has followed a different evolutionary path as people adapted to their local environment. "From an evolutionary standpoint, no path is better than any other, its only criteria for success are how well it's adapted to its local environment."
If you would like to know more I suggest you buy the book, A Troublesome Inheritance, Genes, Race and Human History by Nicholas Wade. But, for now I hope I have imparted some of Author Wade's incredible insight and wisdom.
We carry our past into the future whether we like it or not. Our past is part of us. However, knowing our past is a step that could help us adapt more effectively in the future.

On balance: A pretty decent critique and rebuttal can be found here, just click. One more worth reading….click here.