by Jack
Most of our enlisted and officers know the integration of women into combat units is a bad idea, because it's based on politics, not reality. Unfortunately, the "politicians in uniform" at the Pentagon don't have the backbone to buck the loud mouth minority in Congress or the liberals in our country. This very vocal minority pushes the idea because women in combat units reflects gender equality. Okay, equality is a principal we hold dear in a general context. It's generally a good a thing! However, we must maintain our tried and true high standards. Lowering standards to accommodate women is a political ideal, but it is one that is counter-productive and dangerous.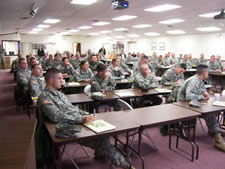 Reality check: In today's military, we are sending combat units to fight against non-state, non-uniform savages. They have no rules of conduct and they give no quarter. We call these new wars with terrorists "25 meter" war, because it's often fought up-close with a barbaric enemy. We need our best men to fight these cavemen, not girls just because they are part of some touchy feely social experiment.
The issue of women in combat wouldn't even be a consideration if it were not for our progressive feminist's. However, to demonstrate how ignorant and out of touch President Obama is as our commander in chief, [he] continues to press for the release of as many jihadists as he can, because he thinks this will get us out of war with Islamic terrorists. If only it were so simple, but the fact is they (Islamic terrorists) are at war with us. It's hard to unilaterally call that kind of war off.
Since the end of the Cold-War the U.S. military has continually been downsized, but at the same time our military has been asked to do more war-fighting and respond to ever increasing and complex situations around the world. If we can't have the right quantity to do this, common sense says then we better give them the right quality and this won't happen by adding women in combat roles.
Alright, just for the moment, let's forget about the reality of who we're fighting; lets just talk cost. What's the actual cost of training women for combat, anybody know? The GAO knows, but they won't release the number, I guess it's because the number is too high, so the White House wants it kept secret from the public. But, reasonable estimates say it will cost about 400% more to train females for combat, never mind their attrition rate and cost of injuries.
The GAO hints at the high cost of training women with this statement: "Given the expanding and evolving role of women in the military, the health and wellness of servicewomen plays an important role in overall military readiness." Health and wellness translates to, if you spend more on healthcare you have less to spend on hardware. We will have to spend on critical things, like keeping the U.S. military the best trained and equipped in the world.
Don't believe me, just look at the "female-specific aspects" in the Affordable Care Act. It uses the word "women" 145 times versus one use of "men." That's 145 to 1 and that represents extra healthcare costs. Let me conclude my part with an excerpt from a well-respected (female) expert in military affairs:
"Every sentient adult knows what happens when you mix healthy young men and women together in small groups for extended periods of time. Just look at any workplace. Couples form. At some point, how couples interact – sexually, emotionally, happily and/or unhappily – makes life uncomfortable for those around them. Factor in intense, intimate conditions and you can forget about adults being able to stay professional 24/7. Object lesson for anyone who disagrees: General Petraeus.
Wherever combat units exist – they exist to be sent into harm's way. Maybe they won't take casualties. But the military can never count on that. The prospect of attrition requires that the military treat individuals not as individuals, but as interchangeable pieces of a complex system. Not only does every combat soldier need to be capable of accomplishing the same essential tasks as every other combat soldier (according to rank, MOS etc.), but every potential replacement has to be able to easily fit into an already-stressed group. This introduces the equivalent of a Goldilocks challenge: Groups must be flexible enough to quickly absorb new members, while new members need to be sufficiently similar to both old members and surviving members that they readily fit." Anna Simons. Simmons is a Professor of Defense Analysis at the Naval Postgraduate School.