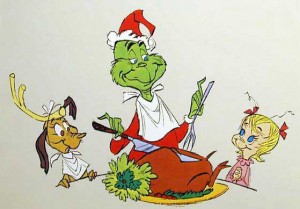 Posted by Tina
A new study from Carnegie Mellon indicates that vegetables, fruits, dairy and seafood may have a more negative effect on the environment than meat:
The meat-less diet increases energy use by 38 percent, water use by 10 percent and greenhouse gas emissions by six percent.

"Eating lettuce is over three times worse in greenhouse gas emissions than eating bacon," Paul Fischbeck, professor of social and decisions sciences and engineering and public policy, told Carnegie Mellon. "Lots of common vegetables require more resources per calorie than you would think. Eggplant, celery and cucumbers look particularly bad when compared to pork or chicken."
Oh dear, if this is true, green vegetarians are going to be in a perpetual state of anxiety and conflict.
But that's not the only fun/good news for climate deniers and the next generation. According to a study by the National Center for Science Education, forty percent of educators are now teaching their students that human caused climate change is controversial. The article's author, Jonathan Zimmerman, is upset about it; he's one of the "97% of scientists" believers who complains that deniers lie and distort the truth. He only wants our kids to hear from the myth makers, the group that touts "97% of scientists," a political story which derives from:
…a handful of surveys and abstract-counting exercises that have been contradicted by more reliable research.
See also here, here, and here.
Ya gotta laugh at the insanity…"oh no, deniers are causing kids to hear what top scientists think who don't agree with the opinions of the so-called 97% of scientists. YIKES!"
What harm can a little knowledge do?
Never fear, boys and girls, we can eat meat without fear! We can send kids to school knowing they will actually learn about various scientific ideas on the subject of climate change. We can rejoice that the truth will continue to be pursued. So let's all just relax and, please, pass the roast beast!
Ho! Ho! Ho!