by Jack
They were teenage girls from Austria seeking adventure.  They were idealistic, fervent Muslims, and they were caught up in the romantic notion that they could leave their families and join the fight with ISIS.   They would be warriors for Allah and yes, die for the ISIS, if necessary.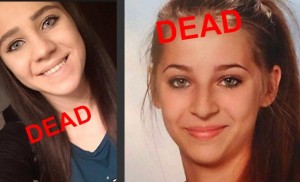 They were so courageous and so naïve, so trusting and. . . so stupid; something that proved to be a fatal combination.
They cleverly escaped from the safety and love of their families, motivated by  all sorts of grandiose thoughts about ISIS fed to them by a local Imam.
At first all went well.  They found their way to the ISIS and battlefield and they were soon given over to couple of ISIS fighters as servant wives…those lucky girls!
"Samra Kesinovic and Sabina Selimovic, both of Bosnian heritage, disappeared from their homes in 2014, leaving a note for their families which read: "Don't look for us. We will serve Allah and we will die for him."
Samra and Sabina travelled to Syria via Turkey after allegedly being brainwashed by Bosnian Islamist preacher Ebu Tejma in Vienna.
He denies the claims. Both the girls – then 17 and 15 – married IS fighters soon after their arrival in Raqqa, and were photographed in full burqas carrying Kalashnikovs surrounded by armed men, images used by the terror group to draw other young girls to Syria.
At the time Sabina told Paris Match in a series of Tweets: "Here I can really be free. I can practice my religion. I couldn't do that in Vienna." Sabina was reported dead soon afterwards, apparently during fighting in the city. Samra reportedly wrote to her family soon after arriving, saying she wanted to leave because she was sickened by IS brutality, but she was unable to do so.
Samra tried to escape ISIS, but she was caught and savagely beaten to death.   This was not an unforeseeable conclusion and the girls had ample warnings about ISIS barbarity, but they chose to ignore it.  They went far out of their way to get themselves killed and all that is left of them is this prophetic declaration:   "We will serve Allah and we will die for him."
There it is, another Muslim's wish come true!
All I can say now is, congratulations girls, you did it!  You had a very clever plan and you carried it out brilliantly.  Now you're dead.  Good job.  Oh, and my congratulations to your grieving families.   They played their part too.  They raised you to be a fanatic, they laid the ground work during your formative years and that ultimately led to your romantic misadventure with ISIS.   Good job parents!
The girls join a growing list of idiots that got themselves killed because they were lured to ISIS by their fanatical religious beliefs.
You should read the story of Tyler Casey sometime.  It's very revealing.   He was an Australian kid who married a Muslim girl and went to Syria.  They've both dead too.
"In January 2014, a young Australian couple was gunned down in Aleppo by rival rebel Syrian forces.Amira Karroum and her husband Tyler Casey were devout Muslims who travelled to Syria to join the global jihad.
But how do a boy from the Brisbane suburbs and a girl from the Gold Coast beaches end up dead in one of the world's most brutal conflicts?"  (I bet there was an Imam involved somewhere)