Posted by Tina
A few years back El Presidente of Venezuela, Hugo Chavez, spoke at the United Nations and called the President of the United States of America "El Diablo."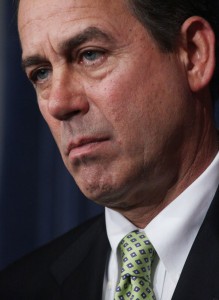 A couple of weeks ago, former Speaker of the House, John Boehner chose to invoke the name of "Lucifer" at Stanford University to desparage and malign Ted Cruz.
What a strange reality we have in America today when a former house speaker mimics the antics of a cruel, anti-American communist dictator to smear a fellow American. What a stupid thing to do. It's the kind of thing that can only be born of misplaced resentment. Whatever shred of dignity John Boehner may have still had as a former House Speaker, he's completely relinquished.
The American people are fed up with politicians that will not stand by America. If you're ever given a chance to speak again, sir, kindly bite your tongue, swallow your pride, and try to represent America with more dignity and grace.