by Jack
The good citizens and police in Crystal Springs, Colorado are finding out the hard way that it doesn't pay to issue tickets to the homeless.
Let me give you a little leagal background first. Now of course, a ticket is a summons to appear in court for a misdemeanor, in most cases. A misdemeanor could land the offender in county jail for up to one year, if the sentence was any longer it would have to be a felony. Most of Chico's City Code violations are misdemeanors.
Okay, let's say you were cited to appear in court to answer a charge of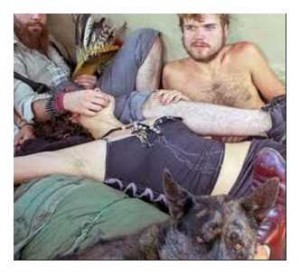 "illeghal camping in the city park."  It could have been panhandling in front of downtown businesses or perhaps defrauding an inkeeper by failing to pay for your meal, etc.   You pick the charge.  The list of possible petty crimes is long, but you probably get the idea where this is going, right?
This is about the so-called homeless problem plaguing many of America's cities today and in particular the City of Chico.
I say "so-called homeless" because I'm talking about the people who live on the streets by choice.  They often do illegal things and sometimes when they do (rarely) they get confronted by the local police who generally issue them a ticket aka notice to appear.  In cases of petty theft they take them immediately into custody for arraignment the next day.
So, the homeless, guy or gal, appears in court on the appointed day and the judge says, "How do you plead, guilty or not guilty" and homeless person replies, "Guilty your honor!" The judge then says, "$30 or 3 days in jail, your choice." Homeless person says, "Well, I don't have no money." And at that point the baliff would normally take them into custody for booking at the county jail where they would serve out the sentence. But, not anymore my friends! Noooooo, those days are over!
The ACLU has challenged the pay fine or go to jail part and said that forcing an impoverished people to pay a fine or face jail is unconstitutional because it amounts to a debtors prison!   The Colorado appellate court agreed and now anyone (with a poverty defense) who was jailed is elgible for a cash settlement of up to $150 for every day spent in custody.
Local Cyrstal Springs panhandler, Sparky Johnson, is soon to recieve over $11,000 for his various criminal escapades that ran afoul of the law and multiple incarcerations, some of which he admits were premeditated in order to get "three hots and a cot." Now he's a wealthy man by bum standards, thanks to your tax dollars. And soon a whole lot of bums will be cashing in on this windfall.
What will Sparky do with the $11,000 grand? "Thats none of your da– business," says Sparky with a big toothless grin. Is Chico a target for such extortion, you may wonder? Oh, you know it is, get ready to pay-up bunky.
Note: One name was changed out of fear of being sued for something and forced to pay a homeless person for god knows what.