By Jack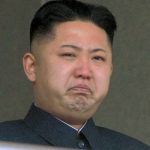 Right now the psycho leader behind North Korea's nuclear program has been making some very bold threats of nuclear annihilation against us.  But, what if he actually starts making overt moves to carrying out the threat?  What then, what do we do about it?
Here are Trumps options:  Decapitate the government with a tactical missile/bombing strike.  There's a good chance we could take down many key leaders in one highly focused,  non-nuclear bombing strike and with a bit of luck, we might even kill Kim Jong-Un.
But, then you have wonder, what about day two…who do deal with then, and what will be their reply?  Educated guessing says… we have a fair chance of an all out land war to follow, or a low chance of a coup, an open revolt, against the government.  Odds are not great here, but from a world view and a practical military view, this might be the best option IF we absolutely were convinced military action was necessary.
Next option, we could use non-nuclear weapons to attack their nuclear research facilities, just to send the message, "Look, we're serious… knock it off."  This could backfire and enrage little monster even more.  Chances are, it would send him over the edge with his paranoia and that means we are risking  mass casualties starting in South Korea.  Give this option a low chance of success with a high chance of war to follow against South Korea.
Go to the UN, ask for sanctions, wait while things escalate and we risk the lives of US citizens and South Koreans in order to follow the highest possible code of conduct.  Turn the other cheek as it were!  Then if the UN fails us (and it will) and North Korea continues…. oh, wait, that's where we are now.  Gotcha.
Do nothing about the threat and just wait to see.   Lets see if the pycho-killer will march right up to the red line and stop, being the little coward that he is or will he cross it?  In the latter case there will be high casualties in South Korea, including US forces.  Our people will be at greater risk to harm via another land war.  We will likely resume a long drawn out and expensive bloody war with very modest UN help.
So, we have 50-50 chance that Kim Jong-Un is all bluff.   Not good, not good at all, when so many lives are on the line.   If we wait too long, we will lose a significant tactical advantage (and many troops).
If we do nothing and they hit South Korea with all they have, the carnage will be horrific, it might as well have been a nuclear attack!   However, if he (Jong-Un) does nothing, well, we called his bluff the consequences of him continuing as the great leader will be compromised for a time.  We'll look good having stared him down…score on for us.  Unlikely we'll come out on top on this gamble.
In a last resort, if things look really bad (and they do) and Kim Jong-Un is reaching for that nuclear trigger…. no more Mr. Nice Guy.  We could use "tactical" nuclear weapons first.  These are low yield, battlefield weapons, that are very effective for killing everything in a quarter mile radius.  These limited nukes could take out North Korea's leadership fairly easily, unless they had time to hide in some bomb shelter that is unknown and out of reach.
So, based on their (nuclear) performance,  it would be an 80% chance we could take out the leadership, including Jong-Un.  And if we continued, we could hit their military with tactical nukes and destroy any possible threat with a 90% chance of success.  The Downside is both predictable and probable.  The world reaction….of course, the world would be horrified, our allies would recoil at our ruthlessness.
Russia and China could see this as a prelude to nuclear war and an imminent threat to them.  They might be moved to launch their own ICBM type nukes in preemptive strike, probably a low 5% chance of that happening.   More likely we would get a lot of hate from many sources for  a long time, even internally.  That hate could severely damage us in many ways and be counter-productive to being a leader for peace.  Although, North Korea would certainly cease to be a threat for the foreseeable future!