by Jack
According to a new Berkeley poll only 35% support gasoline tax hike due to go into effect November 1st. This will be in addition to DMV registration fees, sales tax and registration fees that will increase in 2019.  The new fees and taxes will make Californians the most taxed in the nation.
However, despite the fact that billions of dollars will be raised, presumably for road improvement, there is no guaranteeing that all the funds will go to their intended purposes.
The registration and fuel tax hike is a regressive tax, in other words it hits the poorest among us the hardest. Mainstream democrats now worry they may have let the far left push too hard and they could suffer a voter backlash by 2020.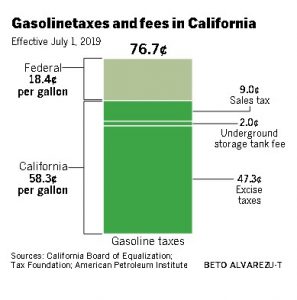 Governor Brown currently makes the argument that if Californians want safe road and highways, then the fix is simple, they are going to have to pony up.  he thinks the freeloaders have had their way long enough.
However, Governor Brown is not taking into account decades of wasteful spending that has at times forced a raid on highway funds and that led to deferred maintenance and accelerated deterioration of bridges, roads and highways.
Redundant state offices, ineffective state programs and gross mismanagement have taken their toll.
California is easily the State's largest employee with over 300,000 employees drawing some of the highest wages and best benefit packages in the nation. For example, Theodore Eliopoulos draws $736,000 per year, not counting benefits. He's the CFO for the Public Employees Retirement System.
Last year Vernon Steiner, head of Workers Comp drew $718,000 in salary.  Douglas Peterson received $714,000 for his job as a medical supervisor for the State's Dept. of Corrections.   California employs 6016 software engineers at an average salary of $104,000 per year not counting benefits. Guess you can never have too many software writers?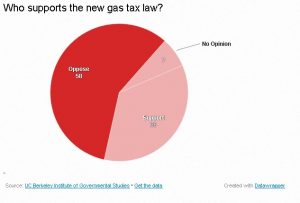 The U.C. system is rife with overpaid bureaucrats, so much so that our colleges system is forced to hike fees and tuitions again in 2017.
You may wonder how did the wasteful spending and these bloated state salaries get so far out of whack? Let me answer that with some other questions:  How come this state has so many sanctuary cities? How come we have an underground network for illegal aliens that teach them how to obtain benefits? Why is the frivolous bullet train still on the drawing board?  Why do we have scholarships for illegals, yet we hike tuition on American students? Why does it cost more to keep prisoners in CA than in other states? Why are our legislator salaries the 2nd highest in the nation? Why do we allow the Corrections Union, Teachers Union and other unions so much influence over legislation? One word…. Democrats.
Tax and spend democrats have been recklessly driving this state into bankruptcy, and time after time you have been bailing them out with your tax dollars.   It's like trying to help an alcoholic by giving him more booze.  But, until the gas tax hike came along, most people didn't notice because the rich were paying more than their fair share.  Now that source is drying up and businesses along with the rich, are moving to other states.  This means the average Californians will be asked more and more to cover the financial shortfalls created by the drunks in Sacramento.