by Jack
CITIZENS PROTESTING AT CHICO'S PLAZA PARK every WED AND FRI AT 1 PM
Is this the beginning of something very important to Chico? Frustrated y citizens plan to gather at Plaza Park and let their feelings be known, about the transients that seem to have taken over the plaza and liberals who encourage them to come here.
Fed-up with the crime, trash and destruction, the citizens turned to the police and City Council for help. "The homeless are taking over our town" was heard many times at city hall meetings and the downtown merchants reported in great detail about the money they were losing because of them.  Residents living near Bidwell Park reported how illegal campers were trashing the park and polluting the pristine stream with urine, feces and trash.
City Park Rangers confirmed they have a serious problem.   They would later help launch several raids on the larger camps which yielded some arrests on people running from warrants.  There were of course many tickets issued for littering and city code violations.   Tons of trash was cleaned up and hauled off, but it seemed to come back too soon as the illegal camps only multiplied.  So this effort didn't seem to accomplish much.
As the months passed there was a lot of talk by council that solutions were close at hand, but it never really materialized.   There is no question, this was a real tough problem and so many communities have tried and failed to minimize their homeless problems. A few years ago when the problem first surfaced, I think Council underestimated what they were up against, now it's a case too little, too late and the problem is a 100 times worse.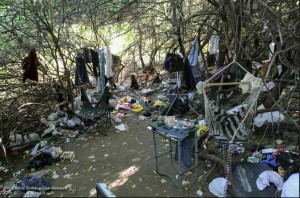 The Chico Police Chief attending the council meetings would defend his department's inaction by putting a guilt trip on council and avoid dealing with their citizens legitimate concerns.  "Poverty is not a crime" he would say, appealing to their kind and gentle nature. "We should learn to be better neighbors so the homeless would be better neighbors." In other words, why can't we all just learn to lower our community standards and go along to get along?
On one occasion I heard the Chief explain to Council and I am paraphrasing again, "The citizens of our city surely don't want to see their police officers used to make a focused enforcement effort on these poor homeless people and run them out of town?" Which, ironically, is probably what the majority of Chicoans would love to see happen!
(Doing laundry at the Plaza Park – see left) During these meetings on the homeless problem the Council heard all sorts of excuses why the police were basically powerless to do anything about stopping the flood of indigents into town.   Well, let me rephrase that, I want to be accurate. The police are not completely powerless: Last week they were forced to shoot to death one of them after he assaulted and wounded two officers with a sharp object during the commission of a burglary (in the downtown). Glad it was them and not me, least they had guns and were prepared. Too many of our locals have been assaulted and or murdered by the new criminal element.
The police no longer have the vagrancy laws that were used quite well for the last 100 years to prevent just this sort of mass bum migration that is taking over Chico.  The police don't seem to have the manpower to even patrol Bidwell Park and bust those illegal camp sites that allow certain bums prowl our streets looking for something to steal.
In desperation the Council turned to the homeless advocates, these are professionals that were trained how to engage the bums in a helpful and caring dialog. A volunteer program was thus begun and it was called, "Chico Ambassadors!" Volunteers were trained in skills that would allow them to speak directly to the miscreants in a kind and non-threatening manner, to reach out to them. They would offer information how they bums could locate local social services, ostensibly to curb the rash of bums panhandling in the downtown. And at the same time, our kindly Ambassadors would educate the bums on our local laws and their responsibilities while in Chico, thereby instantly turning them into better citizens.  This was a proposal made by our liberals to council.
(see right, homeless gather in Plaza Park with their expensive mountain bikes, camping gear, cell phones and drugs.  Guess where they get the money to have these things?)
This program was without doubt the biggest flop of all. First off, they couldn't begin to keep up with the flow of itinerants! They, many of them young and living an alternative lifestyle, didn't want to hear their message.   Other times they were high or drunk, so that whatever pearls of wisdom the Ambassadors had to impart were lost in seconds due to the recipients haze of intoxication. The City and the police have run out of ideas and the problem people keep coming here.  The local stores are being hit for tens of thousands in shoplifting every week. For the criminal transient, Chico has been a great place to steal!
Now enter local citizens who have a plan of action of their own.  This is a plan just starting to take root.  These are good, law-abiding people, but they are fed-up with the crime and trash.  They are also fed-up with the liberals that go to Plaza Park daily to pass out free sandwiches to the transients.  And they are fed up with all the other "magnets" that keep them coming and allow them to stay here living on the street.   The transients are avoiding work, avoiding counseling, avoiding rehab programs or anything that would direct them to a positive lifestyle change.
Chico's citizens are for all intents are fed-up.  
 They are just everyday citizens, people that feel compelled to take action to defend and protect their rights and their community from a constant assault.
(Photo on right shows more bikes and bike parts that the so-called homeless have in abundance.)
They are going to assemble in Plaza Park Wednesday and Friday at 1 PM to make their dissatisfaction known.   They want to take back the Plaza so they can feel safe being there once again.
Will these locals get tough enough to run the criminal element part out of Chico? Heck, I have no idea, I have never been to one of their gatherings. All I know for sure is this movement has just started on it's own, kind of like spontaneous combustion.  There are more and more people showing up at Plaza Park to protest.  Who knows what could happen. I think I will go this next Wed. and see what's up?   More to follow!