by Jack
Do you think one's color has anything to do with bias in opinions, attitude and actions?   Sure, of course it does, but it's a learned condition.  If it can be learned, it can be changed and neutralized.  But, that reconstruction process, no matter how worthy, won't be easy to do because it is so rooted in us.  It goes back thousands of years to ancient tribalism.   
Our bias, and I mean… [all bias] race to politics, is something that is constantly being reinforced.  Most of the time it comes by way of our friends and family.  That makes overcoming it incredibly hard.
Why do I think our friends and family are involved?  Because we pick our friends based upon our bias and that bias typically begins with our family.  It's just that simple.
We feel more comfortable around people of like opinions and we feel more comfortable around people who look, talk and share our bias'.   That's the way it was in tribal times.  Being from the tribe was good, being from outside the tribe was bad.
It's troubling to me, that places of higher learning, like Chico State, still have graduation ceremonies divided along racial lines.  It's not right, but they continue to do it because they are requested by Hispanics and blacks to provide separate ceremonies for them, in addition to the regular graduation event.   They say their family and friends feel more comfortable in separate ceremonies.   There goes that comfort thing again, it another way of expressing tribalism.
But, surely those in charge of our colleges know that constant exposure to, and empathy for, different races, is one of the best ways to overcome racial bias?  So why do they keep caving in?  (Gutless and lacking in vision? )
I think it would help us to get rid of those comfort zones.  Race based divisions are not healthy and can only lead us to other divisions.  Right now blaming and putting down "whitey" plays out pretty well on the left, but it is no different than putting down "blacky" by the far right.   It's not helpful to make fun of white males, black males or anyone else of color.   If we can just get that far, well, I think that will be a huge first step in the right direction.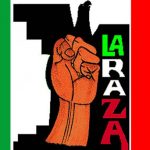 Our future rests with brightest and most far thinking among us. They know what is at risk and how we must change.   They know racial bias is like a cancer in our world and they see it in cities today from Charlottesville to New York, Baltimore and Ferguson in days past.
It's no exaggeration to say, racial bias is literally killing us; it's making us a sick society and it's holding us back from being all that we could be.  If that isn't incentive enough to change,  I don't know what is?  So, lets stop the put-downs, stop the mocking, stop the jokes, and please stop going to racist events for any reason and start thinking smart.