by Jack
This is by no means a comprehensive study, but it should begin to give you the ammo you need to rebut these liberal twits with their crazy ideas about the homeless problem and what to do about it.   Lost Angeles is a prime area to study because they are ground zero for homelessness and the newest surge, Latino homelessness. 
What begins there (LA) will eventually work its way north.  Please read on:
LA Times, May 31st, 2017:  "Homelessness grew in many parts of the county. But rises were largest in the Antelope Valley and eastern L.A. County and the lowest in the South Bay and San Fernando Valley. Within L.A, homelessness rose in all but three city council districts that encompass parts of the San Fernando Valley and the Westside.
The biggest increases in the homeless population were among people 24 and younger. The biggest segment of the homeless population remained those 25-54 years old. The most common dwellings remained makeshift shelters and campers. The population of homeless veterans also rose. Blacks made up the largest group of homeless people in the county, followed by Latinos and whites.  However, there has been a surge in Latino homeless, up 63% since 2016.
August 7th 2017:  Thomas Fuller, the San Francisco bureau chief of California Today.
Is California's homeless crisis much worse than the official data show?
A study released last week makes the case that the federal government undercounts homelessness in California's largest cities by more than 25 percent.
Using the estimates in the study, Los Angeles has 60,000 homeless, not 47,000, and San Francisco has 9,000 homeless, not 7,000, according to the research, which used 2016 data.
The study is important, experts say, because it could provide justification for greater federal funding for programs that address homelessness."  (Ha! Not in sanctuary Ca)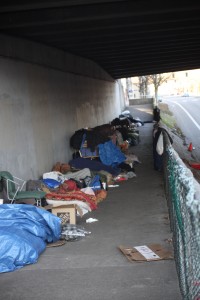 Los Angeles Times, Nov. 7th, 2017, reports, "Recent figures released by the county show that Latino homelessness shot up by 63% in the past year, a staggering number in a county that saw its overall homeless population soar by 23%, despite increasing efforts to get people off the street.
Nearly every demographic, including youth, families and veterans, showed increases in homelessness, but Latinos delivered one of the sharpest rises, adding more than 7,000 people to the surge.
WallStreet.com, March 5th, 2017:  "According to the latest U.S. Department of Housing and Urban Development report to Congress of annual estimates of homelessness across the nation, California has the largest share of homeless residents who are unsheltered, at 66.4%. These are individuals who are homeless but are not staying in emergency shelters, transitional housing programs or safe havens.
Mentally Ill:  "It is a myth that the majority of homeless people are mentally ill; only a small percentage are. Nor are all homeless people unemployed."  Pew Charitable Trust Nov. 17, 2014.
2017 – Gov. Jerry Brown, in response to the growing problem, voiced his support for a $2 billion plan to build housing for the state's mentally-ill homeless population.  However, the Trump administration has declared they will cut off federal funding for CA because Gov. Moonbeam signed legislation declaring CA to be a sanctuary state!  How does El Gubenor think he can declare CA a sanctuary state one day and then ask for a $2 billion dollar grant the next?  I have no clue, but then I didn't vote for him.
Wallstreet.com reported: "Nearly two-thirds of California's homeless population is unsheltered, the highest proportion of all states."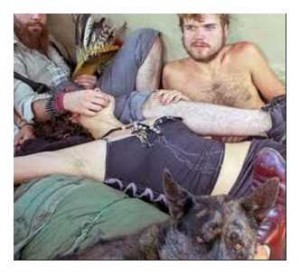 Best estimates now show that somewhere between 21% to 25% of the entire nation's homeless population now live in California.  Some authorities say it's actually much higher.  But, why does California have such a high percentage of our homeless?  That answers will vary depending on who you ask, but it really boils to 3 top factors:
 California offers a lavish welfare safety net when compared to many other states and that's been a magnet to the homeless coming from other states.  (Hard to believe, huh?)
2.  Foster care:  About 40-50% of children in California's failing foster care system are destined to become homeless.  30% will become prostitutes and/or enter the prison system.   According to Shalita O'Neale, the Founder and Executive Director of Hope Forward, Inc. (formerly The Maryland Foster Youth Resource Center) states, "Within 18 months of emancipation 40-50% of foster youth become homeless.  Nationally, 50% of the homeless population spent time in foster care."
3.  Prison Reform Adds to Homeless:  California passed two misleading bills, both promised to save the taxpayers by reducing criminal penalties and an early release program.  Both have directly contributed to a surge in crime and homelessness.
a.  Proposition 57 passed in 2016 allows for early release for felons and changed policies on juvenile prosecution.
b. Proposition 47 passed by voters in the state of California on November 4, 2014. The measure also known as the Safe Neighborhoods and Schools Act.   It  reduced certain drug possession felonies to misdemeanors. It also requires misdemeanor sentencing for petty theft, receiving stolen property and forging/writing bad checks when the amount involved is $950 or less. This has resulted in a surge in misdemeanor crime and more homeless parolees unable to find lodging.
c.  Upwards of 1 in 5 parolees under Gov. Brown's prison realignment plan is now homeless in CA.  "You've got somebody and … they're gang-involved, you want to get them in classes, but they live under a bridge," said Andrew Davis, an analyst with the Santa Cruz County Probation Department. "They're not going to show up; they don't even know what day of the week it is." Oct. 11th, 2017, news report from KQED TV.
The City of Chico is investigating building as many as 1000 tiny houses for the homeless, but whether it's 1000 or 100,000, it will not work.   We can't force mentally ill into a tiny house and expect good results.  We can't force anyone to stay in a tiny house!  The majority of people on the street right now reject societies values, they do not want any responsibility, supervision or rules.
We are dealing with alcoholics, drug addicts, parolees, wanted persons, illegal aliens and permanently mentally ill people.  They are trashing the ecology, they are greatly adding to healthcare costs.  They spreading hepatitis and worse diseases that will cost the taxpayers more than just money.  They are opportunistic when it comes to crime.  California's generous misdemeanor laws are a joke because they do nothing to curb their criminal behavior.
Currently Chico shelters are rarely filled, this should offer a hint, how tiny houses will work.  If you think Salt Lake City has the answer with their tiny houses, you better think again.  More recent studies show that isn't working anywhere close to how it was first reported.   In little Chico we can't possible even put a dent in the problem if we threw every tax dollar we had at it!  Simply put, this is way beyond our control,  the need will always exceed the demand.
Now tell me again why you think it was such a great idea to do prison realignment, reduce many felonies to misdemeanors and make California a sanctuary state and offer better welfare than most other states?