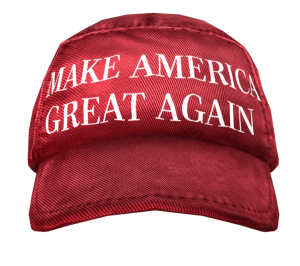 Posted by Tina
Holy Guacamole! A rare thing happened today. CNN, a network that gave President Trump "93% negative coverage" in the first months of his presidency, acknowledged that President Trump has been a "keeper of promises":
A politician who actually does what he told voters he would do seems almost unfathomable in Washington, a town of broken promises. For Donald Trump, being a president who delivers is especially crucial, since it's one of the golden keys to his so far unbreakable bond with supporters.

It was just the latest instance of the President obstinately honoring the bumper-sticker vows he made to his ultra-loyal supporters — even those that horrify the political and foreign policy establishment, media critics and allied leaders.
They even provided a list of accomplishments, albeit a somewhat thin list:
Has moved to renegotiate NAFTA
Pulled out of the proposed Trans-Pacific Partnership (TPP) trade deal
Pulled out of the Paris climate accord
Has targeted the Joint Comprehensive Plan of Action (JCPOA), also known as the Iran nuclear deal
Implemented a travel ban targeting countries that are hotbeds of Islamic terrorism
Pushed for harder immigration policies
Strong economy and stock market
They left out…placed Neil Gorsuch on the Supreme Court, Keystone pipeline, returned public lands to Utah, downsized government departments to make them more efficient, made a concerted effort to arrest (and deport) dangerous gang members and criminals, eliminated onerous regulations, opened Alaska to drilling, reclaimed our sovereign rights regarding immigration and refugees, incentivized business people, both foreign and domestic, to invest in America, negotiated with leaders in the ME to have them take the lead against terrorists, and hasn't been afraid to call out false or misleading stories in the media or shied away from exposing what he thinks is corruption in government. Whew! That's all in the first year, a year that included several challenging hurricanes and fires.
Trump acts like a leader, not a politician. He's able to see things big picture. He learns from the mistakes of those who've gone before him. He empowers those around him and expects results…quick results. One of the complaints we in flyover country have is that politicians talk and never get anything accomplished. When they do it often does more harm (Obamacare) than good. Trumps approach is in the spirit of the GENERAL welfare. He knows we're capable of handling the rest at the state, local, and familial level. It's how our founders envisioned this republic would work. (Of course we've done a lot of damage that needs to be undone to put more power in the hands of the people while at the same time supporting those who truly need assistance.
Trump represents a welcome change to the status quo and we are lovin' it! He said he'd MAGA and he's keeping his agreement!
Who know what CNN will do from here on. This might be the occassional bone tossed to give them credence, but I welcome it nonetheless.
Source Ryan Saavedra of the Daily Wire…follow the link above.