Political cartoonists illustrate truth in words and pictures. I wanted to make sure you saw this one by Mike Lester of the Washington Post Writers Group.
Maxine is a socialist who once let it slip that she (with Obama in the WH) was about taking over the oil industry. The party was already poised to "take over" the health industry and what a mess that made!
Socialists are control freaks and bullies. The socialists movement in America is feeling it's oats following the strong showing of Bernie Sanders in the last election and now, in New York, the primary win by Alexandria Ocasio-Cortez over the Democrat incumbent. They've taken to the streets with the usual extreme message:
The New York chapter of the Democratic Socialists of America, "the largest socialist organization in the United States," recently tweeted a bulletin urging its sympathizers to "Abolish profit, Abolish prisons, Abolish cash bail, Abolish borders."
Wow…such a winning message. These freaks were out in screaming in the streets in cities all across America over the weekend. Intimidation is their method…intimidation was the method of the KKK too.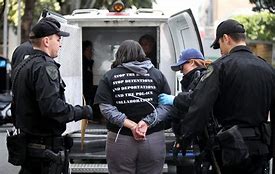 Last week 575 were arrested after protesters associated with #WomenDisobey occupied the Senate building with demands to abolish ICE and end detention "camps." (Under Obama they were called detention "facilities" and we have the pictures: He kept them in cages!). Where were the protests when Bill Clinton authorized the detention policy? At the time safety made detention and separation an angelic policy:
Mandatory detention was then officially authorized by President Bill Clinton in 1996 with the enactment of the Antiterrorism and Effective Death Penalty and the Illegal Immigration Reform and Immigrant Responsibility acts. From 1996 to 1998, the number of immigrants in detention increased from 8,500 to 16,000[3] and by 2008 this number increased to more than 30,000
The women involved in #WomenDisobey are uninformed and prejudiced. Their embrace of tyrannical control and bullying is evident to those of us who acknowledge the clear history of the extreme left. From the KKK to the various radical left movements in the streets today the strategy is chaos, lawlessness, intimidation, and anarchy. The message stands in direct opposition to the Constitution, freedom, the rule of law, equal justice and free speech.
We will Keep America Great only if we resoundingly reject the ideas if this bunch of emotional and ignorant miscreants.
Related question: Radical feminists consider themselves strong liberated women…nobody is going to push them around or tell them what to do. If that's truly what they believe why in the world would they use the word "disobey" in the hashtag? Doesn't that suggest they still feel like helpless little girls?