by Jack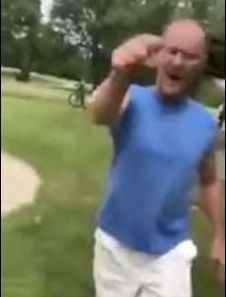 This is like a tale of two cities.  Earlier this week a black woman was [not] charged with a hate crime after she attacked and severely injured a frail 91 year old Hispanic man because he allegedly "bumped" into her daughter.
She knocked him down and she yelled racial slurs and told him to go back to Mexico.  But, that's not a hate crime… not in Los Angeles.
A day later and across the nation in Chicago, an intoxicated older [white] man yells at a younger female from Puerto Rico.  He tells her she's in America and she should not be wearing a tee shirt with the Puerto Rican flag on it.  His motives were a twisted sort of patriotism granted, however it was not racial and I don't see rising to the level of a felony.  He didn't say go back to Puerto Rico or make racial slurs according to what I read.  It was all about her flag shirt that the stupid drunk guy misidentified.   He was just being a stupid drunk, this is exactly the kind of brainless stuff they do.  It's wrong and he should have been busted for public intoxication.   But, he's being charged with a serious hate crime, a felony…why?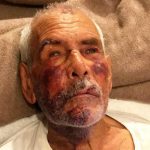 Now take a look at the injuries to the older Hispanic man from Los Angeles.  He was cussed out, yelled at for being Hispanic and beaten nearly to death.  But, that's not a hate crime.
So let me rephrase it, yelling is a serious felony hate crime in Chicago where the drunk suspect is white, but this beating in Los Angeles where the suspect was black is not a hate crime… do you understand now?   No, me either.