by Jack
Acting on advice of my cardiologist, at least 3 times a week I try to get the old pump running at a vigorous pace.  So, lay on my bed and turn on the liberal NPR radio and listen to news and leftist programming.   In no time at all, my heart rate increases, blood pressure goes up; even my face is flushed.   Then after a few minutes I switch channels to Rush Limbaugh for a cool down.  I repeat this several times for about an hour.
I call this cardio interval training.   Works great.  However, this morning on NPR something caught my attention, so I stayed on for as long as I could take it.  Yeah, it was grueling, but thankfully I'm in pretty good shape, so I handled it.  I was listening to "The Takeaway" (which seems a fitting title for a liberal show).  They were advocating for race based admission to colleges (affirmative action).  Liberals were concerned that admission directors maybe soon be faced with finding new and more creative ways to admit less prepared students, should SCOTUS declare affirmative action unconstitutional for the nation.
What is going one here?  I thought we worked this out years ago and affirmative action was dead.  It was already held to be unconstitutional, right?  I was chagrinned to discover only 10 states currently ban so-called affirmative action at public universities. California, Washington, Michigan, Nebraska, Arizona, and Oklahoma all passed their bans through a voter referenda.
After more research I found that SCOTUS in a 2013 ruling in Fisher v. University of Texas, colleges must demonstrate they are using race in admissions only when "necessary," meaning no other methods could produce the same results.  They are moving in the right direction, but they are not quite there.   This year in Schuette v. Coalition to Defend Affirmative Action SCOTUS said that voters have the right to decide on issues of affirmative action in their state.   That's also good, but it's still not the definitive ruling we need to stop the horrible practice of race based quotas.
Texas had a racist ban in place from 1996 to 2003 based on a lower court order.  And the University of Georgia voluntarily dropped their forcible race based admission also on lower court challenges and made the change permanent.  So that's two more states that joined to ban this racial discrimination.
Together, all of these states offer positive data on what happens when public universities are allowed to pursue diversity, but without being racist about it.
SCOTUS will soon hear an affirmative action case, either this year or next and they will finally put it out of it's misery.
Race based admission ought to be an affront to every hard working, intelligent minority as much as it is to our nation's founding principles for equality and our belief in the great melting pot.   If we are truly striving to become a color blind society, then racism in any form is still racism.   Racism does not belong in a society that says we are all created equal.
A college degree is, among many other things, to prepare students to be competitive on the world stage.  If we are not competitive, what are we?  Competition is the cornerstone of our nation's business model that has served us so well.  We didn't get to be #1 in the world through  subsidy and protectionism.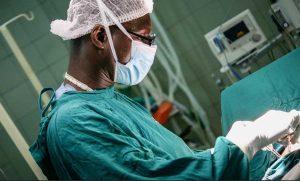 When our students enter the work force we have every right to expect them to be equal to or better prepared than students from any other nation on earth.  Lowering the bar in admissions and hand holding students to get them through their academic years does NOT serve this purpose.  It does NOT prepare them to have a fair chance for success in an open market place.  And what is even worse, our nation will grow weaker for it.   This may be hard to imagine, but some day we may even find ourselves reaching out to 3rd world countries for their medical and scientific grad students,  only because our system did not produce what this nation desperately needs.
Affirmative action may have served a reasonable purpose once upon a time, many decades ago, but it is now an unnecessary burden.  It's an idea that is producing questionable results at the cost of denying the most qualified and competitive equal access to higher education.