How PoDunk PD Solved a Murder and Thoughts on Immigration….
by Jack
"Podunk PD" was an intentionally derogatory term one of our liberal posters recently used to describe the law enforcement agency that finally broke the murder of college student Mollie Tibbetts.  
That same perpetually wrong liberal wanted to rush the ACLU to the suspect's defense, implying that the hick cops probably took the path of least resistance and setup this poor patsy with a bogus murder charge.  
The truth was something else entirely, as it often is when it comes to what liberals are predisposed to think.   This investigation was nothing less than good old fashioned honest police work.  The police deserved kudo's, not knee jerk criticism from some no nothing liberal.  The police  spent hundreds of hours following up on tips and leads, until finally they got the break  they desperately needed.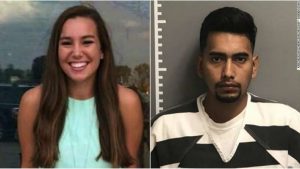 A neighbor along the jogging route that  Molly Tibbetts took offered up his video cameras to police.   So, for hours the police watched the video until they found that brief part where Tibbetts was running and not far behind her was a black Chevy Malibu. That vehicle would make several passes by her before they were out of range.   That suspicious action was the break they needed to find the 24 year old suspect working on a nearby farm.
The evidence now shows there was no justification for wanting to rush in the ACLU to protect this so-called patsy from being victimized by bad cops.  No surprise there, was it?
The vehicle was traced to a large farm located less than 3 miles from where Tibbetts disappeared.  The vehicle's registered owner, Christhian Rivera, was taken into custody and eventually confessed his role to police.
He said he was watching Tibbetts running the day she disappeared and was captivated by her.   He drove by her several times and eventually stopped his car exited and jogged along with her to engage her in a little friendly conversation.   She allegedly reacted with a bad attitude. This was probably because he surprised her.  She was allegedly listening to music and was possibly unaware of her admirer until he suddenly appeared next to her and this could have scared her and set off a chain of quick events that led to a homicide.
Being startled can make people angry.  Tibbetts told him (allegedly) in a less than courteous manner to get lost.  She showed him her cell phone and threatened to call the police on him if he didn't leave her alone.
Of course Molly Tibbetts was in no position to make such a threat.  She was alone in a desolate area, facing a larger and stronger male subject.   There was no one with earshot to come to her rescue, if she needed help.   She carried no means of protecting herself, no mace, no pepper spray, nothing, just a cell phone that she would never have a chance of using.
Even if she had called 9-1-1, responders would have been about 10-15 minutes away.  She suddenly found herself in a real bad spot and the only thing standing between her and death was her ability to quickly size up her situation and say and do exactly the right things.
Unfortunately, whatever she did was not helpful.  According the suspect, her attitude pushed him over the edge.  You can just imagine this scenario playing out.  In his culture back home he could approach a girl this way and they would never have overreacted like Molly.  She was offensive and insulted his honor.   The girls back home would have had been much more demure and diplomatic, showing him a certain amount of respect.  But, this is America and girls in Iowa are not likely to be accustomed to dealing with young men from Mexico, especially not those like hot tempered Rivera.
Her (alleged) attitude was like jerking on the pit bull's chain and it really incensed him.  Once he felt threatened and disrespected he just snapped; he blacked out, he said.  The next thing he could remembered was her earbuds in his hand and then he realized she was in the trunk of his car…dead.  Now we have a family tragedy and a senseless death.  As taxpayers we are faced with a costly trial and an even more costly incarceration if Rivera is convicted of murder.  The whole situation is a tremendous loss for a family and for our society nd is repeats itself far too often because our liberal legislators and voters just don't get it.
For the sensible people of our country, there are many things to be learned here, especially as this story unfolds in even more detail.  But, one of the important takeaways is our immigration service and border patrol that served as Tibbetts first line of defense was not able to stop this guy from coming here.  Who could deny that?
We failed Molly Tibbetts at the border, but we are at least working now to fix this system under Trump.
Without any question, lacking a secure border and a well administered immigration service, we expose ourselves to unnecessary risks.  Without it there are too many unintended consequences, such as a spike in the cost of crime, unanticipated educational costs, healthcare and welfare costs… to name but a few.
A good immigration system serves both sides:  With a responsible, reasonable  immigration system we afford immigrants a fair opportunity to learn about our government, customs, laws, history and expectations so they can assimilate as easy as possible.
By going through a comprehensive immigration system the right way, the new citizens have made an honorable pledge with America.  At the same time they've made a serious  first investment in their future.  It should be no other way.   Yet liberalism holds nothing but contempt for a responsible immigration system.  But, then again, they hold many things American in contempt, so why should it surprise us if they don't like secure borders and immigration filters?
However, done correctly, the immigration process becomes something to be valued and respected…. because citizenship was earned!   This can improve the chances for a successful transition from one culture to another and isn't that what we all want?  The immigrants deserve it and we deserve it.
There's no guarantees it will work out for everyone.  But, common sense says the odds are far better for success with it than without it.  Maybe some day we'll get it right for the Molly Tibbetts and Kate Stineleys of this world.   We owe it to our countless victims at the hands of the illegal aliens.