by Jack
CAMP fire update, 8 Nov. 2018, 1700 hours- Chico, CA:  The fire's point of origin appears to be from a remote area near the Feather River.  However, we do not have any confirmation on this as of yet.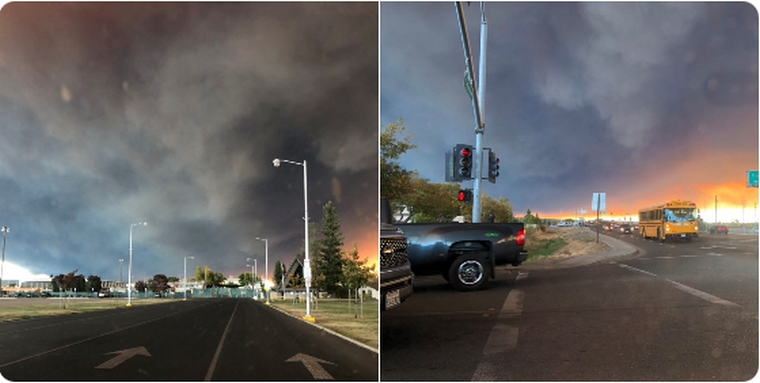 The Camp fire continues unchecked and has grown to over 19,000 acres in the Paradise area.  See map below.  Gusting winds up to 50 mph, breaking into multiple directions over canyon terrain, have complicated containment.
For the present time firefighters are focusing on mostly just rescue.  A CAL fire spokesperson said, "Saving lives takes precedence over saving property."   The fire moved so quickly that many people found themselves encircled and cut off.  Those folks are the firefighters first priority.  "We need to identify where they are, then find a way to reach them.  That's our current mission."  Specialized teams called "Hot Shots" have arrived and are staging at nearby Butte College.
Meanwhile the Gridley Fairgrounds has been opened to provide emergency shelter as well at the Nazarene Church in Oroville and the Neighborhood Church in Chico.  Enloe hospital in Chico has accepted all the patients from the Feather River hospital.  Care facilities and rehab hospitals in Paradise are moving patients to Chico and surrounding cities.
Area schools, including Chico State, Butte College and Chico High Schools were closed today and will be closed tomorrow.
(Smoke drifts over my home.) Once again Butte County is making international headlines. A 7,000+ acre fire is raging along the canyon that abuts Paradise. In some places the fire has jumped over major roads and is spreading into heavily populated areas. As of right now the rumor is, that the CAMP fire has touched Feather River Hospital which is being evacuated. This remains to be confirmed. However, Paradise, Concow and many small communities are under mandatory evacuation, but the roads are jammed, so traffic moves at a snails pace.
For the people of this county, this has the potential to be the worst fire of century, tens of thousands of people are now heading for emergency shelters. The air quality is quickly dropping, along with white flakes of ash and tiny embers. One can only hope those embers burn out before the touch the ground.
It should be a beautiful autumn day with blue skies, but as you can see from the photo above, the black clouds cast an ominous shadow over us all. It's eery to see a bright orange ball in the sky where a yellow sun shown only minutes ago.
Just to prepared, I have a few bags packed, I have my insurance papers, family stuff, meds, etc., we ready but I feel we're in a relatively safe area. Many people had no time to prepare, they barely escaped with their lives. Overhead I can hear the giant sky-crane helicopter hauling water to drop on the fire. Several BAC-146 jet tankers are also shuttling back and forth from the fire line to the air attack base not 5 miles away. Just this second a large turbo prop airtanker passed overhead by less than 1000 feet. I'm going outside to see what I can see, which probably won't be much.
Stay tuned and I will try to provide updates as long as I can.  The fire is growing at the rate of 80 acres per minute.