by Jack
Title:  The Super Saber, acrylic on canvas, 16X19.5.  Painting has much finer detail when viewed in person.
I wanted to depict this old Super Saber jet in it's air national guard colors, flying over a large storm.  In this turbulent setting I hoped to make the best use of my composition's parts.  That being, striking a balance with the plane in the foreground and the heavy dark shades of grey and white in the storm in the background.
When you look at it for a minute, does it feel like there is symmetry, that everything is connected?
The other key elements that I wanted to meld together are:  A definable focal point (yellow stripe), a feeling of motion (angle of plane v turbulence), accurate perspective with shadows and a background light source to highlight the aircraft.   So what do you think, did I make it or not?  All comments welcome…I'm still learning!  Thanks for looking.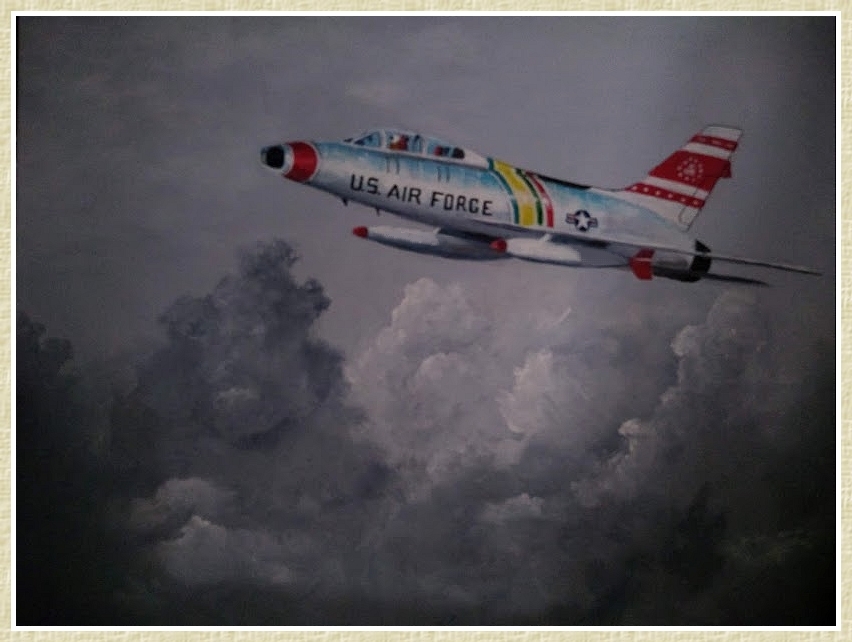 Check this out, video of model Super Saber, it looks so real.