by Jack
My daughter just arrived from Holland and having now lived in both CA and Holland she contrasted life here and there.  She had some surprising and not so surprising perspectives.  Her observations compared Amsterdam to Los Angeles and San Francisco and Chico to some comparable sized villages outside Amsterdam.
Note:  The following are a sort of consensus opinions that included her Dutch friends that have also travelled here and of course her opinions.
1st reality check:  California was nothing like the Dutch thought it would be.  They expected L.A. and San Francisco to be a more glamorous cities, like Hollywood, bustling with world class business types and well to do people.
Once off the plane they started seeing the real CA.  First impression, the people looked
too casual, almost shabby and poor casual.   There was no comparison to the well dressed characters they were accustomed to seeing on TV.  It was like, Americans don't care about their personal appearance very much.
Dutch tourists entering the big cities on the west coast in the last few years had to be taken aback by the large numbers of  filthy people living next to and under freeway bridges.  Or bums laying around in the city parks or crazy people pushing shopping carts filled with garbage bags, etc.   It was a sight in this wealthy state that they never expected to see; the level of human misery and poverty was stunning.   And all the trash… it was shocking to say the least. All of my daughters friends agreed with the above – CA is dirty and unsafe.
By comparison their cities, even in Amsterdam that is so well known for its liberal use of cannabis, is a 1000 times cleaner and 99% free of street bums, drunks, druggies and crazy people.  I can imagine they collectively thought, my God is this America, what's happened here?  (A village neighborhood outside Amsterdam shown below, no pot holes either)
The standard of living in Holland was so superior to this, they couldn't believe it.  For example, their vehicles are generally smaller, but newer.  Sure, they have their traffic issues, but nothing like here.  She thinks this is because a large portion of the Dutch society ride the bus, train or bike to work.  "You don't see the big hillbilly pickups and loud beater cars in Holland." She said.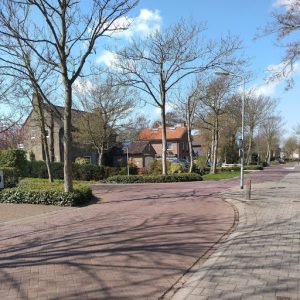 Amsterdam is not loaded with fast food places, liquor stores, bars, chain restaurants and cheesy looking strip malls either.  To the Dutch, our commercial districts look devoid of culture, no appealing architecture, just big windows framed in aluminum….all of our stores look so similar and not very appealing.  For them, it was depressing to see because they had such a different idea of what modern and rich CA would look like.
Dutch villages have commercial districts too, but they are a variety of shops interspersed with homes or apartments.  The shops (and bars) don't really stand out.  The locals know where to go to find what they need, its not necessary to have giant billboards and neon signs everywhere. They look down upon such things as trashy and they prefer understatement to our, in-your-face advertisements or tacky store signage.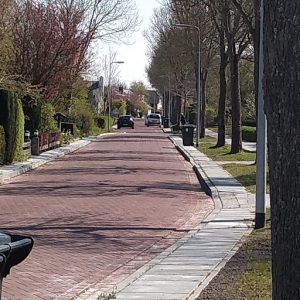 Dutch people generally cook at home, they like eating healthy so the demand for fast foods isn't there.  Their grocery stores are well stocked, comparably priced products to ours, but the store floors and shelves are sparkling clean.  You would not think of littering inside a store or letting your kids run loose.   Kids are kept under control at all times.  And outside the shop doors,  you never see scary looking panhandlers hanging around. (Dutch teens shown below on left)
My daughter says because of the way they eat the Dutch tend to be slimmer.  She thinks the young girls are a bit taller too.  In her opinion, they dress better than the grungy, casual look here.  Over there what you wear is a statement about your self respect and
refinement.   She said by comparison, the American girls look pretty sad.  "They dress really poor like they don't care."  Dutch think too many Americans take too little pride in their personal appearance and I would have to plead guilty to that one (at least at times).
My daughter's take was younger Americans, those under 25, are just not as sharp mentally as their Dutch counterparts.   She blames some of this in part on America trying to dummy proof everything for our society.  In the Netherlands they have more personal responsibility in their daily lives and they must think for themselves, at least more than we do here.   Here we see American's that can't even figure out how to use a simple roundabout without a ton of signs  pointing out the obvious.    She uses the phrase "dummy proofing"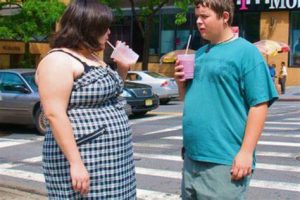 a lot when describing how people are directed around CA, from our big parking lots to freeways.  All those signs appear to be made for stupid people with no common sense. (American teens shown upper right)  This is how my daughters friends see us.
It was her opinion that our education of K-12 in CA is not doing all that they could.     They're not teaching kids what they need to know to be good citizens and enter the work force.  Instead we engage in too many worthless subjects best taught at home, if at all.  We also give social promotions, unthinkable in Dutch society.  We lack trade schools for those not interested in higher education, but the Dutch pride themselves in training skilled workers.
In Holland one could expect to pay about 40% in taxes and they know its high, but the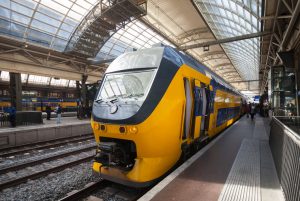 roads are well maintained, there's no crumbling infrastructure or pot holed roads or trash along the freeways.  It's just a better run society and she says their tax dollars are better spent that our tax dollars.  The Dutch  spend public money on needed and practical projects that will last centuries. (Amsterdam train station on left  – modern and very clean)
Aside from the regular taxes, they pay about $100 (USD) per month for complete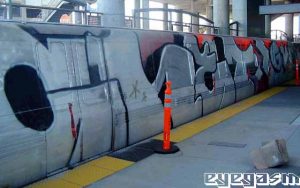 healthcare with no deductible, you need help you can walk in and be served no further cost.   However, addressing complicated medical issues takes far longer and there is a good chance if you need something to treat your cancer you won't be getting it very fast.  That's the worst part.
(Graffiti on BART train shown right)
My daughter was quick to emphasize ( and most of her friends would agree) that  their socialist form of healthcare would never work here!  We are too different, the country is too big and in general we are too irresponsible.  We simply have too many scammers, too many low class, riffraff that would become a huge financial drag on the whole system.
Criminal behavior is something Dutch society looks down on, they do not tolerate such people very well.  Unlike here, there is a lot of peer pressure to behave or else.  One does not get drunk and drive.  You don't do hard drugs and you don't do the stupid stuff that will get you injured, unless you are a tourist from America.
Their system works because it's a smaller country. Everything is easier to manage.  They are a more homogeneous society where most everyone respects each other and abides by the rules.
They have no 3rd world types overrunning Holland and no crime riddled Mexico on their border like
we do.   As a result, crime is low, employment is high and defrauding the government welfare system is fairly rare.  Again, it's a cultural thing, unlike here where cheating and stealing from the government is rampant and therefore our costs for everything is much higher than need be.
Their villages (see left) are more like fairy tale sets right out of Disneyland.  They are super clean, very solid built and historic looking homes with smooth brick paved roads (narrower than here)  and its all perfectly maintained.  A house could be new or 300 years old and you probably couldn't tell the difference from the outside.
If a place like seedy Stockton was suddenly transplanted to Holland…wow,  the Dutch would be busy bulldozing about half it right off.  They are intolerant of blight.  And the miscreants that roam Stockton's streets at night would be around for long.  Hollands laws are much stricter than ours.  My daughter thinks they would be deporting tens of thousands of losers back to the USA.  The undereducated, low class, lazy or criminally inclined types we put up with here would be targets of scorn and ridicule in Holland.  By comparison the Dutch are hard working, educated, and much more cultured than what we see coming up in our newest generations.
A few decades ago this culture contrast would not have been so great in CA, but now it like night and day and it's shocking to the outside observer.
In closing, my daughter is sure that European tourism is bound to start falling off in blighted places like San Francisco, San Diego, Los Angeles, Portland, Seattle, etc.  She said people from Holland, Germany, etc., would be horrified to see our bums and all the human feces and drug needles on the sidewalks of San Francisco.  She doubts they will ever want to return to these S-hole cities run by our liberals.