by Jack
The public has most of the evidence available in this recent attack on ARAMCO inside Saudi Arabia.  And that evidence points to just one
culprit, Iran.   They had the ability, the opportunity and the motive.  They also have a bad record for attacking their neighbors.
The Houthis from Yemen claimed they did the drone attack and they have a strong motive, but they have no ability and no opportunity.
Who else could it be?
The obvious answer points to Iran.  (see debris from one of the cruise missiles that failed to deteonate)
Iran is a rogue nation, diplomatically isolated by their fanatical Islamic theocracy that embraces terrorism and war.  To understand Iran's motives you need to look at history and at the Shi'a religion.  Of course they (Iran) share some of their Islamic ideology with Arab nations, but make no mistake, they are not Arabs – they are Persian.  They don't speak the same language even though their writing is similar.  Speaking Arabic is frowned upon in Iran as socially unacceptable.  It's a cultural thing for Persians who consider themselves a cut above the Arabs.
Persians and Arabs have long had a strained relationship that has ranged the gamut from a peaceful coexistence to protracted war.
For the last 6-700 years they are separated from the more traditional of Sunni version of Islam by their belief in a non-Sunni dynasty that they claim was intended to rule after the death of Prophet Mohammad.   That dynastic division is a flash point for religious war today because it involves two incompatible, yet foundational beliefs that make Shiites and Sunnis as different as Muslims and Jews.  Both sides predict that only one religion shall survive to become the true version of Islam and the sooner the better.
Politics really can't be separated from the Islamic religion which is highly political, but aggressively so in Iran.   This is why Iran is exporting terrorism to North African states and into the West and has done so since their revolution in 1979.
Iran's politic hierarchy is only a false front for the religious leader and he holds absolute power.   Nothing happens in Iran without the approval of this one man, the Ayatollah Ali Khamenei.  He succeeded Ayatollah Ruhollah Khomeini, the father of the Iranian Revolution, upon Khomeini's death in 1989. Khomeini and Khamenei are the only two men to have held the office since the founding of the Islamic Republic.   You know the old saying, power corrupts and absolute power corrupts absolutely.  It's no different in Iran.  This is why Iran is a dangerous rogue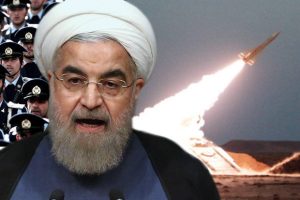 nation, even though in many ways it looks like modern western nation – don't be fooled, it's not.
We've witnessed and we've also been victims of the border clashes between Saudi Arabia and Iran, particularly in the Straights of Hormuz; a vital oil tank shipping corridor for much of the world's oil.  A few weeks ago a Saudi tanker at anchor was hijacked by Iranian special forces in response to the seizure by the British of an Iranian tanker as it attempted to smuggle oil.  This was followed by the downing of a US drone.    But, the missile attack on the ARAMCO  oil refinery was the most aggressive and damaging to date.
Iran took a calculated gamble that this attack on Saudi oil production would bring pressure on the United States to lift the sanctions that are crippling Iran's economy.  But, Iran's audacious plan had a big flaw.  It involved a weak alibi – their pals in Yemen, the Houthis who claimed responsibility.
Houthis are the proxy fighters for Iran in Yemen's civil war.  But, their claim of responsibility is almost comical because they don't even come close to having the sort of technological expertise needed to build and deploy cruise missiles. The best weapons they have are limited to rifles and RPG's, cruise missiles are the weapons of only a handful of nations in the Middle East.
Iran lied about the attack, no doubt hoping their cruise missiles could not be tracked to a  launch point, but they were wrong.  Investigators from the U.S. and Saudi Arabia have officially declared the missiles came from inside Iran and they have the evidence to back it up.  The exact location may be disclosed at a special meeting in the UN.
Trump has shown surprising restraint by not using our military to retalliate against Iran  after the downing of our drone over international waters.   But, this act of war on an ally that threatens to destabilize the global oil market and Trump is turning to the United Nations.
If this refinery attack happened 10 years ago, you can rest assured it would have dramatically impacted our economy.  However, thanks to Trump and our new found oil independence, the effects have been modest save for a little price gouging at the pumps.
The big question now is what do we do about Iran?  What will it take to bring Iran's military adventures to an end?   What would you do if you were President?   I look forward to your replies.