posted by Jack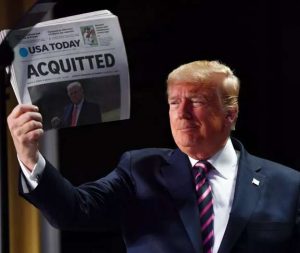 I voted for Trump and I will vote for him again, because of his policies, not because of his charming personality.  It is anything but….
At the National Prayer Breakfast, Columnist Arthur Brooks addressed traditional Christian themes during his remarks, urging attendees to "love your enemies" and transcend "contempt.   Then it was Trump's turn.  He began by telling Brooks he didn't quite agree with him, which is basically saying he doesn't quite agree with scripture.
Instead, Trump used the podium to lambast his enemies in the most vindictive way possible.   I've never witnessed  a president behave that way, it was unsettling and disturbing.
This was supposed to be a Christian prayer breakfast!  The theme was about Christian values.  This was supposed to be where one talks about redemption, forgiveness and what Christianity has meant to America.  But, Trump turned it into a speech about himself.  He used this platform to insult his enemies and it was a hateful speech.  I was really disappointed, Trump should have shown more class.
Maybe…just maybe…. if enough of his supporters made it known that he really needs to tone it down, let go of his ego-centric behavior, he would be a lot more electable?  I know, he's probably to old to change now…but, one could hope, right?
Right now Trump is running for re-election virtually unopposed considering the field of democrat opponents.   This election is really coming down to a case between "bad Trump" verses "good Trump."   If "bad Trump" sways the voters enough… he could lose and I don't want to see that.