by Jack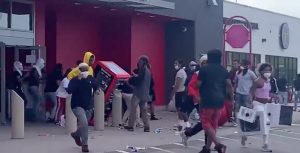 Speaking as a witness to a number of major riots including the Watts Riot, and also as a retired police officer,  what I see happening in Minneapolis is sickening, but it is also part of a bigger picture that is even more disturbing.
"President Donald Trump on Friday threatened to take action to bring the city of Minneapolis "under control," calling violent protesters outraged by the death of a black man in police custody "thugs" and saying that "when the looting starts, the shooting starts."  I agree with Trump, because the rioters are taking advantage of a tragic death, using it as a pretext to loot and burn.
It makes me wonder, are these looter really citizens of America, because they sure don't act like it?   They show absolutely no respect for the things that makes a society function.  Their actions speak more like backward, primitive people, completely devoid of social and moral responsibility.   I think… Americans, real Americans would stand up for justice.  Sure they would protest loudly and demonstrate their concerns, but they would never be part of the smash and grab mob.  I wonder…. how have we devolved to this low conduct?
Intelligent, adult Americans don't behave like thugs.  We have too much respect for ourselves and for the rule of law.  What we are seeing now is an abomination, a cancer in our society and they should be dealt with severely, just as Trump says.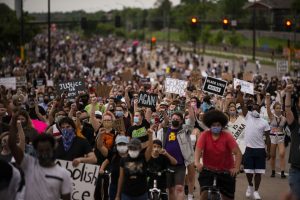 We should meet this challenge head on and put it down quickly, because our thin blue line that keeps society civil will not be able to contain the growing threats much longer.  Our lives depend on the police to be able to maintain order.  When they are outnumbered a 100 to one they can't.   The liberal mayor of Minneapolis has orders to restrain his officers just like our gang of four in Chico have done.  This is no good – it doesn't work.  Appeasement is not the way to regain control after the burning has started.
We established a criminal justice that is second to none.  It may have it's flaws, but compared to all the rest, its still the best in the world.  What kind of people would not respect that?  Who would turn away from that system to pursue mob violence?   Only, fools and criminals.  We owe these people nothing, except a jail cell.  WE DON'T NEED LYNCH MOBS burning AutoZone to get attention.  NOTHING THAT HAPPENED between one cop and one suspect that could justify that.
How does stealing connect to anything the cops may or may not have done? It doesn't!    Make no mistake, there is a larger agenda in play here.  This crowd and others like them are not guilty of a simple riot, of cause and effect.  No, this is another major attack on civilized society and its happen too often with increasing violence.
This has happened so many times in America it has become a learned behavior spread across generations.   And in all these examples shown below at least 98% of the responsibles got away with it and profited too.  Let me remind everyone now how many times they've played the same old race card; check this out:
1947 – Fernwood Park race riot, mid-August, Fernwood, Chicago, IL
1949 – Fairground Park riot, June 21, St. Louis Missouri
1949 – Anacostia Pool Riot, June 29, Anacostia, Washington, D.C.
1949 – Peekskill riots, Peekskill, New York
1949 – Englewood race riot, November 8-12, Englewood, Chicago, IL
1951 – Cicero race riot of 1951, July 12, Cicero, Illinois
1960 – Ax Handle Saturday, August 27, Jacksonville, Florida
1962 – Ole Miss riot 1962, September 3-October 1, The University of Mississippi, Oxford, Mississippi
1963 – Birmingham riot of 1963, May 11, Birmingham, Alabama
1963 – Cambridge riot 1963, June 14, Cambridge, Maryland
1964 – Chester School Protests, April 2-26, Chester, Pennsylvania
1964 – the July 16 killing of James Powell by police in the Yorkville neighborhood just south of East Harlem precipitates a string of race riots in July and August, including:
1965 – Selma to Montgomery marches, March 7-25, Alabama
1965 – Watts riots, August 11-17, Los Angeles, California
1966 – Division Street riots, June 12-14, Humboldt Park, Chicago, Illinois
1966 – Omaha riot of 1966, July 2, Omaha, Nebraska
1966 – 1966 Chicago West-Side riots, July 12-15, Chicago, Illinois
1966 – Hough riots, July 18-24, Cleveland, Ohio
1966 – Marquette Park housing march, August 5, Chicago, Illinois
1966 – Waukegan riot, August 27, Waukegan, Illinois
1966 – Benton Harbor riots, August 30-September 4, Benton Harbor, Michigan
1966 – Summerhill and Vine City Riots, September 6-8 Atlanta, Georgia
1966 – Hunters Point social uprising, September 27-October 1 San Francisco, California
1966 – Sunset Strip curfew riots, November 12, various other flareups, basis for the song "For What It's Worth (Buffalo Springfield song)", West Hollywood, California
1967 – Long Hot Summer of 1967 refers to a year in which 159 race riots, almost all African-American, erupted across the United States, including:
1968 – Orangeburg Massacre, S.C. State Univ., February 8, Orangeburg, South Carolina
1968 – Memphis Sanitation Strike riot, March 28, Memphis, Tennessee
1968 – Assassination of Martin Luther King, Jr., April 4, Memphis, Tennessee, precipitates all April 4-14 riots, including:
1968 – Columbia University protests of 1968, April 23, New York City, New York
1968 – Louisville riots of 1968, May 27, Louisville, Kentucky
1968 – Akron riot, July 17-23, Akron, Ohio
1968 – Glenville Shootout, July 23-28, Cleveland, Ohio
1968 – 1968 Miami riot, August 7-8, Miami, Florida
1968 – 1968 Democratic National Convention protests, including the police riots of August 27-28, Chicago, Illinois
1969 – Zip to Zap riot, May 9-11, Zap, North Dakota
1969 – People's Park Riots, May, Berkeley, California
1969 – 1969 Greensboro uprising, May 21-25, Greensboro, North Carolina
1969 – Cairo disorders, May-December, Cairo, Illinois
1969 – 1969 York Race Riot, July 17-24, York, Pennsylvania
1970 – Augusta Riot, May 11-13, Augusta, Georgia
1970 – Jackson State killings, May 14-15, two killed, Jackson, Mississippi
1970 – 1970 Asbury Park race riots, July 4-10, Asbury Park, New Jersey
1970 – 1970 Memorial Park riot, August 24-27, Royal Oak, Michigan
1971 – Wilmington riot 1971, February 9, Wilmington, North Carolina
1971 – May Day protests 1971, May 3, Washington, D.C.
1971 – Camden riots, August 1971, Camden, New Jersey
1973 – Shooting of Clifford Glover Riot, April 23, Rioting broke out in South Jamaica, Queens after an undercover NYPD officer shot and killed a ten-year-old African-American youth. New York, New York
1974 – Baltimore police strike, July, Baltimore, Maryland
1974 – Boston busing race riots anti-busing riots throughout Boston, Massachusetts
1975 – Livernois-Fenkell riot, July 1975, Detroit, Michigan
1976 – Escambia High School riots, February 5, Pensacola, Florida
1976 – Anti-busing riot in downtown Boston, April 5, Boston, Massachusetts
1976 – Marquette Park unrest, June-August, Chicago, Illinois
1977 – Humboldt Park riot, June 5-6, Chicago, Illinois
1977 – New York City Blackout riot 1977, July 13-14, New York City, New York
1978 – Moody Park riot, May 5, 1978, Houston, Texas
1979 – Herman Hill riot, April 15, Wichita, Kansas
1979 – White Night riots, May 1979, San Francisco, California
1979 – Greensboro massacre, November 3, Greensboro, North Carolina
1980 – Miami riot 1980, May 17-19, Miami, Florida
1982 – Miami riot 1982, Dec. 28, A Miami policeman shoots a black video game player in an arcade. Riots breakout in the Overtown section of Miami. Miami, Florida
1986 – Marquette Park KKK rally, June 28, Chicago, Illinois
1988 – Tompkins Square Park riot, August 6-7, New York City
1989 – 1989 Miami riot, Jan. 16-18, Miami policeman kills a black motorcycle rider. Riots breakout in the Overtown section of the city. Miami, Florida
1991 – 1991 Washington, DC riot, Mount Pleasant riot, May 5-9, Washington, D.C.
1991 – Crown Heights riot, August 1991, Brooklyn, New York
1992 – L.A. Rodney King riots, April-May 1992, Los Angeles, California
1992 – West Las Vegas riots, April 29, Las Vegas, Nevada
1992 – 1992 Washington Heights riots, July 4-7, Manhattan, New York, Dominican community
1996 – St. Petersburg, Florida Riot 1996, October 1996, St. Petersburg, Florida
1997 – North Hollywood shootout, February 1997, Los Angeles, California

21st century

2000 – Elián González affair, Miami, Florida
2000 – Brooks Brothers riot, Miami-Dade county, Florida
2001 – 2001 Cincinnati Riots, April 10-12, Cincinnati, Ohio
2003 – Benton Harbor riot, June 2003, Benton Harbor, Michigan
2003 – Miami FTAA Protests, November 2003, Miami, Florida
2004 – 2004 American League Championship Series, October 21, 1 dead, Boston, Massachusetts
2005 – Civil disturbances and military action in New Orleans after Hurricane Katrina, August – Sept., New Orleans, Louisiana
2005 – 2005 Toledo riot, October 15, Toledo, Ohio
2007 – The Los Angeles May Day mêlée, May 1, Los Angeles, California
2009 – Riots against BART Police shooting of Oscar Grant, January 7, 120 arrested, Oakland, California
2009 – Akron riots, March 14, 2009, 7 arrested; and July 2009, unknown number arrested, Akron, Ohio
2009 – 2009 G-20 Pittsburgh summit protests, Sept. 24-25, 193 arrested
2010 – Oakland protest riot, November 5, Police made more than 150 arrests as a crowd broke windows and knocked down fences, protesting sentence of former BART officer in shooting of Oscar Grant on New Years Day 2009; see BART Police shooting of Oscar Grant. Oakland, California
2013 – Flatbush Riots, March 11, Riots in Brooklyn, New York after the death of Kimani Gray who was shot and killed by NYPD.
2014 – Ferguson unrest, Ferguson and St. Louis, Missouri, August 10 and November 24. Following the shooting death of Michael Brown by a Ferguson police officer, protests erupt in the streets. Police respond with riot gear, tear gas, sound canons, police dogs, concussion grenades, rubber bullets, pepper balls, wooden bullets, beanbag rounds, tasers, pepper spray, and armored vehicles. Unrest occurred continuously for weeks in August, and sporadically through December, with nearly daily protests throughout the period and rioting following the non-indictment announcement on Nov 24. Unrest again occurred on the one year anniversary in August 2015, with dozens of arrests.
2014 – St. Louis, Missouri – October 8, police vehicle windows broken as rage at the killing of Vonderrit Myers Jr. Protests continued for days afterward, during the nearby and ongoing Ferguson Unrest.
2014 – New York, New York, and Berkeley, California – After prosecutors and a grand jury refused to indict a police officer in the death of Eric Garner, protests erupted in New York City and other cities.
2014 Oakland riots, November-December, A series of riots and civil disturbances that took place in Oakland and the surrounding area, in reaction to the events involving the Shooting of Michael Brown and later, the death of Eric Garner, Oakland, California
2014 – Berkeley, Missouri, December 23-24. Antonio Martin is shot to death by police in a St. Louis suburb nearby to Ferguson, leading to violent conflict with police, and looting.
2015 – 2015 Baltimore protests, April 25-28. Days of protests break out following the death of Freddie Gray while in police custody. 34 people are arrested and 15 Officers injured after rioting and looting break out. Gray's funeral was held on April 27 and followed by further protests and looting. Governor Hogan had preemptively activated the Maryland National Guard, while the Maryland State Police had activated at least 500 officers.
2015 – St. Louis, Missouri, August 19. Conflict with police following fatal shooting by St. Louis police officers of black teenager Mansur Ball-Bey leads to deployment of tear gas then burned car, buildings, and looting. Protests continue in subsequent days with tensions remaining high.
2016 – Occupation of the Malheur National Wildlife Refuge, January-February 2016. 1 killed and several dozen arrested at Malheur National Wildlife Refuge, Oregon.
2016 – 2016 Donald Trump Chicago rally protest, March 11. Five people arrested and two police officers injured during a demonstration at the UIC Pavilion.
2016 – Democracy Spring rally in April. March to Washington D.C. and sit-ins lead to arrests.
2016 – Widespread protests erupt in response to two deaths at the hands of police, the Shooting of Alton Sterling and shooting of Philando Castile. At least 261 people were arrested in protests in New York City, Chicago, St. Paul, Baton Rouge, and other cities.
2016 – 2016 Milwaukee riots, Sherman Park, August 13-15. Milwaukee, Wisconsin.
2016 – 2016 Charlotte riot, September 20-21, Protests and riots break out in response to the shooting of Keith Lamont Scott by a Charlotte police officer.
2017 – Berkeley, California, February 1, civil unrest ensued at UC Berkeley as Milo Yiannopoulos was scheduled to speak on the campus.[2][3]
2017 – 2017 Anaheim, California protests, February 21, protesters demonstrate after police officer grabs boy and fires his gun. Protesters damage property and throw bottles and rocks at police.
2017 – May Day, violence breaks out at May Day protests in Olympia, and Portland, as masked anarchists damage property and clash with police.
2017 – 2017 St. Louis protests, beginning September 15, large protests erupted when police officer Jason Stockley was found not guilty of murder in the shooting death of Anthony Lamar Smith on December 20, 2011. Some of the protests turned destructive and the police became violent. Windows were broken at Mayor Lyda Krewson's house and in the Central West End business district on the first night, many windows were broken in the Delmar Loop on Sept 16, a few were broken downtown on Sept 17 after police drove swiftly through a crowd following a peaceful march. Police conducted a kettling mass arrest operation of nonviolent protesters and bystanders, beating and pepper spraying many, including journalists, documentary filmmakers, and an undercover officer. Protests and sporadic unrest continued daily for weeks.
2019 – Memphis riot, June 13, following the fatal shooting of Brandon Webber by U.S. Marshals, Memphis, TN.
2020 – New York City FTP protests, Jan 31, Anti-Transit Police and MTA protest resulting in hundreds of arrests over the three separate days of demonstration. Vandalism and violence on train stations was reported.
The evidence (show above) makes it quite clear – we have a growing problem within our society that must come to an end soon or it will end us.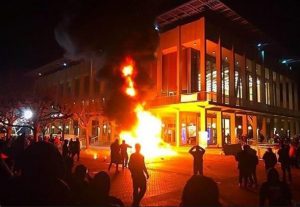 Mobs don't care about laws, they don't care about evidence, right or wrong, they only care about their own self-centered narrative.  And anything like the death of George Floyd in Minneapolis,  that supports the theory of their wholesale victimization at the hands of rogue police everywhere is all they want to hear.  But, the facts don't support them.  The facts say they are completely wrong – its statistically provable!
Regarding this Minneapolis riot, what allegedly triggered the violence was video crafted to fit the race-baiters narrative.  It was edited to show only a white cop kneeling into the neck of a handcuffed black man.  We saw a cop's knee pressed into the black guys neck and nothing else.  An autopsy is still pending, but the media claims this black man died of his injuries caused by the misapplied force by a cop.   Maybe it was, but we don't know that for sure yet.  Look, I'm not defending the cop, but I am also not willing to get out in front of the truth and jump to conclusions like our mainstream media.
There's a lot of questions to be answered before anyone should join the liberals and the lynch the cop mob.  For example, did the man die from asphyxiation or something else?  Was the man resisting arrest up until the time the office held him down with his knee?  Why did he continue to hold him in this manner?  What kind of training did the officer/s have in order to safely handle arrested persons?  There's a ton of questions that need to be answered that are not available at this time.  So we need to chill and let the system do what it is intended to do.  (I'm speaking to the nation at large not our PS readers – you guys are already chill! )
All that we know at this time is the cop seems to holding the man down with his knee on the man's neck.  That's bad, I admit, but there is so much more we need to know before we form a verdict.  We don't see the cop/s trying to beat him, shoot him,  we only see a knee in the guys neck.  We did see several cops walking the suspect, that was ok.  So, that's it.  If this knee was really the cause of death, then it was not a clear cut case of anything, certainly murder or even deliberate malice.  If that is the case, then at worst this is a case of involuntary manslaughter, its not a case of crazed cops out to kill black people as Black Lives Matters and every liberal on earth would have us believe.
We only are allowed to seeing the image of the white cop on the black man, because that  fits the liberal narrative perfectly.  This is all that the race baiters, the radical progressives and agitators want to you to see, and then they fill in the blanks, the rest of the story, for you.   Why this is a clear cut case of a brutal, racist cop killing a black man.  A black man who was a pillar of society, a gentle giant and would never do a thing wrong or harm a fly! He was murdered by white cops for absolutely no reason.  And this is what they have played 24/7 since it started.   This is like pouring gasoline on smoldering embers.
Now enter the "ready to riot people." They could care less about the cause of death of George Floyd.  They are not out for justice -  not when they could be looting a department store.  Not when they could steal whatever they could carry away!   Remember New Orleans after Katrina?  Sure looks familiar.   It was looting time and this is what they do.  Could happen in any big city and we've got a long list lootings to prove it!   These ready-to- riot types are always looking for an excuse and get their 10 seconds of fame on the news.
The big question America should be asking is, why?  The looting of stores and arson all went down with scripted precision.   But, why, these places had absolutely nothing to do with the original incident?  They were simply places of opportunity for the flash mob to do what they always do.  This is always what happens – but why?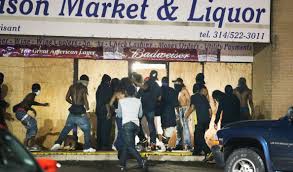 In my opinion, there are thousands of people in every state, ready to riot right now and we need to do some major soul searching, because the direction we are headed is unacceptable.
I never again want to hear…  the rioting and damage was "understandable given the circumstances."  No it is not!   It is not understandable, its not justifiable and it is being done for reasons we need to address – now!
Over the years I've read a lot about the causes of social unrest and rioting.  One of the main causes may surprise you, because it goes back long before America.  It originated in Africa about the dawn of mankind.  And it has lasted in various forms and by various names until the present time.  This is a cultural thing among blacks now and  specifically its called tribalism.  Even though the black community may not recognize it, they are certainly influenced by it.
The dictionary says, tribalism is the state of being organized by, or advocating for, tribes or tribal lifestyles. Human evolution has primarily occurred in small groups, as opposed to mass societies, and humans naturally maintain a social network. In popular culture, tribalism may also refer to a way of thinking or behaving in which people are loyal to their social group above all else, or, derogatorily, a type of discrimination or animosity based upon group differences.  This area is best handled by historians and sociologists, but its worth looking into and maybe we'll open some minds in the process?
Another ingredient to social unrest is a carry over from the old cold war days.  The anti-American rhetoric of the 1950's lives on in the talking points of socialists (progressives) today.  Liberals took the lessons from the communists and use the same tactics to undermine our value and idealism and attack everything we hold as dear.   Their objective is power and control.  They need to make us hate our own country and our own moral principles.  They need to control how we see things through their blinders. This is taking place in institutions of higher learning everywhere.
Stay with me just a bit more and I'll wrap it up as quick as I can.   One of the leading progressive tactics to gain control is instilling class warfare among our minorities.  You can read this in works by Karl Marx and his theories about society, economics and politics - collectively understood as Marxism.  He holds that human societies develop through class conflict and this can be exploited.  Class conflict really resonates with tribalism, its a perfect fit for our race baiters.   Then we have the media feeding frenzy that fuels the flames and helps coordinate the next rampage.  There's a lot more to this, but I'm not writing a book.
In closing, if you can just step back from headlines, away from the incident du jur that provoked a riot you will see the bigger picture.   It is so obvious what's going on, yet so few people seem to be aware of it.  We headed for a revolution, a social and political revolution inspired by progressives, socialism and racism.
If we don't figure it out soon and have the guts to resist the subversions… its over.