posted by Jack
WHAT'S GOING to HAPPEN if the JURY says NOT GUILTY?  CAN BLM HANDLE the TRUTH?  CAN the BLACK COMMUNITY HANDLE the TRUTH? 
Sports journalist Jason Whitlock responded to the leak of body camera footage from the death of George Floyd by arguing that "no rational person" can watch it and conclude that Floyd was killed over his race.
"The George Floyd case is not a race crime," Whitlock wrote in his   Tuesday Outkick column with the headline "Leaked Video Exposes George Floyd's Death As Tragedy And Race Hoax Used To Divide Us" a day after the Daily Mail published the camera footage. "No rational person can watch that footage and conclude the police were motivated by Floyd's black race."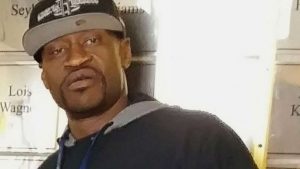 Whitlock said that while the footage "does not justify officer Derek Chauvin kneeling on Floyd's neck for nearly nine minutes," it shows "the behavior of the police officers seems appropriate and restrained given Floyd's level of resistance and bizarre conduct." He added that it will be "virtually impossible" to convict the three other officers present of any crime and "equally difficult" to convict officer Chauvin of murder.
The journalist pointed out that the video shows Floyd appearing to be "panicked, disoriented, desperate and totally non-compliant" and that "he complains that he can't breathe while standing on two feet."
Whitlock, who is black, then tied the coverage of the newly leaked footage to the sports world and Black Lives Matter as a whole, wondering if prominent sports figures and league officials will talk about the video as extensively as they talked about Floyd's death.
"Professional athletes elected themselves the National Internal Affairs Department for American police," Whitlock said. "The NBA's Orlando bubble is the headquarters for the NIAD."
"Will anyone ask NIAD spokesmen LeBron James, Steve Kerr, Gregg Popovich and Adam Silver for their thoughts on the leaked Floyd footage? Will one of the media information ministers locked inside the bubble be allowed to query James, Kerr, Pop or Silver on this topic? Will one of the woke warriors on Dan Le Batard's radio show run a poll asking whether the leaked video footage is funny?" he continued.
Whitlock was referring to ESPN Host Dan Le Batard's Tuesday apology for posting a poll on social media asking if it was "funny" that Orlando Magic forward Jonathan Isaac tore his ACL and will miss the remainder of the season days after refusing to kneel for the national anthem or wear a Black Lives Matter T-shirt along with his teammates.
"The NBA, the NFL and Major League Baseball chose to drape themselves in Black Lives Matter symbols and view all negative encounters between black people and white people as examples of white supremacy," Whitlock continued.
He concluded the piece by making the case that the media in both sports and politics will deserve the blame for the second wave of riots "when Thomas Lane, J. Alexander Kueng, Tou Thao and Derek Chauvin are acquitted of all serious charges."
"No one will ever question them about the roles they played in stirring the racial outrage," he added.
Whitlock has been a vocal critic of the Black Lives Matter movement over the last few months, including in early July when he appeared on Tucker Carlson's Fox News program and slammed the group's self-proclaimed Marxist ties.
"There's no way you can do any homework on Black Lives Matter and not see that it's a Marxist political organization. It's not about black death. It's not about black men," Whitlock told Carlson in regards to the topic of reports that the NFL plans to play a "black national anthem" before games in the upcoming season.
"It is a political move. It's a communist political move," he continued. "I've seen many of these guys, they claim they're in Christianity and their religious beliefs — do they understand Black Lives Matter, communism, Marxism, is anti-religious?"
Patrisse Cullors, co-founder of Black Lives Matter, embraced accusations of Marxism in the group during a 2015 interview.
"We are trained Marxists. We are super-versed on, sort of, ideological theories," Cullors said. "And I think that what we really tried to do is build a movement that could be utilized by many, many black folk."