by Jack
If you stroll down the main street of Louisville today, you might get the idea a hurricane was coming.   The Mayor has just declared a state of emergency, windows are boarded up with sheets of plywood and barricades have been pre-deployed.  There's a lot of visible police activity and the streets are unusually quiet, devoid of vehicles and pedestrians.
There's no storm coming, just a grand jury verdict.  The mayor and city officials seem to think no criminal charges will be forthcoming against the police in the shooting death of Breonna Taylor case.  Doesn't seem like a surprise to me, in fact I think its just the opposite.  I would be very surprised if they did recommend charges.
"Louisville, KY — A Grand Jury is expected to come back with a verdict soon about whether to bring charges against three police officers involved in the death of Breonna Taylor on March 13th, 2020.  The city is preparing for the nearly inevitable fallout, regardless of what the grand jury decides..
The city had reached a $12 million dollar settlement with Taylor's family last week — the largest settlement in the city's history.
Now the city is steeling itself for an announcement from Kentucky Attorney General Daniel Cameron after his office took over the case from the Louisville Metropolitan Police Department's Public Integrity Unit.  After the Attorney General's office received those finding, they presented the case to a grand jury to see if criminal charges are warranted.
The grand jury could release their findings at any time."    The officers in question are shown below.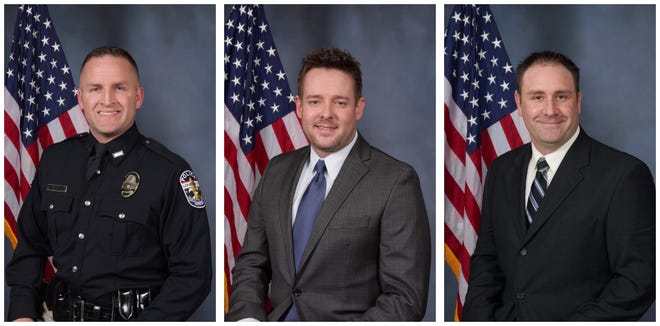 LeBron James wants them charged. So does Beyoncé.  And so do 10 million other people who have signed a petition at change.org demanding justice for Breonna Taylor — and that Louisville Metro Police Sgt. Jonathan Mattingly, Officer Myles Cosgrove and ex-Officer Brett Hankison be charged with killing her.
But in interviews and emails, seven experienced Louisville defense lawyers who are not involved in the case — and who have an average of 37 years each in practice — say the officers should not be charged with murder or manslaughter because they had a legal right to defend themselves once her boyfriend shot at them.   Three of the attorneys are Black.
"It is unfortunate that this young lady was killed," said Aubrey Williams, a former president of Louisville's NAACP chapter who has spent much of his 40-year career fighting police in court.
"But for the life of me I don't see them indicting or convicting."
Jan Waddell, another defense lawyer who is Black and has likewise frequently tangled with police, also said Mattingly and Cosgrove are likely immune from prosecution because Kentucky law allowed them to return fire in self-defense when Mattingly was hit in the leg with a bullet fired by Taylor's boyfriend, Kenneth Walker, who said he didn't know the intruders were police and thought the couple was being robbed.