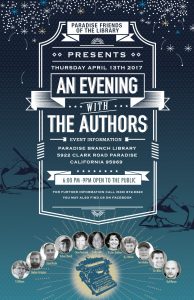 Hey folks…coming soon…join me and my friends as we celebrate An Evening with the Authors at Paradise Library on Thursday evening April 13, 2017.  We'll hold workshops, discuss our craft, and have casual conversations.  It's a great opportunity for readers to meet with writers and vice versa.  Sponsored by the Paradise Friends of the Library, the event will be held from 6 PM to 9 PM at the Butte County Library-Paradise Branch, 5922 Clark Road.  No charge.  We'll bring books to sell too.  If Thursday is a slow TV night for you come out and visit.
Until then here are a few casual conversations from the Etc. Guy Facebook page.  You can follow me by LIKING it.  See you in print.
Woes Are a Matter of Perspective
My sullen teenager draped over the couch like a wet towel.
"Woe is me…oh woe…oooohhhh woe….," she complained.
"What's with all this woe?" I asked.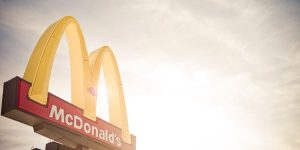 "I'm old enough to work…woe, woe, boo-hoo…"
[Whoa…oh brother…time for violins…]
"I'm 16 and need to get a job…woe..sniff…snort….oh the woe…"
[Thinking….  Yes.  Get.  Summer.  Job.]
"I can't accept I'm 16 and must work, woe is me…"
"Aw, suck it up kid.  I can't accept I'm 53 and take pills to go to the bathroom."
[Woe?….Really?….giggling…]
"Let's both suck it up."
Woes are a matter of perspective.
####
Wild Blue Yonder
From out of the blue my daughter said she'll join the Air Force after high school.
"I need discipline."
"Naaw….really?"
"Yeah.  I procrastinate."
"Hmmm, the military can help with that."
"I need someone to whip me into shape."
"Mentally or physically?"
"Both."
"Good idea. To start, how about picking up your socks?"
" Hmph. That's too much to ask right now."
I'm fairly certain that Air Force jets don't have socks lying around. Not even wind socks. She's not yet ready for the "Wild Blue Yonder" but if those socks linger around much longer I may just call a recruiter.
####
A Snapchat with My Daughter
My youngest daughter introduces me to Snapchat…
"Dad, follow me on Snapchat."
"What's Snapchat?"
"It's when you take photos and send messages."
"Like Facebook?"
"Yeah, but these photos disintegrate."
"Huh?"
"The photos dissolve."
[confused….clear as mud]
"In case the photos are embarrassing."
[Uh oh]
"They only dissolve to followers."
"What if I don't follow you?"
"Then you can save photos as a JPEG."
[Confused]  " Just send me a photo."
[Giggling]  "Ok. Here's one with a filter."
"A filter?"
"Dog filters, fat filters, Snapchat has tons of filters…"
"Whatever. I have enough trouble with Facebook and Twitter.  Just send me the photo."
Here's what she sent.  With a dog filter.  So much for dissolving this one.  I kinda like it.
####
Dental Extremists
I attended the tooth extraction for moral support (and to pay). The dentist and two technicians worked on her mouth like a Daytona 500 pit crew. After 45 minutes of writhing, wiggling, and whimpering, the rascal was out. My daughter did great. But the dentist said she'd never seen a dad carry on like that before….