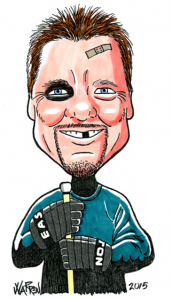 (Hockey Player Magazine, April 2017)
"You can't applaud a referee." Alex Ferguson, Coach, Manchester United
They are jeered, never cheered.  It's black and white.
Great referees are invisible to the general fan but invincible to the general jerk.  Officiating is not for the faint hearted.  Hockey refs need thick skin—crocodile skin–beneath the stripes.
Thirty years ago, as a college kid, I worked a few youth games in Denver.  A rookie, I brought a friend for moral support.  I hopped on the ice, met the coaches, and inspected the nets.  The mites cussed like sailors when they tumbled onto the rink.  My job as a linesman was to call icings, off-sides, and handle face-offs.  The mites slashed and hacked throughout the game but overall the munchkins played clean.  Their parents, however, were another story.
"Hey ref, didn't you see that trip?  You blind idiot.  Get out of here!"
After the game I asked my friend for advice.  "Well," he paused, "You whistled like a sick canary.  I barely heard you.  One dad wanted your head.  You won't impress girls with a performance like that."
So it goes with the ref, the hired gun to keep order out of chaos.
I love the rough and tumble of hockey and become just as spirited as anyone.  Part of my playing career involved contemplative sessions in the penalty box for on-ice violations that were either illegal, unsportsmanlike, or stupid.  I took pride drawing penalties and getting other guys in trouble.  I once mouthed off to a ref [dumb idea] and my reward was an extra two minutes.  The adrenalin release from arguing with the ref felt great at the time but my payment for sinning was skating a zillion laps afterwards in the presence of Coach.  You can't fix stupid but one can certainly learn not to repeat dumb.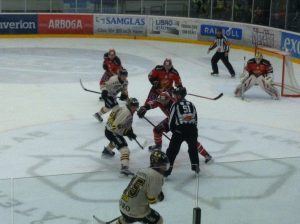 I first noticed the angst referees endure while watching college hockey games in my hometown, Colorado Springs.  Rivalry games between Air Force and Colorado College brought out the worst in fans.  The teams hated each other as did opposing fans.  Their only common ground was shared vitriol towards the head referee, a paunchy barrel-chested unflappable Italian guy named Andy Gambucci, an  official in the Western Collegiate Hockey Association at the time.  A balding fellow, Gambucci resembled more of a cab driver than athlete but the man skated like the wind.  Boos echoed from the stands as he walked the breezeway.  When he leapt from the rubber mats onto the ice the crowd fumed, "Eat dirt Gambucci, you stink!"  Even the Zamboni driver honked at him.  But Gambucci swatted away the taunts like flies.  He was either cool as a cucumber or deaf.  Nothing fazed him.
So when I learned that my nephew, Noah, became a hockey ref I wondered how he'd cope.  He's quiet, sensitive, and insightful beyond his 14 years, a kid who feeds the homeless and donates blood in his spare time.  To reduce global warming he pushes a hybrid lawnmower.
Noah stands five feet four inches wearing skates.  What he lacks for in stature he makes up for in smarts.  A bantam now, he's played hockey six years and is a prolific scorer.  Both he and his brother rack up the points.  But where most players skate reactively on the ice, Noah plays the game like chess.  He knows where teammates should be.  It's just a matter of passing them the puck.
A student of the game, the young lad reviewed the rule book, completed a full day referee seminar, and became certified through USA Hockey.  We discussed the process.
"There's lots of rules Uncle Eric, and stuff you just gotta know how to do."
"Like what?" I probed.
"Like how to drop the puck flat, and handing off the puck to the head ref like you're shaking hands so no one drops it.  You don't want to look like an idiot."
I have experience looking like an idiot, both on and off the hockey rink.  Noah continued.
"The difference between playing and refereeing is that players skate towards the puck but referees stay back and watch.  And refs need strong whistles."
Intrigued by my nephew I further queried, "What's a favorite pregame meal?  Are you in this to meet girls?  Or make money?  Can you get school credit?  Can I bribe you?"
Noah hesitated and carefully measured his responses.  "I like spinach, I hate Jell-O®, I'm not interested in a girlfriend, and I make up to $15 per game.  I don't earn school credit and don't have a favorite class.  But I do know that I don't like math.  And no, you can't bribe me."
I felt bad grilling the kid, even in jest, which deserved an interference call.
"I just really want to learn the game," he said.  "I'd like to play college hockey or referee.  I'll do whatever I'm better at."
I studied his expression.  Noah had a genuine love for hockey and a desire to improve.  I asked if he'd been booed.
"Oh yeah," he said, "But I made good calls during a recent peewee game.  And I learned one more thing Uncle Eric….the most important thing."
"What's that?"
Noah smiled, "That whatever call I make is the right call."
No arguments from me.  He'll make a great referee.
NOTE: Andy Gambucci passed away in 2016 at age 87.  Mr. Gambucci was inducted in the Colorado Sports Hall of Fame in 2014.  For information on becoming a certified referee (for ice or in-line hockey) visit USA Hockey at www.usahockey.com.
###
The best way to contact me?  Through the Etc.Guy Facebook page…check it out.