I never expected needing to carry a baseball bat for walking my own property.  I swing bats to miss pitches.  Not fend off intruders.
We own an investment property in town, an old walnut orchard thick on bark, long on limbs and short on shade.  The trees are geezers and recent drought years have stressed them beyond good health—a true orchardist would have felled them.  But we've hung onto the lot, trimming what we can within our gerbil powered real estate budget.  Gravity directs dropped branches onto our side of the fence.  The lot also has a small house, a rental.  It's temporarily vacant until we complete interior repairs.
I mow and weed-whack on a weekly basis during spring then let up to twice per month during the summer heat.  It's a mixed blessing owning this property.  We're fortunate to afford it but that said I should really spend more time finishing projects in our own yard.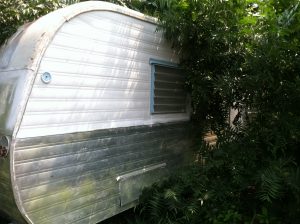 Sweat beaded down my forehead as I trudged between patches of shade.  Perspiration soaked through my leather boots.  Pieces of grassy shrapnel covered my t-shirt and eyewear.  My weed-eater whirred, chopping weeds like a Cuisinart.  My brain cruised in control as I whacked and cut.  Then I stumbled upon a fiberglass exoskeleton.
It was 1960's era sixteen foot Kencraft  single-axle trailer.  What?   I hadn't been to the property in over a week.  Some idiot abandoned it on our lot.
I shut off the weed-eater and peered inside.  Empty.  Fortunately a gun barrel didn't point at me.  Startled, I went home and called the police.  It was a Sunday.
I provided the sergeant the license plate number.  She ran the tag and discovered the trailer had a release of liability, meaning that its owner had no further responsibility for the rig.  "The owner probably sold or gave it to someone else," she said.  "The last record I have is three years old."
"Can I get rid of it via Craigslist?  It would make a great Burning Man special.  I'll give it away."
"No," the sergeant said.  "Though the owner released it, it's his right to retrieve it even though it was abandoned on your property.  There's no criminal history.  You're stuck," she continued, "but notify Code Enforcement."
That evening I left a voice message with City Code Enforcement.  On Monday I received a call from an officer.  "If you remove it now you're stuck paying full freight," he informed.  "You'd pay around $1200 for it to be towed to a dismantling yard.  They'll salvage what they can but since it's an old trailer it probably has asbestos, a hazardous waste.  That's what'll nail you."
"Or," he added, "file a claim with me.  I'll open a case.  If we cannot locate the owner after 30 days we can haul it away at no charge."
I heeded his advice and filed a claim.  I also filed a Trespass Arrest Authorization Form with the police department.
"The Trespass Arrest Authorization Form gives police authority to arrest trespassers on your property," the Code Enforcement Officer said.  "It's a good strategy especially in this part of town where homeless persons camp on private land."
The next Saturday night I received a call from a neighbor, Sue, a retired realtor.  "People are moving into your lot," she wailed.  "I'm terrified."  I was traveling and about an hour from town.  This was getting spooky.
At 10:15 that night I met two police officers and a detective.  We walked the orchard with flashlights.  No one set camp inside or outside the trailer.  But someone had removed screens from the house and tried to break-in.  "Install signs," they advised.  "The empty house is a magnet for trouble."
The next day I shopped for signage: No Trespassing, Neighborhood Watch and Keep Out.  I bought and installed solar charged lamps that turn on at night.
A few days later the Code Enforcement Officer discovered a lead on the trailer.  "I didn't speak with the owner but found the guy's parents.  I informed them that unless their son removes the trailer they're next on my list."
I patrolled the lot several more days and met with another neighbor, Frank.  I made sure Frank had my phone number.
That following weekend the trailer was removed from the orchard and relocated in front of Frank's house.  I called the Code Enforcement Officer.  "Better that it's in public view," he said, "the homeless are less likely to move into it.  But I'll keep the case open.  The clock still runs for us to haul it away."
Two days later the trailer was gone.  Hopefully the owner is responsible for its keeping.  Hopefully he doesn't abandon it somewhere else.  I called the Code Enforcement Officer.  "It's gone?  Then case closed.  Good luck."
It's a sad state to encounter, having someone trespass, damage, or abandon their unwanted items on your property.  I like to think I'm empathetic towards others who are not as fortunate as me.  But now I'm less tolerant, less trusting, and more suspicious.  Unfortunately a few bad apples spoil the bunch.
More so than being trespassed, is a feeling of personal violation.  It's not fair.  And there's not much I can do about it except lock our possessions, get to know our neighbors, and hope for the best.
If you are a victim of unlawful dumping or trespassing notify authorities.  For my circumstance I greatly appreciate the rapid, professional response of the City of Chico Police Department and the City of Chico Code Enforcement Office.  Good work folks.
###
Readers: If you reside within the Chico city limits and are a victim of illegal dumping contact the City of Chico Code Enforcement Office.  For specialized neighborhood policing contact the City of Chico TARGET Team.  For residents of unincorporated Butte County contact the Butte County Sheriff's Office.