(Published in Hockey Player Magazine, December 2019)
"I always liked speed."  Guy Lafleur, Montreal Canadiens
They are not Ferrari fast.  But they're quicker than my old Lego® block wheels.
"Get decent wheels dude," Tex advised.  A regular season Blazer teammate, Tex joined fellow teammate Roxanne and me to play summer hockey.  Northern California's heat is unfriendly hockey weather where temperatures regularly pass the century mark.  Our in-line hockey arena, a former warehouse, can reach 105 F.  With wind chill conditions.
Rox texted before a game, "Are you guys playing tonight?  I'm on the fence.  HOT."
"I will," I texted back.  Tex chimed in, "Hot yoga on skates?  I'm in."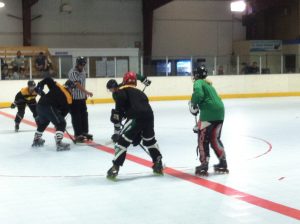 I lost nearly ten pounds last summer and fended off weight gain until about Halloween.  Lighter on my feet I felt faster.  Then after a recent game I noticed rips forming on my skate's tire tread.
"Whoa, look at this," I pointed to Tex, "Whaddya think?"
Tex spun the wheels, inspecting them like a mechanic.  "Better carry spares.  Summer heat cracked 'em."
"Those are my spares," I said.
"Get some Konixx's," Tex said.  "I splurged on a set of Konixx Pures.  Been a new player ever since.  They're fast, tough, and turn on a dime.  I don't work as hard."
"Expensive?"
"About as much as a car tire, except you get eight wheels instead of one.  Buy new bearings too.  You won't regret it.  Tell Konixx that Tex sent ya."
I ordered a set and within a week a package arrived.  I tore into the box like a kid on Christmas morning.  Inside were eight wheels and new bearings.  I called Tex.
"Hey these are sweet.  Any trick to putting them on?"
"It's so easy a monkey can do it.  Remember to use the spacers."
My wife watched bemused as I tinkered in the living room.  In my mind I was fixing a Porsche.
"Are you happy now?" she asked.
"Dunno.  They spin okay but to really know I need to skate."
I put on my skates and zoomed across our hardwood floors.
"Don't hit the TV!" she exclaimed.
I skated out the front door, down the porch steps, and to the mail box before circling back to the house.
"Take out the trash while you're at it," she goaded.
I grabbed the trash can, skated out the back door, across the patio, through the backyard gate and pushed the container uphill to the street.  I loved the feeling of fresh air on my face and the wind in my hair.  I sped back to the house where my wife sipped a glass of wine.
"Yep, I'm happy," I told her, "Can't wait to try them at the rink.  Tex warned me that they're fast."
The fastest NHL hockey players record speeds up to 26 mph.  I just want to keep up with the younger players.  I would be happy reaching 12 mph, the speed of a Komodo dragon (look it up).
The transformation of my skating skills, speed, and endurance amazed several colleagues.  I accelerated faster than a Vespa scooter and lasted longer, letting gravity and centripetal force do the work.  At one face-off my buddy Jeb asked about my secret.  From central America (Ely, Minnesota) Jeb captains the Pests, a rival team, and is fun to tease.  "I put Viagra pills inside my socks."
After a few games my new Konixx Pure wheels started growing on me.  I became cockier when playoffs began.  I'd chase and harass the younger guys like I was almost their age. If I were any faster it would be on ice skates.  In the first game of a double-header I harassed Gentle Ben, a bearish player who skates downhill for his team, the Woodpeckers.  We skirmished behind the net.  Frustrated, Gentle Ben swiped a paw at me.  I feigned victim and drew a penalty.  The referee blew his whistle and sent Gentle Ben to the penalty box for two minutes of hibernation.  He glared like a mad wife, mumbling unintelligible words.  My Blazer teammates howled.
"Hahaha, you lured their best guy to the penalty box.  Now we have a chance to score."
We fought hard against the Woodpeckers but lost 6-5.  I pulled a groin muscle during the last shift, my feet lagging behind my Konixx wheels.
"Rats," I told my teammates.  "It hurts but not like when you carried me off the rink the last time I injured my groin.  I can hang back on defense for our double-header.  We play the Pests."
We lost to the Pests in a heated battle, 9-6.  I got penalized for lunging after an opponent I couldn't catch, my groin burning.  I also crashed into Smelt.  A mild-mannered architect by day with liver spots on his ears, Smelt is a menace.  Distracted, we were both circling in the neutral zone while watching a play break-out.  We collided at Komodo dragon speed.  I took the brunt of the hit.  Splat.
Done for the season I texted Tex the following day.
"I sure am sore.  Between tasseling with Gentle Ben and crashing into Smelt, I need a hockey holiday."
"How's the groin?" he asked.
"Better. I have three more of 'em.  No worries."
For my New Year's resolution I'll focus on groin rehab.
So I can catch up to my wheels.
###
Have a story idea?  Contact me at the Etc. Guy Facebook page and tell me about it.