by Jack
Mike Rogers, House Intelligence Chair, summed up the Ukraine crisis like this, "Putin is playing chess, and I think we're playing marbles." This exemplifies the degree of influence and statesmanship the Obama Administration's has with Russia's Putin and his aggression in the Crimea (see map in red).
Putin has issued an ultimatum to Ukrainian forces to surrender two warships and their bases in the Crimea and withdraw by 7 pm our time or face a military assault. Ukraine's interim government is totally unprepared to handle a full on threat of war because they lack the military might to buy time to negotiate.
Although Ukraine has a decent quality military it has a light presence in the Crimea. Russia, by contrast, has a huge presence on the peninsula, with its Black Sea fleet based in Sevastopol.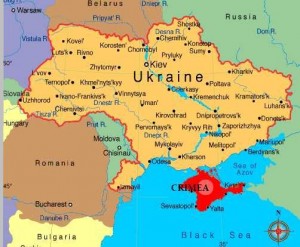 "It is a nightmare for everyone," said Igor Sutyagin, a Russian military expert. "The entry of Russian troops would be a deep humiliation for Ukraine … It would be a second Chechnya."
Russia's military force pits about 845,000 troops against Ukraine's 130,000. Further, Russia's military spending dwarfs that of the Ukraine's. Russia spent $40.7bn last year compared to Ukraine's $1.4bn.
The only thing the Ukrainian forces have going is they are well trained and they are fighting on their home turf. They've also had some international peacekeeping missions over the past 10 years and that has helped established close contacts with western counterparts who may be able to help with some tactical assistance.
However, if Obama thinks his European allies are prepared rally behind the Ukraine economically or militarily he is totally out of touch with reality. Europe has their own problems and they are not inclined to create new ones with Russia. Putin knows this and he knows that by acting quickly he's catching everyone off guard, including the White House.   Democracies may be many good things, but coming to swift decisions has never been one of them. Meanwhile it appears Russia is about to seize territory.