by Jack
I was asked what I would I do about this latest beheading by ISIS. Fair question. Okay, here's my answer.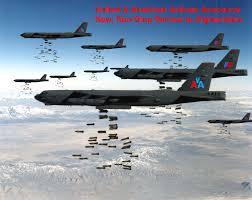 A month of carpet bombing the crap out of ISIS ought to be fair payback. I wouldn't spend a dime on reconstructing anything or putting boots anywhere. A few squadrons of our famous veteran B52-s should do the trick. They need one last attack before we retire them and this is the perfect enemy.
We've got a huge surplus of old 1000 lb. bombs laying around that we need to get rid of and I can't think of a better way than dropping them on ISIS?
Imagine how they (ISIS) will be holding-up after the first week of carpet bombing, then it goes into the second week and third week and they will wonder if it will ever stop? They will pray for it to stop, but the bombs will keep falling. They never know if the next one has their name on it, it's all up to fate and the aim of our B52-s. And everywhere they look their soldiers and equipment are being blown to bits like a grotesque vision of the apocalypse.
There's no where to run, there's no where to hide, and all around them their world is exploding in blinding flashes of fire followed by searing bits of white hot steel shards that tears at their flesh. Even when the bombs stop for a few hours these thugs will have this constant pounding in their ears as if the bombs are still falling. Some will go mad, others will hope they die by the next bomb to end their misery. Some will die by their own hand.
Without warning huge shock waves from 1000 pounders will suddenly knock them off their feet, it will rattle their teeth and they will claw the ground in their foxhole trying to escape the pain. And when the bombs fall close, usually within a 200 yards, the concussion will cause every appendage and orifice to leak blood and sometimes their brains will hemorrhage and they will die, even if they are securely dug in and
untouched by shrapnel.
And this nightmare will keep on going, night after night, week after week. They will not sleep, they will not eat, and around the clock it will be raining bombs, ka-boom, ka-boomb, ka-boom and this goes on incessantly.
They wanted war, well this is real war. This is how we do it and we're not interested in their surrender, we're looking for their complete and utter annihilation.
Some in the world will shudder or cringe in fear and horror because they have forgotten what we can do in an all out war, and that's fine by us. The world should know, especially our enemies. You see, we're the big dogs. And nobody else can come close to matching us – nobody can fight a real war like angry Americans! We're our enemies worst nightmare and we shall do unto them as they have done unto so many others.
I would make sure that we see miles of blackened bomb craters following ISIS across Iraq and Syria, as they run like the cowardly rats they are, scurrying from one hiding hole to another…until soon most of them are dead, dying or in such bad shape both mentally and physically that they could not even feed themselves let alone pick up a AK47 and shoot anyone. And at that point we'll let their victims have at them and do what they will. Let's see how those displaced victims deal with the killers and rapists of their families.
Let the world take note of what we do to our enemies! PUT THAT ON UTUBE AND IT WILL MAKE THE BEHEADING OF ANOTHER INNOCENT AMERICAN SEEM LIKE A REAL BAD IDEA FOR THE NEXT 1000 YEARS!
And I wouldn't be tactful or polite if I were the commander in chief, my speech announcing what is about to happen would be short and sweet.
My speech to the world and to ISIS: "You thugs that call yourself ISIS have threatened America and you've killed two innocent American journalists recently. That was a big mistake and soon you will be calling it a fatal mistake.
Maybe because you're stupid or you're so full of yourselves that you have greatly underestimated the long reach of the United States? Because you foolishly tried your best to provoke us. Well, it worked and now we're coming for you. You killers of women, children and unarmed men. You won't know exactly when, but it will be soon enough. And when we start in on you we plan on pounding you until the desert runs red with your blood. But, these are not just scary words like you spout all the time, this is for real! You will suffer greatly and if you are among the lucky ones…you will die fairly quickly.
We will show you no mercy, as you have not shown others mercy. You will not be allowed to die a warriors death in combat, you simply die. Satan awaits your soul in Hell for your crimes against humanity and we'll make sure you get there.
Your death will be as brutal as you have done unto others, except their only crime was having a different faith than your own. This makes you parasites on humanity and for that you must die. You have no idea of what awaits, but your fate has been sealed, this I can promise you.
You wanted this, you asked for it and you asked for it repeatedly, now you're going to get exactly what you wanted thus fulfilling an old American saying, be careful what you ask for…
You'll beg us to stop, but your pleas will not be heard. We will only stop when we decide want too; when your organization of killers is but a hollow bloody shell of what it once was, and we'll leave just enough of you alive so your can tell your story of what it was like when the American's came. God bless America. End By POTUS X
That's how I would handle it… -Jack (Did I miss anything?)