Posted by Jack with closing comments by Jack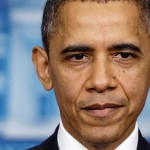 This is from Obama's blog to our blog regarding his 4 part strategy to defeat ISIL (ISIS)…
1. A systematic campaign of airstrikes against ISIL

Working with the Iraqi government, we will expand our efforts beyond protecting our own people and humanitarian missions, so that we're hitting ISIL targets as Iraqi forces go on offense. Moreover, I have made it clear that we will hunt down terrorists who threaten our country, wherever they are. That means I will not hesitate to take action against ISIL in Syria, as well as Iraq. This is a core principle of my presidency: If you threaten America, you will find no safe haven.
2. Increased support to forces fighting ISIL on the ground
In June, I deployed several hundred American servicemembers to Iraq to assess how we can best support Iraqi security forces. Now that those teams have completed their work — and Iraq has formed a government — we will send an additional 475 servicemembers to Iraq. As I have said before, these American forces will not have a combat mission — we will not get dragged into another ground war in Iraq. But they are needed to support Iraqi and Kurdish forces with training, intelligence and equipment. We'll also support Iraq's efforts to stand up National Guard Units to help Sunni communities secure their own freedom from ISIL's control.
Across the border, in Syria, we have ramped up our military assistance to the Syrian opposition. Tonight, I call on Congress again to give us additional authorities and resources to train and equip these fighters. In the fight against ISIL, we cannot rely on an Assad regime that terrorizes its own people — a regime that will never regain the legitimacy it has lost. Instead, we must strengthen the opposition as the best counterweight to extremists like ISIL, while pursuing the political solution necessary to solve Syria's crisis once and for all.
3. Drawing on our substantial counterterrorism capabilities to prevent ISIL attacks
Working with our partners, we will redouble our efforts to cut off its funding; improve our intelligence; strengthen our defenses; counter its warped ideology; and stem the flow of foreign fighters into and out of the Middle East. And in two weeks, I will chair a meeting of the U.N. Security Council to further mobilize the international community around this effort.
4. Providing humanitarian assistance to innocent civilians displaced by ISIL

This includes Sunni and Shia Muslims who are at grave risk, as well as tens of thousands of Christians and other religious minorities. We cannot allow these communities to be driven from their ancient homelands.
"This is our strategy," the President said, adding that the United States has a "broad coalition of partners" joining us in this effort:
Already, allies are flying planes with us over Iraq; sending arms and assistance to Iraqi security forces and the Syrian opposition; sharing intelligence; and providing billions of dollars in humanitarian aid. Secretary Kerry was in Iraq today meeting with the new government and supporting their efforts to promote unity. And in the coming days he will travel across the Middle East and Europe to enlist more partners in this fight, especially Arab nations who can help mobilize Sunni communities in Iraq and Syria, to drive these terrorists from their lands. This is American leadership at its best: We stand with people who fight for their own freedom, and we rally other nations on behalf of our common security and common humanity.
President Obama also noted the bipartisan support for this strategy here in the United States, and welcomed congressional support for the strategy "in order to show the world that Americans are united in confronting this danger."
Opposing argument:

There is no true bi-partisan effort here because the republican leadership doesn't believe in Obama's strategy of being hawkish about bombing and dovish about committing ground troops to hold territory. Our best military leaders, all outside of Obama's circle, which is almost all of them, say we need to commit ground troops in Iraq to destroy ISIS. They warn, the delays are being paid for in blood by tens of thousands of innocent civilians caught in the crossfire. Time is of the essence and trying to slowly wear ISIS down is not a viable strategy to end their rule of terror.
There is no true allied coalition, this is another fiction created by delusion in the White House. The United States is not stepping up to lead. Without us leading there is nobody else, period! It's true that we have an array of like-minded nations that would support us against ISIS and Al Qaeda and they would do it on the ground. But, it's going to take more than a commitment for air strikes to gain their full cooperation.
Many military experts in counterterrorism claim that President Obama has not learned from history and this includes our recent past failures in Iraq. This ignorance has compromised any hope for a lasting positive impact either in Iraq or Afghanistan.
The war in Syria is another problem that has lingered on far longer than necessary. It's eventual outcome is impossible to predict now because there's no leadership coming from the White House. Obama drew a red line, then failed to act. He is now trying to seek a compromise that has no firm commitment for ground forces and that is the only way to hold territory.
Also missing from Obama's strategy is the underlying problem. This is the big elephant in the room and it's not ISIS (ISIL). They're a destabilizing force in the Arab world and a threat to US citizens abroad, but the real threat to our national security is Islamic radicalism.
Radicalism in Islam is something Obama doesn't even want to acknowledge. Yet it is radical Islam that is still recruiting terrorists, still raising money for ISIS and other Islamic terrorists, they're undermining these weak and/or abusive Arab governments, thus fomenting chaos leading to uncertainty about stability in the near future.
There is simply no long range plan that the US can implement in Iraq, Syria, Afghanistan, Libya, Egypt, Yemen, Qatar, Nigeria, Somalia, Niger, Botswana, Algeria, Djibouti and a dozen more [at-risk] Muslim dominated nations because we're failing to deal with the root cause, i.e, violence because of radical Islam. It's incredibly disconcerting that the White House doesn't want to mention these 3 words together Muslim, radical and terrorism as if they were completely separate entities! They are not! This is "head in the sand' denial at its worst. And it doesn't belong in our foreign policy, it's dangerous and stupid.
Obama's foreign policy barely encourages reform from within these dictatorial Islamic governments. And it completely ignores radicalization and its violence. ISIL/ISIS is not the problem, they're the symptom, and we are currently treating only the symptom. That's a plan for failure. History has taught us that you can't contain the disease by treating only the symptom.
Denial is NOT an effective strategy.

It is no coincidence that 8 of the 10 most dangerous countries in the world are under Islamic rule. However, as bad as they may be, you've never once heard the White House address this truth or even talk about ways these problem countries could reform in order to enter the 21st century as civilized partners.
We have witnessed too many times when firmness and resolution was called for we got appeasement and pointless dialog. This weakness led to risky situations for the US becoming worse, i.e., the Ukraine, Iran, North Korea, Libya, Syria and Iraq to name but a few.
Without any question in my mind, no leader in the Western World has been any softer on Islamic corruption, violence, human-rights abuses and other forms of Muslim extremism than President Barrack Hussein Obama. This tepidity has eroded our credibility and weakened our national security. Because of Obama's consistent blunders, it will make correcting these problems more difficult, more costly and more lethal. This is Obama's legacy and we have paid dearly for it and we will continue to pay long after he is gone.
Let me conclude with this: Robert Egnell, wrote in "War on The Rocks", "A clear indicator is the fact that several of the "allies" currently participating in the air campaign are in the problem column rather than the solutions one. If the military and political activities planned to defeat ISIL would also be the solutions to the underlying issues and the host of other current and future "symptoms" in the region, the Obama strategy would indeed make sense. However, invading and democratizing Iraq as a solution to the problem of the Middle East did not work particularly well the last time, nor did the attempt to deal with terrorism by invading and transforming Afghanistan.
If ISIL is a symptom – albeit a serious one – the current plan to defeat it can really only be tactical or operational in its effects."