by Jack Lee
Most people in Chico have never heard the name Thaddeus Kerns, but there was a time when he was rock-star famous.   Thadeus was known as "Chico's boy aviator."  Back in his day, he was the youngest pilot ever to take to the sky and he got there by building his own plane, making this story even more miraculous.
While still attending Chico High School, Kerns collaborated with Glenn Curtis in order learn how to build the plane. His first attempt at flight was made with an engine that was too weak to get it airborne for more than a few yards.   Kerns eventually borrowed a more powerful engine from his father's new Oldsmobile and made his first real flight in 1908.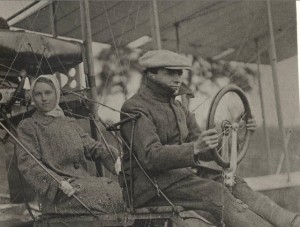 Shown left is Henrieta Lee of Chico hitching a ride with Thaddeus Kerns, dated 1912, location is probably at the Patrick ranch south of Chico where locals created an improvised runway.
Kerns would go on to make thrilling exhibition flights around Norther California for almost 5 years before his untimely death in 1913.
Knowing how dangerous early flight was, Thaddeus was offered a $1000 by his wealthy father to give up flying and go into some sort of business.  After much discussion Thaddeus decided to accept the offer.  Unfortunately, he was killed during his final flight, not more than 300 yards from his home near East Avenue and the Esplanade.
Here is an excerpt from the Enterprise Record, dated July 16th, 1913. WARNING very graphic depiction of the accident: "Thaddeus Kerns, Northern California's only aviator, aged 19 years, was instantly killed at 6:15 last night within sight of his home on the Shasta road, when the lower wing spar of his aeroplane gave way at a height of eighty feet, causing the machine to turn turtle, diving into a grain field and tearing a hole into the soft ground.
The radiator of the engine struck Kerns on the upper jaw, tearing his entire face and head away, leaving nothing but the base of the skull and his scalp. Every bone in his body was broken. According to Doctor N. T. Enloe, Kern's chest was caved in, a great hole torn in his right side, two pieces of iron pierced his body above the kidneys, both arms were broken in many places, and the limbs were mangled to a pulp.
Mechanician's Narrow Escape: Arthur Smith, mechanician of Kerns, gave the best account of the accident to The Enterprise this morning. He said in substance that he and Kerns had just returned from Emporia, Kan., where a number of thrilling and successful flights have been made in the plane which extricate himself. The seat upon which he sat while piloting the aircraft was broken into small pieces, even the cane in the bottom being rent as if cut with a knife.
"I was shocked when I saw his body," said Dr. Enloe. "I never saw a worse mutilated body during my experience as a physician. The radiator struck him and tore his head from the body. Kerns built a pair of gliders and in company with a number of school companions often went to the foothills and jumped from steep places, using the gliders to lower…"
Click here to read the full story.
For more information on Kerns visit the Chico Air Museum.  Hours of operation are 10 a.m. until 3 p.m., Friday, Saturday and Sunday.  Location:  Chico airport.