by Jack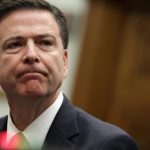 Former FBI director James Comey (shown left) is awaiting his turn to speak before the Senate sub-committee tomorrow.  What will he say about the Russian connection, election hacking, about being pressured by the President and so many other potentially disastrous issues?
This much anticipated moment has the bars opening early in San Francisco, just to watch! Hey, they didn't even do that for the world series, so this is obviously really big stuff for folks who think this will spell the end of Donald Trump's presidency.   It makes me wonder how many people have their alarms set to 4 a.m. EST, hoping to be among the first to see if Donald tweets?
I imagine that the White House damage control team is prepping for the worst, as thin-skinned Donald prepares to counter-punch.   But, I think if they just hid his dang cell phone, it would serve them all much better than anything else they could do or say.
You can't help but notice that Trump's fans and supporters are also busy with their own pre-emptive hits on the internet, trying to undermine Comey's credibility.   But, in all seriousness folks, we can criticize Comey for many things, like the handling of Hillary's email-server, but his personal character remains unscathed, in my opinion.  Remember, at various time Comey has taken fire from the left and right, doesn't that hint that at least he's trying to be honest and a-political?
However, (to paraphrase Hillary Clinton) if this all turns out to be a big nothing burger, will
both sides be chagrined? All their efforts will have been for naught, right? I'm thinking it will be the latter….and if it is, I hope the democrats will move on to something more productive. But, not holding my breath, because they haven't done anything productive in the last 40 years, why start now?
PS One last thought.  I'll betcha that at this very moment President Trump is wishing he had not called Comey a nutcase.