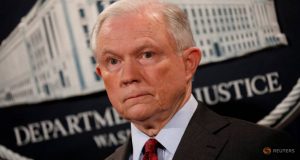 Posted by Tina
Attorney General Jeff Sessions announced a major victory this morning for his department and the American people. His team has shut down a major web drug sales marketplace (AlphaBay) that existed as part of the dark web. Daily transactions were in the hundreds of thousands:
When it was up, it sold drugs to more than 40,000 vendors that supplies more than 200,000 clients, law enforcement officials said. Dealers were able to buy drugs like fentanyl and heroin by using a technology called Tor, which allows people to browse anonymously and was originally created to avoid surveillance.
Dubbed the new "Silk Road" the site was considered the powerhouse for illegal trafficking. Federal officials have worked closely with officials in the Netherlands who also took down another dark web trafficking site, Hansa Market:
"This is an outstanding success by authorities in Europe and the US," said Rob Wainwright, the executive director of Europol, during a special press conference in Washington DC. "The capability of drug traffickers and other serious criminals around the world has taken a serious hit today after a highly sophisticated joint action in multiple countries.

"By acting together on a global basis the law enforcement community has sent a clear message that we have the means to identify criminality and strike back, even in areas of the Dark Web. There are more of these operations to come," he added
Related: AG Sessions will continue to do the job he loves and was hired to do despite recent remarks by his boss, for "as long as it's appropriate."
Mr. President a private meeting with AG Sessions to express your disappointment in his decision to recuse would have been more productive and appropriate. Jeff Sessions is doing a great job in fulfilling your promise to "Make America Safe Again." I mean really, a slap in his face delivered to the New York Times? And certainly the timing…stepping on the announcement of a major "Make America Safe Again" victory with a thoughtless tweet was not a wise choice.