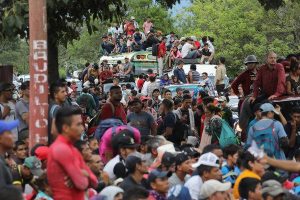 Posted by Tina
"E Plurubus Unum"…does it mean we must allow anyone to enter our nation at any time?
A great caravan of peoplefrom Central America are, once again, intent on invading our country. The waves show no signs of slowing or ending. This human assault on American sovereignty is an organized event. The group, Pueblo Sin Fronteras, is behind this movement. See demands and committees here and here
The men leading the marchers carry the flags of their homeland(s) and have been heard singing their national anthem(s). These are not people who love America. These are not people seeking asylum. Even if they were, international law requires them to seek asylum in the nation where they first cross…for many that would be Mexico.
President Trump has asked them to turn back. He has informed the nations in question that American support will be denied if they fail to arrest this invasion. He's also sent 800 soldiers to our border to assist border security.
Like it or not many of these invaders will be allowed to disappear into our country…they will be released and will not show up at court as instructed. Many of them are headed for San DIEgo. Neither Trump nor the military can fix this. Congress must act.
Our votes are vital in the coming election. If we lose the House nothing will be done to close the border, build the wall, or update immigration laws. Invaders will be encouraged by the election of open border and sanctuary city leadership. It's unimaginable that left leadership encourages mayhem over civility and the rule of law. They do not care about the stresses these invasions place on local services and resources. They do not care about the impact in classrooms, Emergency Rooms, or local law enforcement.
Ned Ryan at The Hill makes an important observation:
The United States is under zero moral obligations to take citizens from misgoverned countries around the globe. We are not an escape valve for the breakdown of civil society in Central America, nor are American taxpayers some sort of backstop for the Mexican government that refuses to fulfill its own obligations towards asylum seekers.
I welcome your thoughts.
Additional food for thought. Many on the left have taken the motto "E Pluribus Unum," affixed to our official seal, to symbolize that we are a nation of immigrants. This often used arguments for open borders is false. Although we are a melting pot nation the history behind our official seal suggest a quite different motive in using the motto:
On August 20, 1776, this first committee submitted their Great Seal design to Congress (including Benjamin Franklin's idea for the reverse side).

Although their design was not approved (and two more committees would be appointed), their motto E Pluribus Unum was selected by Charles Thomson in 1782 when he created the final Great Seal whose centerpiece is the American bald Eagle:

"in his beak a scroll, inscribed with this Motto. "E pluribus unum"."

Thomson explained that the motto E pluribus unum alludes to the union between the states and federal government, as symbolized by the shield on the eagle's breast. The thirteen stripes "represent the several states all joined in one solid compact entire, supporting a Chief, which unites the whole & represents Congress."
Interesting, no?