by Jack
As you all know, this State has been beset by no end of tremendous problems ranging from a historic jobs exodus to our massive crumbling infrastructure.  Well, good news fellow citizens!  Sacramento has heard your desperate pleas and they have worked many long hours into the night for months to fix one of CA most compelling problems!   Was it  freeway and bridge repairs?  Was it a cleanup of homeless city-campers?  Was it a reform to our failing education system or perhaps much needed tax reform?  Not even close, this was even bigger!  
So, without further delay I bring you… 
Breaking news – Breaking news – Breaking news – Breaking news:
Democrat lawmakers in the state Senate advanced a whopping $214 billion spending bill  Wednesday that would expand health coverage and tax credits… (drum roll please) for illegal aliens!  Yes, you may now breath a deep sigh of relief knowing sanctuary CA has heard you and they have answered!
The proposal would let all low-income persons come to our sanctuary state and immediately qualify for taxpayer funded health coverage, if they are 65 and older or between the ages of 19 and 25, legal or illegal, it would not matter!
The Senate's budget writing-panel also agreed to let some people who don't have Social Security numbers qualify for the state's earned income tax credit — a program for the poor that boosts people's tax refunds. The (unearned) tax giveaway would apply to people who have an individual tax identification number, which includes any immigrants in the country, no matter if they are here legally or illegally.  Isn't this wonderful news?
And the news gets even better when you consider that CA will be the only state offering these free perks to illegal aliens.  This is a welfare magnet that will dwarf the previous welfare magnets that brought us our homeless population from all over the country!
"These are people who are working, who are paying taxes (most of it is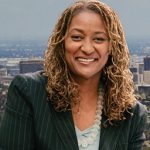 not reported)," Senate Budget Committee chairwoman Holly Mitchell, D-Los Angeles, said. "That's a population we ought not leave behind."  (Sen. Mitchell is shown right)
Q.  Dear Ms. Holly, how does one [leave a population behind] when we did not invite them to be here in the first place?   And just a few more questions, if I may?  If you want to provide our Constitutional rights, earned income tax credit, free education, subsidized healthcare, public housing  and other welfare benefits, even extending them voting rights and at the same time obstruct the federal authorities trying to control our border and remove illegals… why not just secede from the union?
Sure, why not just be done with it and leave America?   No more pussy footing around.  No more inching our way out of this country, just declare independence and leave the union!  Then we could join Mexico and life would be so much better because then we would be just like Mexico.   No more drug problems, no gangs, no ghettos, low crime, no more homeless, no illegals, low taxes, no gov. corruption, free healthcare, great wages, great women's rights, great respect for all races, especially black people, lots of transgender bathrooms, no more pollution.  We would soon be carbon neutral and the list goes on and on.  It would be a veritable Progressive's Utopia!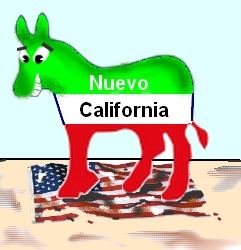 Ms. Holly, you should have lots of support if you do this, after all, the three most popular last names in CA are now Garcia, Hernandez and Lopez and the last count in 2014, California was home to between 2.35 and 2.6 million illegals.  Nearly a quarter of the nation's undocumented aliens reside in California, where they constitute more than 6% of the state's population!
History has shown that it only takes 2% of the population to march in angry protest to effect major changes at the top.  We are well beyond that now.  Adios America, bienvenido a México.   ¿Quién es el alienígena ilegal ahora, EH Gringo? 
PS  Would you like to email Holly Mitchell and express your thoughts?  Please click on this link.    Note: You will be forced to use zip code  95814 or you can't email her, she will only accept email from people living in her district, even though what she does involves the entire state.  You could write to our local Senator, but it won't do any good.  He's a republican and lets face it, the democrats won't listen to anything they have to say because republicans have zero influence over anything in CA gov.