by Jack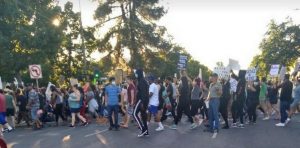 A modest, but enthusiastic crowd of anti-police protesters gather on the sidewalk next to the City Council Chambers in downtown Chico.  There were probably 60% girls between 15 and 25 with a slightly older mix of males and females.  In other words mostly thrill seekers.  The typical protester chants were heard and at one point everyone took a knee, a symbolic gesture that has been spreading from one protest group to another.
The crowd marched once around Plaza Park then back to their original spot for more cliché' slogans, leader: Whatta we want?  Crowd: Justice!  Leader:  When do we want it?  Crowd: Now!"    Boring…    Probably only 5 or 6 black people were in attendance, maybe not even that.  I got the feeling tonight was a dress rehearsal… the big event is scheduled for the weekend.
Signs carried by the protesters tonight were exactly what you might expect, "F— the cops",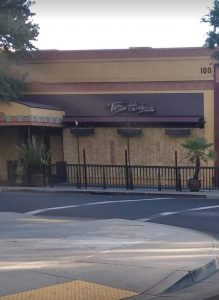 was a popular one, they even wore tee shirts with that bit of wisdom on it.  One young girl carries a sign calling for the police to be disbanded.  That was brilliant.  I wanted to quiz her about how her idea, but didn't get the chance.  Too bad, because I had my facts, but I doubt she did.  For instance, 2-3 questionable or unjustifiable in-custody deaths per year for the last decade, does not an epidemic make.
I can see how this crowd size could start growing and perhaps by Friday they could be a problem.  I notice a number of downtown businesses  had their plate glass windows  boarded with sheets of particle board like you might see before a hurricane.   (see Tres Hombres on right)