by Jack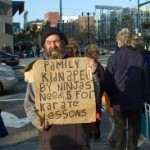 California's homeless population last year was almost 130,000, that number represents over 30% of the nation's total.   California has more than its share of homeless because of it's fair weather, abundant charity, social services, and soft-on-crime policies.  A vast majority of CA homeless are unsheltered and choose to live under freeways, in parks, and on the street.   
This has led to a high cost forced on the community due to a drop in property values, a rise in crime, infectious diseases, and pest infestations.  The latter ranges from fleas, cockroaches, and rodents that feed off the trash.   Pollution of land and water around the unlawful homeless camps present a significant community health risk.
The Chico Council proposes spending about 1.5M to purchase land for a tent encampment near Costco as one solution.  Another idea is to create a wet shelter without rules for transients to use any time of the day or night.
Billions have been spent by the State of California and larges cities to reduce the homeless population, however, during this period of vast spending, the population has only increased.
Currently, four of the five American cities with the greatest incidences of unsheltered homelessness are in California.   Substance abuse and mental health issues are the two greatest contributing factors to homelessness in CA.   This population, which is about 70% of the total, represents the chronic homeless that is beyond the reach of a voluntary placement.  They are also the most costly in terms of public safety and health services.   Voluntary placement in tiny houses or other forms of shelter is not effective for this group.