"I have found out that there ain't no surer way to find out whether you like people or hate them than to travel with them." – Mark Twain
What doesn't kill us makes us stronger.  Just ask my siblings about our hellish 1976 family jaunt from Colorado to Georgia.  We celebrated the nation's bicentennial by moving from the Rockies to Dixie.  Though the Civil War ended 110 years earlier, my siblings and I were hardly civil.
We were Air Force brats.  We caravanned in two vehicles when Dad was transferred to Georgia.  I was 13, Kirk was 11, and Lisa was eight.  Dad drove our faded International Travelall, packed to the ceiling, with suitcases, three kids and their whiny cat.  The rig pulled a horse trailer loaded with one horse, hay bales, a shaggy Great Pyrenees, bikes and several cases of Coors beer.  We used fairgrounds to board the gelding during stops.  Coors wasn't distributed east of Colorado back then but Dad figured that stable hands liked beer.  So he bartered using bootlegged beer for paddock rent.
The Travelall had an AM/FM radio, bench seats, but no air conditioning.   Mom followed in her box-filled Mustang, towing our boat.  The Mustang had air conditioning, bucket seats, and an AM radio.  Dad only turned on the radio to listen to financial talk-show gurus.  Boring.
My siblings and I coveted the cooler Mustang though Mom chain-smoked cigarettes and drove below the speed limit.  At least Mom listened to music on the radio.  We alternated rides with each parent, assisting with navigation and ensuring the trailers remained hitched.
Serious battles were fought over who rode shotgun versus the back seat.  Kirk hogged more space than a sumo wrestler and taunted Lisa.  We barely crossed the county line when he violated Lisa's trespass warning.
"Dad, Kirk's touching me," Lisa tattled.
"Stop it. Now."  Dad kept his eyes straight, with both hands on the wheel.
Kirk draped his foot on Lisa's leg.  She squealed.
"Daaad…get… him….off."
Dad, a doctor, had an excellent manner with patients but had little patience for bad manners.  I rode shotgun during this 200 mile stretch and watched the punishment unfold, at 60 miles an hour.
"Eric, keep it straight."  I slid next to Dad and steadied the steering wheel.
Dad turned to his right, leaned against the door, and walloped Kirk on the side of the head.
"Leave your sister alone.  Or you'll ride with the horse."
The repartee and reprimand continued for hundreds of miles.  Kirk and I switched riding positions throughout Oklahoma and into Arkansas.  Lisa never got into trouble, just my brother and I.  By the time we reached Mississippi, Kirk and I occupied less than 36 square inches of backseat.  We scrunched into a space smaller than a floor tile while Lisa sprawled out on a bean bag chair.  No one wore seatbelts in those days so using a bean bag chair inside a moving vehicle wasn't a concern.  Lisa instigated several conflicts, especially during ice cream stops.  Kirk and I inhaled our double-scoop cone in seconds while Lisa's lasted three hours.  We'd pine for a lick but whenever we complained, we got the licking.  Then one of us was reassigned to Mom's Mustang as part of a second-hand-smoke clinical trial.
Dad's summer tour ended and we began our return to Colorado with a second horse.  It must've been a good deal— the seller said the horse descended from Robert E. Lee's own stock.  The Travelall, now towing 900 more pounds, lost horsepower and died next to Cooter's Auto Sales in western Georgia.  The break down tested family harmony.  Ninety degree heat and 100 percent humidity pasted clothing fiber to our skin.  Mom watched us connect a hose to the car lot's faucet to cool the animals.  We sprayed each other while fending off sparrow-sized horseflies.  After hours of haggling with an unsympathetic Confederate, my exhausted dad bought a crew-cab truck, rounded up three soggy kids, their mom, the cat, the dog, the horses, hitched the trailer, and continued west.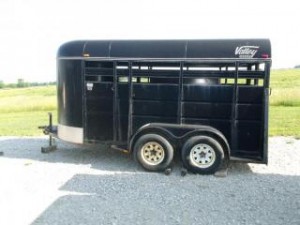 Kirk and I, and our crying cat, were ultimately banished to the horse trailer the last 300 miles.  We sat on hay bales and stared at the dog.  It humbled us to ride this way.  Kansas was especially boring.  There was nothing to see except for cornstalks on the right and left, and two horse asses ahead.
That 1976 road-trip didn't result with family counseling.  We bonded.
I recently road tripped to Colorado to visit family.  My siblings road trip to visit their extended families in Nebraska and Wisconsin.  I'm glad our road trip gene endures, and that we're able to pull off these travels without needing a horse trailer.
Send me a note at eric@etcguy.com or join the Etc. Guy Facebook page at www.etcguy.com.  I'm also on Twitter.