The adult arm weighs eight pounds, about five percent of one's body weight.  Thanks to my holiday junk food diet, I'm that much heavier.  I awoke this morning and had an epiphany: I still have the same arms.  The calories must have flowed further south.
I know better, but I'll binge until muffin tops lap over my belt.  Chips are my greatest temptation, whether they're made of chocolate or potatoes.   Unlike a carnival mirror, mine doesn't lie.  Human anatomy fascinates me; every body part has a role.  What puzzles me, are disproportionate body parts.  My right bicep is larger than my left, but my left love handle is bigger than my right.  I've worked on that left love handle for months.  My wife, Hun, gave me a pep talk.
"I accept you e
ven if you're lopsided.  Here, take out the trash." 
I maintained a trim physique well into my 30's but by age 39, I surpassed the recommended body-mass-index or BMI.  Not to be confused with a BMW, the BMI is based on weight and height, not on body fat.  My buddy Steve alerted me about BMI after he joined Weight Watchers®.  He wanted to lose 80 pounds.
"You dork; I bet you're the only guy there.  Hah!"
Steve flinched.  I felt bad and later apologized to my friend who only wanted to improve his health, and for moral support I went to a meeting with him.  We sauntered inside on a busy Saturday morning and stood in line.  The receptionist handed me a brochure.
"Nope," I said.  "This isn't for me."
"Well, you can weigh in and see how it goes."
By now Steve moved ahead, and I listened to a stranger discuss her weight loss goals.  A husband and his wife walked in behind me.  They joked about cinching duct tape around their thighs to reduce chafing.
Before long, I stepped on the scale and numbers flashed past 200 lbs.  I was the same weight as an NFL running back, one who's paid a lot of dough, except I was just dough. 
 "Holy cow, what happened?"
"That's alright," the receptionist said.  She tapped my wrist.  "That's why you're here."
I joined the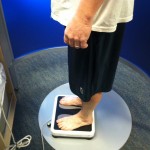 group.  I ate more greens and fewer carbs, drank more water and less beer, and took on a physically challenging home project: digging fencepost holes.  Weekly meetings became a ritual and I soon learned how to play the weigh-in game.  One trick was to wear the same clothes I wore when I started, to compare net gains or losses.  Psychologically, every ounce mattered, especially for measuring progress.  About six months into it I substituted my heavy-weight cotton boxers with silk underwear that weighed next to nothing.  Five months later I weighed 40 lbs less, had a fenced yard, and an assortment of silk underwear.
The benefits were awesome.  My metabolism rivaled the Energizer Bunny's®, and I dropped 50 cholesterol points.  My doctor grinned, "Your heart thanks you."
I've battled weight maintenance ten years now but the pounds creep up on me like a stalking cat.  I fall off the wagon with chocolate binges and the occasional bowl of bean dip.  Work, kids, and social activities clog my schedule, and it's hard to make time for exercise.  But one lesson I've learned through this journey is that I need to take time for myself.  My mental and physical health depends on it.  Maybe that sounds selfish, but I'd rather be older and fit than selfless and dead.
Life's too short to
check out early.  I want to travel with Hun, goof off with the kids, and play sports until I embarrass myself.  I want an active, energetic lifestyle with no holds barred.  When my time is up I want to sprint through the Pearly Gates, rather than float in on a Lazy-Boy®.
I'll keep eating chocolate though, and will replace fence boards or dig holes to offset any gains.  And as I continue reeling in the years, I'll probably still wear silk underwear at weigh-ins.  I wonder, though, if there's a way to use duct tape to even out my love handles.  I just don't see them going away.
###
Send me a note at eric@etcguy.com, share this story, or join the Etc. Guy Facebook page at www.etcguy.com.