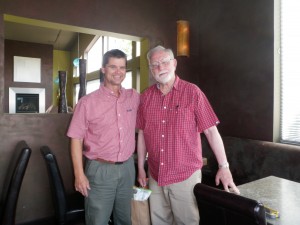 "My career doesn't seem to be that it was one.  But it's been fun."
 Patrick McManus, Outdoor writer, columnist and New York Times best-selling author
 We met at a Spokane restaurant two weeks before his 80th birthday.  I arrived the night before, after a 15-hour, 800-mile drive.  I imagined meeting a burly man with bowling pin size  forearms, who wore suspenders, jeans and a lure brimmed hat.  That's the image I recalled from past issues of Field & Stream and its sister magazine, Outdoor Life.  One of America's favorite humorists, he has written thousands of columns and numerous best-sellers.  I thought jeans were too informal, so I wore khakis and a red-checkered collared shirt. 
He stepped inside as I fidgeted with my cell phone.  He wore khakis and a red-checkered collared shirt.  "Eric?"
Like gunslingers, we eyed each other's red checkers and khakis.  "Hi Pat.  Nice shirt."  He laughed.
I explained I was on a mission to find out where the humor writers are.  Pat McManus' 1985 collection, The Grasshopper Trap, hooked me faster than a hungry trout especially after I read How to Go Splat, where McManus laments about the art of falling.  I was curious to meet this master humor writer.
Can you explain your start as a humor writer?
McManus: My characters fall a lot. I fell into humor writing.  I was inspired by Norman Rockwell and wanted to be an artist, but the art professors at Washington State College (now WSU) didn't like Rockwell.  Discouraged, I transferred into the English Department.  After graduating and getting my first job, I kept to a strict writing schedule—two hours per night every day.  I spent weeks preparing a particular piece on telemetry and finished an hour early one night.  I spent that hour writing a nonsensical story where wildlife is connected to telemetry, and how some guy kept track of everything.  He'd get calls from hunters: "Any deer around?"   Why, yes, there's a four-point buck off the highway."  The story described the hazards of removing telemetry wires when skinning deer.
I sold that article for $300.  I spent a zillion hours researching the telemetry piece and only got $750.  Wait a minute.  I just made $300 an hour writing nonsense. Guess I'll become a humor writer.
Was it difficult breaking in?
McManus: Those were different times.  After college, my first job was a police reporter for the Daily Olympian.  I also sold pieces to other newspapers and magazines.  There were only a thousand magazines in the country back then, and I was a good feature writer.  The pay wasn't much—maybe $20 per feature.  
I recall selling three features to a grouchy news editor.  One story was about a family with a pet buffalo.  Who keeps a pet buffalo?  The second was about a car that rolled off a dock.  Turned out it was a bootlegger's car.  And the third feature was about buttercups.
Buttercup, flowers?
 McManus:  Yes [laughing].  The news editor was a macho guy.  He boomed, "I'll buy the buffalo and bootlegger stories but forget about the buttercup piece."  A panicked manager suddenly rushed in, "We just lost a story!"
The news editor asked, "Uh, how much do you want for the buttercup piece?" 
My price went up. 
Do you still write two hours every day?
McManus:  No, now that I'm semi-retired I don't have the same level of income.  I'm now up to eight hours a day!  Let that be a lesson to you.
What's a funny story you haven't written?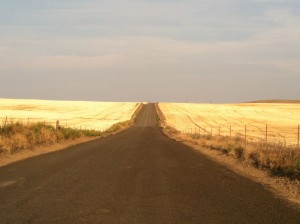 McManus:   Bun (my wife) and I once drove cross country on a book tour.  Before leaving home I received a letter from a teenage Amish boy from eastern Pennsylvania.  He invited me to visit his shop—a broom making business.  He said he'd make my wife a broom.  So I'm at this book signing event.  Over a hundred people stood in line and the local TV station covered the affair.  My visit was a big deal.  I noticed this tall, husky fellow in back.  He dressed in strange, outdated clothes, and wore a straw hat.  When he came up to me, he waved off the TV crew.  This guy had clout.
The man said, "My brother invited you to visit his broom making shop.  I want to make sure you'll stop by."
Did you go?
McManus:  Of course.  We visited that Amish community and met this kid.  His broom making machine clanged and had terrible claws.  I asked if he ever got hurt.  The boy rolled up his sleeves, revealing scarred forearms.  He insisted on giving us a ride in his horse-drawn buggy.  It had a battery-powered speedometer.  The boy chauffeured, families gathered…I was a major author [chuckling].
And Bun still has the broom.  That sweeper's a keeper.
Now that you're 80, what's next?
McManus:   I just finished my latest novel, entitled "Circles in The Snow," which is based on a true story. It was winter, about 35 years ago, and I was on the phone with a New York editor.  An eagle suddenly flew inside.  I dropped the phone and the editor asked what happened.  "An eagle just flew through the window," I exclaimed.  "Yeah, right," he said.  That city editor had no concept an outdoor writer actually sees wildlife. 
My office overlooks the Clark Fork River.  One day I noticed a rock island covered with a fresh layer of snow.  It had a circle etched into it, like a giant protractor made it. The diameter was about seven feet.  What caused that?  I didn't see any tracks.  I put on my waders and crossed a shallow underwater ledge to get a closer look.  I stepped over the circle's perimeter and walked to the center.  In the snow were eagle claw marks.  The bird must have landed and rotated in place.  His wingtips touched the snow and created a perfect circle.  The story is about the relationship between eagles and people.  I feel it's my best novel. 
You've written humor, mysteries, and novels, have won awards, and have been on the New York Times best-seller list many times.  What's your legacy? 
McManus: I don't really care.  I receive tons of emails and letters from readers thanking me, this means a lot.  I received a message from a young lady who read one of my stories to her father while he was on his deathbed.  She said it made him smile.  Then there was the soldier in Afghanistan who read to his buddies.  I have over two hundred email messages waiting for me.  I'll answer them all.
I've supposedly sold over two million books.  Do you know what that means?  That there are millions of people out there!  [Smiling] I just love to write stories.  It's not about the accolades or money…but I don't mind it. 
Let me mention Tim Behrens, star of the McManus Comedies and one of my former graduate students.  Tim puts to life the characters I've created.  He's performed for over 450,000 audience members. 
I see that McManus Comedies tours throughout USA and Alaska.
McManus:   I travelled once with Tim to a remote location in the Aleutian Islands.  Several Aleut natives rowed their boats across the sound to watch the show.  Tim gave rock solid performances. 
The waitress checked on us and McManus asked to box his leftover steak salad.  "I'm full and should take the rest home to my wife, got to watch out for number one."
She returned and offered dessert.  "Let's stay," he gleamed.  "We're writing a book!  We'll have two chocolate peanut-butter parfaits."
Is humor writing vanishing?
McManus:  Humor writing was big in the 1920s and 1930s.  Now with TV and the internet, our sources of humor come in brief bites.  Newspapers and magazines are struggling.  I see a future in nonfiction stories, with humor folded in.  The trick with humor is to write seriously about nonsensical things.  Write stories people enjoy, to lift their spirits.  Make the story so people are happier after reading it than they were before.  Humor writing is not vanishing but writers need to adapt.
Do you use social media?
McManus:  No, but Bun got me a cell phone.  She calls to give me reminders.
Don't feel bad.  My wife once sent me to buy groceries but I came home with a BB gun.  I forgot to write a list.
McManus:  [Chuckling] Really?  Wait, I'm supposed to get something and you're worrying me.  Now I remember, it was two ears of corn.  Let's revisit our talk about accolades.  One I truly appreciate is my college English department's Centennial Scholar award.  Before college I was an inexperienced country kid from Idaho.  I didn't know anything about the world.  I remember attending my first freshman lecture.  The professor said, "Look at the person to your right."  So I looked right.  "Now, look to your left."  And I looked left.  "Those two people will not be here four years from now."  All I could think was, that I'm glad I'm not one of those two people.  His statement went right by me.  That professor introduced me to Shakespeare.  He spent an entire lecture on the first three words of Hamlet: "Who goes there."  Those three words revealed Shakespeare's genius.  That professor challenged me to look for the telling detail.  He was some professor.
We finished dessert.  I noticed McManus ate the entire portion. 
"I thought you were full.  Don't you want to save any for Bun?"
"No, it's not good for her," he winked.  "You have to look out for your wife all the time, you know." 
Our visit wrapped up and Pat paid the bill.  "Thanks for driving 800 miles to see me."
"No, thank you.  By the way, I noticed an airport about ten minutes from here.  I didn't realize planes flew to Spokane."  He laughed and walked to his car.
I returned to our table to gather my notes.  To my horror, I noticed Bun's leftovers.  I picked up the box, sprinted outside, and intercepted Pat.
"Pat, your leftovers!"  I handed him the box through the car window.
"Thanks, you saved my neck."  He grinned and drove off.  I sure hope he remembered the two ears of corn.
Pat McManus is welcome at my campfire anytime.  Though the drive to Spokane was 800 miles, his wit is only a bookshelf away.  Thanks for the stories, Pat.  Happy Birthday.
 "Circles in The Snow", Pat's latest novel, will be released in spring 2014.
###
Eric Miller, aka Etc. Guy, lives in Chico, California.  He is a terrible angler and eats wild game whenever he mooches it from friends.  He travels to interview humor writers.  Contact him at eric@etcguy.com or visit www.etcguy.com.