I haven't trudged like that since my walk to the principal's office.  My shoulders sagged and my head drooped.  The parking lot seemed a mile wide.  I called my wife, Hun.
"We're loading up."
"How'd Maggie do?  You sound beat."
"Got my butt kicked, but she nailed it."
I fumbled my car keys, slumped on the hood, and peeled off gear.  Maggie had already changed into her sweatpants and sat in the car, munching on chocolate.
We just finished our first snowboarding class and it was a full day of face plants and back slams.  I rolled down the mountain like a tumbleweed.  I was sore, tired, and miserable.    
I've skied for over forty years, starting at small Colorado ski areas when lift tickets were $7 for kids under thirteen and $15 for adults.  I stayed twelve for two years.  I introduced Maggie, and big sister Kate, to skiing ten years ago.  Kate easily took to skis.  Maggie skied well as a tyke but never developed confidence.  She retired her ski boots at age eight.
"I'll try snowboarding someday.  But promise to go with me, Dad."  I promised.
Kate, my ski buddy, and I hit the slopes whenever possible.  For five years after her "retirement," Maggie showed no interest.  That was okay—lift tickets are pricey.  My promise to Maggie eventually faded.  But during the recent Winter Olympics, Maggie's interest sparked.  "Dad, let's snowboard."
I pondered my old promise.  I filed it deep in my memory, in the same folder as when I promised Hun I'd fold towels the right way.  To me, snowboarding was a wimpy second-cousin to skiing.  I thought it would be easy.  So, I sacrificed a precious ski day to snowboard with Maggie.      
When we arrived inside the lodge to rent gear, anxious parents and bored kids meandered in a serpentine line.  Moms scrambled to fill out forms while dads fussed with equipment.  A young teen stood shaving.  His dad must have told him to pretend he was twelve to avoid paying adult rates.  Almost every kid told the cashier they were twelve. 
"Maggie, want to be twelve today?"
"No, I'm thirteen.  That's lying.  I'll take the same class as you."
She'll learn soon enough that I'm a chronic liar.  Her honesty cost me an additional $20. 
We rented our gear and waited for the class.  If I came home with a sunburned kid Hun would kill me.  I plastered Maggie with SBF 1000—she looked like a goggle-laden mime.  Our instructor first taught us how to fall.  I stood on the snowboard which was like being strapped to a gigantic bar of soap.
We learned how to make basic turns, by shifting our weight forward and leaning on either the toes or heels to carve the snow.  Our rookie turns triggered more crashes than a demolition derby.  I was constantly pummeled, while Maggie's rubbery frame flexed.  My stiff as-a-board frame wobbled out of control resulting in at least twenty cruel landings on snow harder than concrete.  Afterwards, I felt like a truck ran over me.  When we got home I told Hun my snowboarding career would be short.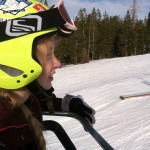 Three weeks later Maggie asked to go again, but she gave me an option: I could bring my skis and skip the class.  I weighed the pros and cons of reshuffling my internal organs, which by now had returned to their original positions from last time.  Hun insisted I take another class.  "You're spending time with Maggie.  Don't be a wimp.  Do it."
I swallowed my pride, a handful of painkillers, and played Queen's "We Will Rock You" to get psyched for another beating.  I brought skis as a back-up plan. 
An hour into our second class the techniques began to gel.   Six hours later we hardly fell at all.  I even snuck in some skiing while Maggie boarded alone.  "Dad, I met cool people."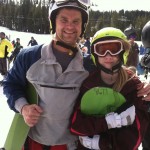 Maggie surprised me.  She grew more confident in that one day than in the previous three months.  She also enjoyed her own company when we were apart.  More importantly, she discovered a new passion.
Maggie chattered about buying a snowboard during the drive home.  She grinned and dozed off.  That old promise was worth keeping.    And giving snowboarding a second chance wasn't so bad either.
###
Visit Etc. Guy and check out my new book "Let Me Tell You a Story."  You can also connect with me on Facebook, Twitter or contact me at eric@etcguy.com.