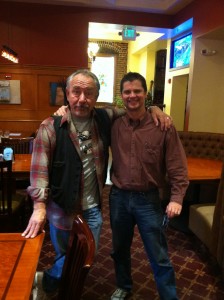 "My wife and I are trying to live within our means.  We went from a $750,000 house to a $350,000 house and didn't even have to move."
Will Durst, American political satirist
He's a superstar comic and satirist with a wit that feasts on political mayhem. He fires more misdirections than Chris Christie and John Boehner combined. But comedian Will Durst was down to earth when we met during his recent visit to Chico. When I learned Durst would speak at the Farm Bureau Annual Dinner, I knew I had to pounce like a lion on beefsteak.
A bipartisan basher, Durst is untouchable when it comes to political humor, his brand for over thirty years. He writes and performs political comedy for folks who don't like politics. Durst is a five time Emmy nominee, has been fired by PBS three times, told jokes in 14 countries, racked up seven nominations for Stand-Up of the year, and has more than 800 television appearances including Letterman, HBO, Showtime, CNN, ABC, CBS, NBC, Fox News, the BBC and more. Durst stretches your mind and unravels your brain.
I had watched his TV performances, read his columns, and listened to his radio monologs. Durst does not rant. He just writes and says what many others are thinking. And he gets away with it.
We met at Chico's Hotel Diamond for breakfast. Durst had performed the night before to an audience of 400; many of whom were farmers that disdain government, whether it's blue or red.  Durst wore a grey suit and shiny white sneakers. He sauntered inside the restaurant wearing jeans, a t-shirt, and vest. He looked like a regular guy.
Great show last night, thought I saw one guy keel over from laughing.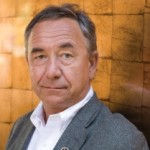 Durst: [Chuckling] I appreciate that. The farmers are a different crowd than my normal gig. So what are you doing?
I'm a freelance writer trying to figure out where all the humor writers went.
Well, it's my pleasure. What did you think of last night's show?
That's my question…loved your grey suit and sneakers.
Ah yes, I wasn't sure what to wear. I also brought cowboy boots. The sneakers are clown-like and look odd with the suit. It keeps people off-kilter and I can move around easier. Cowboy boots are uncomfortable. Plus I'm getting too old to pander. So the farmers got sneakers. They'll either like me or not.
You startled the audience. Do you switch gears when they gasp?
Always. I laid off some of the Republican stuff though. I only used about a third of my material.
I sat with a mixed table. The Republicans bristled at the Bush "Rain Man" joke. Then you bamboozled the Democrats a minute later with the "Stem-cell" joke. Nobody could predict you. But everyone laughed.
[Grinning] Delivering a routine is all in the set-up. I opened by talking about living in San Francisco, the land of crazies where people run around naked. I lay a base that I'm a real guy, that's the primer, a regular guy from Milwaukee, not some intellectual snob. San Francisco is nuts. Opening with that puts me in the fold.
Plus you mentioned you worked on a farm, one of your 108 jobs.
Yep, I've worked on a farm as a hay bailer and sod farm attendant… college jobs when I attended the University of Wisconsin-Milwaukee. I return home twice a year to visit family.
Do you have siblings in the entertainment business?
No, no…I have one brother who's developmentally disabled. My half-brother is an anesthesiologist married to a psychiatrist, and my half-sister, a speech therapist, is married to a general practitioner. When my wife, a comedienne, joins me at family reunions we have four doctors and two comics. It's an odd gathering. My wife is amazing. She's an actress, does improv, and directs. She's a true hyphenate.
Does she proofread your articles?
No, she doesn't like my stuff. She'll read something then ask, what are you saying?
Dave Barry admitted that his wife doesn't think he's funny. Have you met Dave Barry?
No, but I'd like to. He's insane, in a class all by himself.
So where do you see humor [writing] going?
Humor, whether it's writing or performing, will always be here. But we'll have wider and smaller markets. Humor changes, it morphs. In the old days we heard mother-in-law jokes. Now, political and observational humor is popular. Long ago everyone said that TV would ruin movies, and CD's would ruin radio…but these media survive and thrive. We have formats for everything and I'm changing up my routine for live performances. I'm getting away from the night clubs where the average audience age ranges from 18 to 35. Young comics tell a lot of sex jokes, topics that are most familiar to them. I can't follow that. They wonder about the cranky dude [ me] on next. Humor isn't necessarily getting more vulgar but that's what they're exposed to. Humor writing and telling jokes is all about stories and character. If you are empathetic, or have empathetic characters that people can relate to, that's all it is. The media format doesn't matter. Comedy is all about shared references.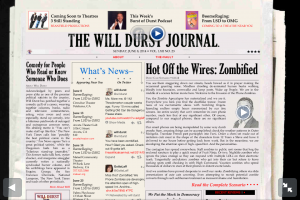 What do you enjoy more, writing or performing stand-up?
I love both. They are two different skill sets but I can last longer writing than performing. No one writes like I do because I've performed stand-up comedy for so long [35 years]. I throw those experiences into my writing. But being a stand-up comic is not a testament to my writing. That's why I'm different. When you write a story, you often don't know how people were impacted unless they send you a note or LIKE it [on Facebook]. But when you perform…well, you can't fake a laugh. You get instantaneous results.
Are you a serious person that writes funny, or a funny guy who can write?
I can't separate them. I'm a funny guy with my commentary but I guess you can say that I've always been funny with my communication. I always tried to get my developmentally disabled brother to react. We had a connection when that happened.

What's the target length for your columns?
555 words. I like the way the number looks. But yeah, the general range for columns is 600 to 700 words. Shorter is better.
How do you start your columns?
It begins with a mid-week radio commentary… "Hello Bay Area drivers, it's me, Will Durst, with this week's funny thought about …pot." Each radio blast is about 300 words, two minutes long, and I repeat it for 16 different stations. Those 300 words are the kernel for that week's column.
You write for the Huffington Post, your own site and are nationally syndicated. Do you know how many newspapers in which you appear?
[Chuckling] No. We have about ten large syndicates in the country…United Media for example. I'm presently with Cagle Cartoons, a smaller syndicate. Every two years I send a query letter, bio, and 5 to 6 clips to the larger ones. For every ten, three reject me and seven ignore me. I've been on TV many times and tried to get on the Tonight Show. The 23-year-old booking agent didn't know me.
But you're Will Durst!?
That's what I said. The Tonight Show never used me but I got on Letterman.
How was Letterman?
Aloof. After my four minute routine, he walked over and shook my hand. That was it. Maybe he was preoccupied with the set following mine, don't know.
What are the most difficult topics for you to write about?
Anything I don't care about….talk radio…Miley Cyrus. I just don't care.
How did you get your start writing and performing?
I did the airport lounge gigs in the 1970's and even video-taped my first audition because I was afraid to do it live. I was a college sophomore for one of my first "theater shows." My professor assigned a class performance project. I reserved a hall and bought a case of beer, selling cans for fifty cents apiece. I did seven minutes of stand-up and made $8.50 on that first gig. I also wrote for a local newspaper and acted in a nude play, "Private Parts in Public Places."
You acted in the buff?
Well, not exactly. In those days the city ordinance required that comics get a nude dancing license, even though I wasn't dancing. It was some weird law passed a long time ago and we didn't have a nude license. Anyhow, the director hired an artist to sculpt the male body parts that I wore beneath sheer pantyhose. So, if the cops busted us, we wouldn't be lying. We weren't really naked. I then wrote a piece "Confessions of an Exhibitionist" for an underground newspaper, which led to a humor column and doing movie and concert reviews. I once hung out backstage with the Ramones. I've had all kinds of interesting experiences. I blogged five years for the Masters Golf Tournament. I'm not a golfer but that was fun.
From nude performances to golf blogging, quite a variety…
I even got Bill Clinton to snort water through his nose at a benefit fundraiser.
Did you also meet Clinton?
Yes. Clinton makes you feel like you're the only person in the room. He focuses just on you. He came to me and said one of my jokes was funny.
What was the joke?
It was about 9/11, here's the set-up: "Everyone knows where Bush is, he's in Florida, then to Nebraska, he's inside a big 747 that says Air Force One on the side, the only plane in the sky. But where's Cheney? Bush didn't even know." I mentioned that Bush is like the goat in Jurassic Park. I noticed Clinton taking a sip of water and said: "About that anthrax thing…Bush is opening Cheney's mail." Clinton laughed and snorted water from his nose.
Which writers grab your attention?
Andy Borowitz, who writes phony news in the Borowitz Report for the New Yorker. Hysterical. There's Gail Collins, a political humorist for the New York Times and David Brooks who writes for the "Weekly Standard."
Describe your "BoomeRaging Show."
Boomer was a follow-up to my 2012 "Elect-to-Laugh Show" which started on Super Tuesday and lasted 41 weeks straight to the election. It grew from 70 minutes and by the end was two hours. I blew it up, distilled it… joke after joke…thick, lush and rich like a tropical rain forest. I had tons of material with Romney, Ryan, Perry… Then, on November 7th (2012), it evaporated. Nobody cared. So I wrote Boomer because I'll always be a baby-boomer. It's evergreen.
How's it going with Boomer?
It's getting better but I'm continually innovating. I'm trying to sell this show across the country. Still, people don't know me.
Well, they got to know you last night.
Our waitress checked on us and Durst glanced at his watch. He paid for breakfast.
"I'd better get back to my room. I have a deadline."
I thanked Durst for his time. We took a selfie and as a token of appreciation I gave him Sierra Nevada Brewery souvenirs: a bottle opener, beer, glasses, and a jar of Pale Ale mustard.
"Hey, thanks. I hadn't realized the brewery makes mustard."
"Sure thing, maybe you can perform in Sierra Nevada's Big Room sometime."
"I'd love to."
Durst scrambled upstairs and I returned to our table. The waitress, a college student in her early twenties, asked if I wanted more coffee.
"No thanks, but do you recognize the guy I just met?"
"Sorry, I don't," she replied.
"That was comedian, Will Durst. He's appeared on Letterman."
"I know of Letterman, but not him. Thanks for coming in."
I suppose I shouldn't be surprised or disappointed the waitress was unfamiliar with Durst. Maybe she doesn't follow politics. Or maybe she's too young. After all, she's not a Boomer.
Follow Will Durst at www.willdurst.com and check out "BoomeRaging: From LSD to OMG." He regularly performs in the San Francisco Bay Area and across the USA.
####
Freelance writer Eric Miller, who puts the "free" in freelance, profiles humor writers.  Miller writes the Etc.Guy blog where you can follow him on either Twitter or Facebook.  He's trapped in a house full of estrogen but lives to tell the story.  Copies of his book "Let Me Tell You a Story" are available at Lyon Books in downtown Chico.  Or order one via Etc.Guy (available in both hard copy or e-reader).