(Hockey Player Magazine, October 2014)
The five of us frowned as we tied our skates. We were down two players and knew the next 45 minutes would test our lungs and legs.
"Where's Blaze?" Swifty asked.
"At a Raider game," I answered.
"Good excuse. Better than when Chuck got lost hunting or when Lefty had his vasectomy. Those guys had the lamest excuses."
"Yeah, how did Chuck get lost hunting birds? I heard he fell asleep in a duck-blind. I can understand Lefty skipping work but it's unforgivable to miss a game. So what if he was sore? My tomcats hunted gophers an hour after getting neutered. "
Swifty laughed.
A short-handed team is as noticeable as a three-legged dog. Opposing teams drool when there's an opportunity to massacre undermanned teams. It's like Custer's Last Stand except that the annihilation occurs on a hockey rink instead of prairie grass.
Our coed inline hockey league includes California natives and ice hockey transplants from colder climates. We've traded blades for wheels because our nearest ice sits frozen on either Sierra Nevada mountaintops or inside garage freezers. League players include college students, moms, and dads. The ladies, who are outnumbered in our league, skate hard and have the respect of the guys. It's not surprising to see ponytails flailing behind helmets. Some guys also wear ponytails though, like Crazy Pete, the goalie. Goalies are off-kilter anyway.
Each team has seven players—perfect for four-on-four hockey but it's critical everyone shows up. A roster of five means doom and four is an automatic loss, even if skaters have elephant lungs. We greet one another before games, curse each other during combat, and shake hands afterwards. We thrive on competition and hate missing games.
My pregame routine includes strapping on knee braces. Seven years ago I endured a forced sabbatical from sports when I tore my anterior cruciate ligament (ACL). Blaze sat out ten months after tearing his ACL. Other players missed games due to strained muscles or broken bones.
Lousy excuses for missing games include staying home to stack wood, nurse hangovers, or rotate tires. I even rescheduled my colonoscopy to avoid missing a game. That stuff can wait. Hall passes are granted for celebrating kids' birthdays or anniversaries. When hockey players miss those we suffer terrible consequences at home. Probably the most unique excuse came from JT Flyer, a hockey mom. I saw her during the summer break.
"Hey, I didn't see your ponytail last spring."
"Missed the season," she said, "had surgery."
I instantly reflected on my knee surgery. I hadn't realized she got hurt.
"That's awful. Was it your knee?"
"Higher."
"Shoulder?"
"Lower."
"Wrist?
"Try again."
I have a working knowledge of female body parts but was losing this guessing game. Our conversation was becoming clinical and socially awkward. I was dumbfounded and wondered what ailed her. We all have our fragile areas but I hadn't noticed any black-eyes, crutches, or missing teeth.
"It was my uterus."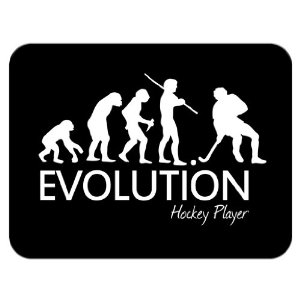 "Pardon?"
"You heard me, the reproductive organ where hockey players come from. We didn't evolve from sea animals, you know."
I gawked at JT like a deer staring at headlights. I didn't want to come across as an insensitive oaf. When hockey players harass referees we get penalties and I didn't want an interference call from JT. I dug deep into my soul and searched my one feeling for the right words.
"Bummer."
JT grinned, realizing she got the best of me. "Guys aren't tough enough to have uteruses. Men give the worst excuses for missing games."
JT nearly scored a hat-trick. Not only did she get in the last word, but she gave an excuse I've never heard or experienced. It wasn't on my radar. Athletes at all levels understate their vulnerabilities. They're too focused on the camaraderie and spirit of competition. Regardless of gender, we are all vulnerable in areas we can't even see.
I won't pass judgment on a comrade's excuse for missing games. Life happens and sometimes gets in the way of hockey. But I sure miss my friends when they're not playing.
###
Eric Miller skates with the Hamilton City Hockey Club near Chico, California.  Read the Coaches Corner in Hockey Player Magazine for more of his hockey stories.  Contact him at either eric@etcguy.com or via his blog at Etc.Guy where you can also follow him on Facebook or Twitter.